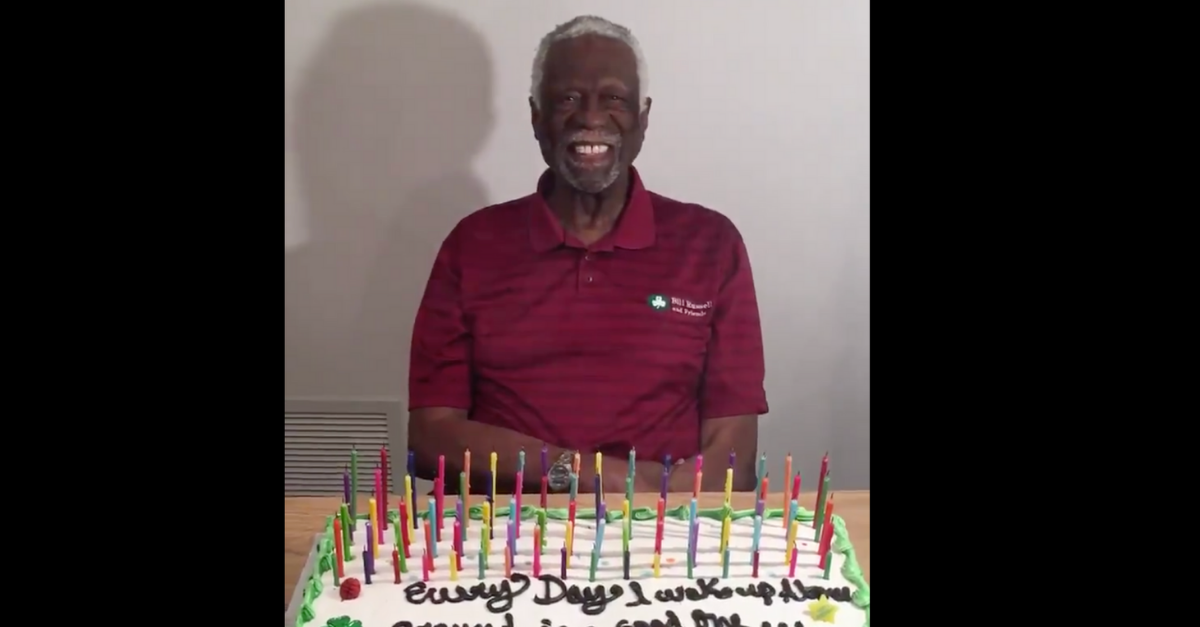 Twitter: RealBillRussell
For the last six decades, maybe even longer, Bill Russell has been as important to the game of basketball as anyone walking. The NBA legend had a Hall of Fame career with the Boston Celtics and just celebrated a milestone birthday even bigger than the rebound numbers he used to put up.
While the vast majority of us were getting ready to start the day on Tuesday, February 12, the 6-foot-10 center was up early and blowing out candles to kick off his 85th birthday.
The cake featured 85 candles, a message of, ?Every day I wake up above ground is a good day,? a couple of shamrocks and 11 Ring Pops to match the number of NBA championships he won from 1957-1969.
RELATED: It?s a Damn Shame This NBA Legend Isn?t Alive to See His Jersey Retired
Russell wasn?t perfect with the candles, by any means, but the smile at the end made it seem like it was his best day.
?Thanks to my wife for all the work she put into my cake, candles not so much,? he tweeted. ?Glad we had the [fire] extinguisher on hand. #85&StillAlive?
After leading the University of San Francisco to back-to-back NCAA college basketball championships and leading Team USA to the gold medal at the 1956 Summer Olympics, Russell was selected No. 2 overall by the St. Louis Hawks in the 1956 NBA Draft before moving to the Boston Celtics.
In Beantown, Russell did it all. He averaged 15.1 points and 22.5 rebounds per game throughout his playing career, captured 11 NBA championships, five NBA MVP awards, 12 NBA All-Star Game appearances and is easily regarded as one of the 10 best basketball players the game has ever seen.
Although his career ended with stints with the Seattle SuperSonics and Sacramento Kings, Russell is forever in Boston lore. He is one of two players to grab 50 rebounds in a game ? Los Angles Lakers superstar Wilt Chamberlain was the other ? and he even received the Presidential Media of Freedom for his accomplishments on the basketball court and in the Civil Rights movement.
A legend deserves a big-time celebration and there?s no doubt Bill Russell will celebrate each day in style.