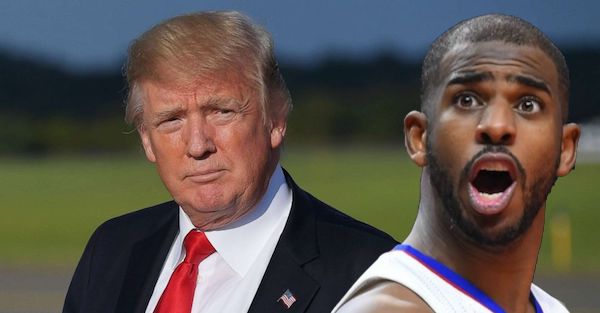 President Donald Trump isn't making himself any friends among professional athletes this weekend.
Trump took a hard stance against the NFL and player protests and he rescinded the Golden State Warriors' invite to the White House, specifically taking a shot at superstar Stephen Curry. Of course, Curry and the Warriors likely weren't planning on going anyhow, but semantics, right?
Trump drew the ire of the NFLPA with his comments and his stance against Curry has drawn major criticism as well. Everyone from LeBron James to Kobe Bryant has spoken out against him. James went as far to call Trump a "bum." Meanwhile, Bryant took his own stance, saying that Trump will never be able to "Make America Great Again."
Though he certainly doesn't have the star power of James or Bryant, NBA star Chris Paul threw his two cents into the conversation on Twitter. In fact, he actually took a shot against the President's manhood in response to Trump calling NFL players protesting the National Anthem sons of bitches:
That's a strong take against anybody let alone a sitting President of the United States. Of course, Trump isn't your ordinary President and he has decided to make an enemy of some very high profile athletes and leagues, so it's going to be interesting to see how this all shakes out.
Some would say that beefs with superstar athletes are the least of Trump's worries right now, but this won't help his public perception among those who don't already support him.
In fact, it may even lose him some support among NBA and NFL fans.