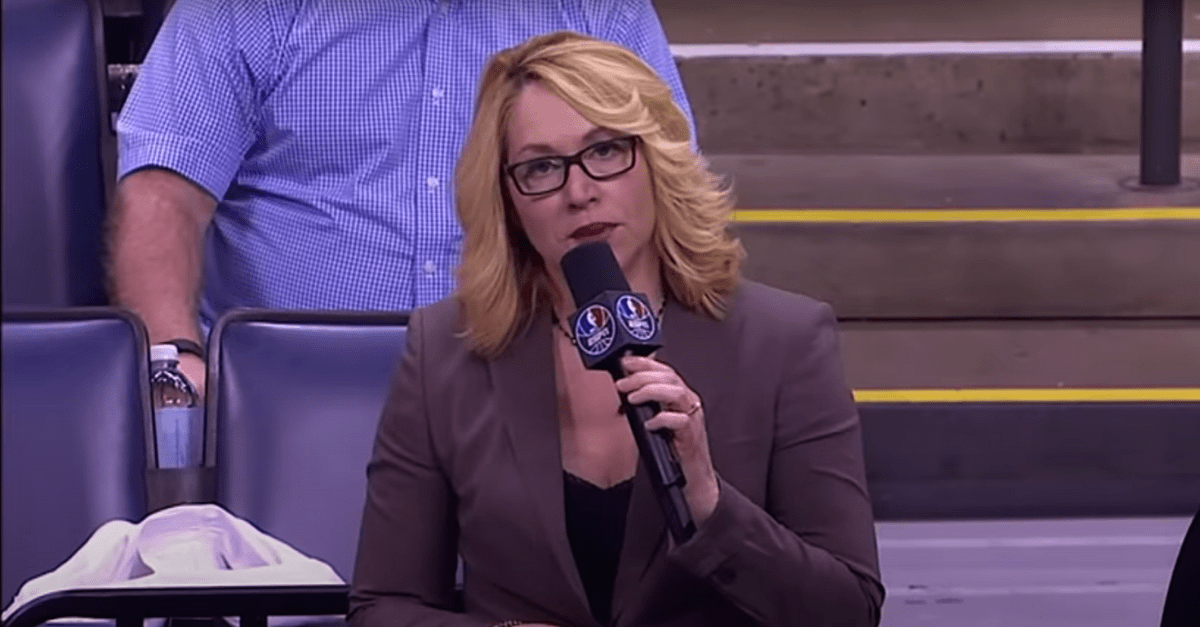 YouTube: ESPN
Doris Burke is as steady as anyone in the broadcasting business. She brings knowledge, detailed analysis, and personality to the booth. When Doris is on the call, you're in good hands.
Doris Sable was born on November 4, 1965 in Manasquan, New Jersey as the youngest of eight children. She started her career as a basketball player in second grade, idolizing Kyle Macy, Kelly Tripucka, and Tom Heinsohn. After a successful four years playing point guard at Manasquan High School, she chose to play college basketball for the Providence Friars.
Providence College

Doris' cool, calm, and collected demeanor was fit to steer the Friars' women's basketball team. She led the Big East Conference in assists as a freshman. The point guard was named to the All-Big East Second Team once and the All-Big East Women's Basketball Tournament Team twice. As a senior, she was named Providence's Co-Female Athlete of the Year. She finished as the school's all-time leader in assists.
Doris graduated with a Bachelor's degree in health service administration/social work and later earned a Master's degree in education. Providence awarded her with an honorary doctorate in 2005.
Broadcasting Career
Burke began her broadcasting career calling Providence's women's games on the radio in 1990. She transitioned into television later that year, calling Big East women's games. She's worked for ESPN since 1991 in many basketball-related capacities.
Burke's been a large part of the network's coverage of WNBA games. In 2003, she partnered with Dick Vitale to form ESPN's men's college basketball A-team. Around the same time, she started working as a sideline reporter for NBA games, and she's held down the sidelines for the NBA Finals on ABC Sports since 2009. Virtually, Burke has been the sideline reporter for 2K Sports' NBA 2K series since NBA 2K11.
In 2013, Burke agreed to a contract extension with ESPN. She served as NBA Countdown's host from 2013-16.
She was the first female commentator to call a New York Knicks game, Big East men's games, and serve as a primary color analyst on a men's college basketball package. In 2017, she became a regular NBA game analyst for ESPN. Burke is the first women to be assigned this role in a full-time capacity at the national level.
Here's a list of Doris' honors as a sportscaster:
—Providence College Hall of Fame (1999)

—USA Today Rudy Award as the Best New Face in Sports Television (2003)

—Institute for International Sport's Scholar Athlete Hall of Fame (2004)

—New England Basketball Hall of Fame (2006)

—North Providence Hall of Fame (2006)

—NCAA Silver Anniversary Award (2012)

—Basketball Hall of Fame's Curt Gowdy Media Award (2018)
Personal Life
The NBA Analyst was formerly married to University of Rhode Island golf coach Gregg Burke. She roasted him on the call of the New Orleans Pelicans and Memphis Grizzlies game on August 3, 2020 in good fun. They have a daughter, Sarah, and son, Matthew, together.
Burke revealed she tested positive for coronavirus on March 27, 2020. The beloved sports reporter has since recovered and resumed her commentating duties.
Doris Burke's Net Worth
According to Celebrity Net Worth, Doris Burke is worth around $4 million. Her estimated annual salary ranges from $400,000 to around $1 million, though no confirmed number has been published.
Regardless, her insight, breakdowns, and wit are worth every penny.