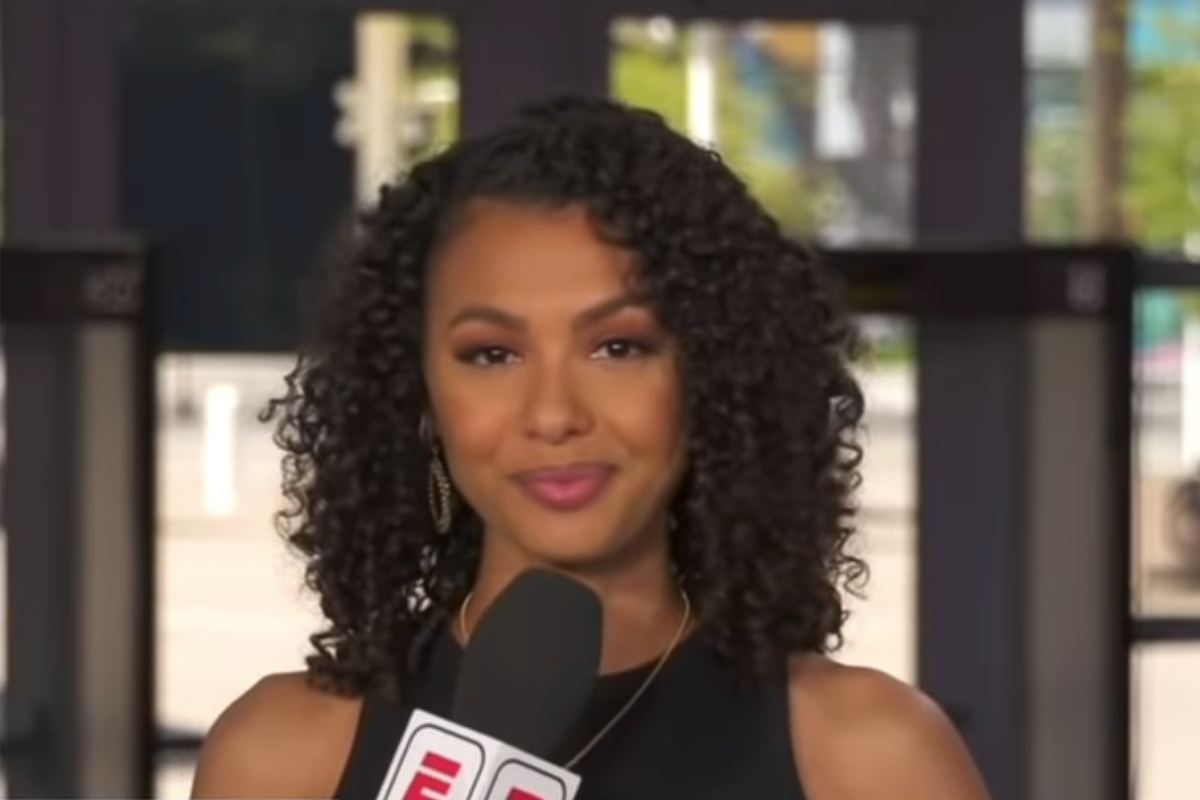 Screenshot from YouTube
Say what you want about ESPN's and their favoritism towards certain athletes, but the network is the pinnacle of sports coverage.
To sports journalists, getting a job at ESPN is the endgame, and some spend their whole careers trying to get there.
Malika Andrews is already there, and she's only 26.
The sports reporter has quickly risen through the ranks as one of sports media's brightest young stars. Who is she and how did she soar to the top of her industry so fast?
Who is Malika Andrews?
View this post on Instagram
Andrews was born in Oakland, California on January 27, 1995. As a Bay Area native, it was only natural she grew up a Golden State Warriors fan.
Andrews moved  north to attend the University of Portland, where she was the sports editor and chief editor of the school's newspaper. She excelled so much in her studies that she won a National Association of Black Journalists scholarship and worked several high-profile internships. Her stops included The New York Times and Chicago Tribune.
The young journalist made her first industry connection when she introduced herself to NBA news king Adrian Wojnarowski at the Las Vegas Summer League in 2017. A year later, she was hired to cover the Milwaukee Bucks, Minnesota Timberwolves, Chicago Bulls and Dallas Mavericks for ESPN.
The NBA reporter stepped onto the national stage last year when she covered the NBA Bubble in Orlando during the coronavirus pandemic. She was one of the most consistent faces we saw at Disney's Wide World of Sports. Additionally, Andrews appears on the network's NBA shows, podcasts and "SportsCenter."
Malika Andrews Sister
View this post on Instagram
Sports journalism runs in the Andrews family.
Malika's sister Kendra is NBC Sports' Bay Area reporter for the Golden State Warriors. Kendra, who is three years younger than Malika, spent a year at The Athletic prior to her current gig and graduated from Gonzaga University.
Malika Andrews Named NBA Finals Sideline Reporter
RELATED: Maria Taylor's Height Made Her a 2-Sport Star at Georgia
If you watch any NBA on ESPN, you're familiar with seeing "The Jump" host Rachel Nichols as the primary sideline reporter. Nichols is one of the faces of ESPN's pro basketball news, so it would only make sense she lead the NBA Finals studio coverage. Well, that wasn't the case.
ESPN gave the job to Maria Taylor last season, a talented journalist in her own right who covers college football and hosts "NBA Countdown."
Nichols wasn't thrilled about the news, especially since the job was included as part of her contract. "The Jump" host, down in the Orlando bubble recording segments, voiced her frustrations to Adam Mendelsohn—an adviser to Los Angeles Lakers superstar LeBron James.
The only thing: she didn't know her camera was inadvertently rolling. Per The New York Times:
"I wish Maria Taylor all the success in the world—she covers football, she covers basketball," Nichols said in July 2020. "If you need to give her more things to do because you are feeling pressure about your crappy longtime record on diversity—which, by the way, I know personally from the female side of it—like, go for it. Just find it somewhere else. You are not going to find it from me or taking my thing away."
The quote made waves through social media and it didn't help that Taylor's contract is up during the NBA Finals coverage on ABC. On top of this, the New York Post's Andrew Marchand reported Taylor turned down an extension that paid $5 million per year.
So, where does Malika Andrews fit into this?
ESPN replaced Nichols with Andrews as the Finals' primary sideline reporter. She'll be the voice on the ground during pregame check-ins and halftime reports in the heated matchup between the Phoenix Suns and Milwaukee Bucks.
Andrews is quite young to assume such a large job for a big event. She's more than prepared, and don't be surprised if she eventually starts working prominent roles covering the Olympics, MLB and NFL in the future.