Everyone knows Rachel Nichols. She's one of the most well-respected sports reporters and TV hosts in the NBA world. The red-headed inquisitor and host of ESPN's weekday TV show The Jump has sat face-to-face with the likes of LeBron James, Steph Curry, Anthony Davis and Giannis Antetokounmpo.
Nichols' career background is pretty impressive. After earning a degree from Northwestern University's Medill School of Journalism in 1995, the American sports journalist broke into the sports media world writing for the Fort Lauderdale Sun-Sentinel. The Potomac, Maryland, native then headed back home to cover the NHL's Washington Capitals for the Washington Post in the 1990s and early 2000s.
ESPN gave the 47-year-old her big break in 2004, making her one of its routine faces on shows like SportsCenter, Sunday NFL Countdown and Monday Night Countdown. Nichols has done it all. She was a sideline reporter for Monday Night Football before leaving ESPN for CNN to host her own show, Unguarded with Rachel Nichols. In 2014, the talented journalist pressed NFL commissioner Roger Goodell, Ray Rice and Floyd Mayweather on domestic violence issues while also working for Turner Sports' NBA on TNT and becoming a key part of the company's NBA coverage.
Sports Illustrated has even gone so far to call her the country's "most impactful and prominent female sports journalist," putting her right next to Doris Burke, Erin Andrews, Hannah Storm and Suzy Kolber. Her accolades don't end there. The Hollywood Reporter has named her one of the "10 Most Powerful Voices in Sports Media", Esquire included her on its list of "Women We Love", and SI continued to sing her praises by naming her to its MMQB 100 and applauded her social media presence by including her in its Twitter 100.
Nichols has only grown more since re-joining ESPN in 2016. The Jump is a ratings success. She's hosted ABC's NBA Finals coverage, is a recurring guest-host on the Pardon My Take podcast and often appears on Pardon the Interruption.
NBA fans are very familiar with Rachel Michele Nichols, who is renown for her journalistic drive, but what do we know about her personal life?
Who is Rachel Nichols' Husband Max Nichols?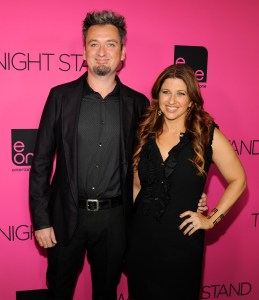 Photo by Chris Pizzello/Invision/AP
RELATED: Doris Burke is a Basketball Genius With a Big Bank Account
Born Rachel Michele Alexander to parents Jane Jacobs and Ronald Jacobs, Nichols grew up in Maryland with two siblings -- an older and younger brother. She attended Winston Churchill High School before shipping off to Evanston, Illinois, for college.
Nichols lives in Los Angeles, California, with her husband, Max Nichols. Max is an actor, film and stage director as well as a music video director, most notably directing the music video to a remix of T-Pain's "I'm N Luv (Wit a Stripper)."
Max is the son of film director Mike Nichols, who directed movies like The Graduate (1967) and Who's Afraid of Virginia Woolf? (1966), which took home five Academy Awards and was the top-grossing movie in 1966. Mike married famous broadcast journalist Diane Sawyer in 1988 and is on a short list of Hollywood elite to have won an Academy, Emmy, Grammy and Tony Award. He passed away in 2014 at 83.
During the coronavirus pandemic, Rachel likely had to ask her husband for tips on how to produce her show from home.
"It's been crazy. I've been able to develop skills I didn't know I had, so that's good," she told The Hollywood Reporter. "I thought I was just a television journalist, it turns out that I am also a cameraman, I am an electrical grip, I'm an IT guy, I didn't know that, I'm a makeup artist, definitely didn't know that."
How Did They Meet?
According to Heavy.com and The List, the two first met as teenagers at a summer camp in Maine.
They parted ways and did their own things, advancing in their respective careers before reconnecting once they were both established. Max reportedly worked at New York indie record company Tommy Boy Music before reaching out to the past friend.
Rachel and Max officially tied the knot in 2001 at a traditional Jewish ceremony in Venice, New York, according to The New York Times.
Rachel Nichols' Children
Catching up with Devin Booker after his 40-point triple-double - huge win for the Suns without Chris Paul. pic.twitter.com/0tLxYJtxjG

— Rachel Nichols (@Rachel__Nichols) June 21, 2021
Rachel and Max have twin daughters, who are both 9.
She rarely talks about or posts her children in an effort to keep them out of the spotlight, and it sounds like she's trying to provide a normal life for them
After Kobe Bryant and his daughter died in a plane crash, Rachel couldn't help but get choked up on air.
Rachel Nichols gets choked up while talking about Kobe Bryant and his relationship with his daughter. pic.twitter.com/g5jjOBqXTa

— gifdsports (@gifdsports) January 26, 2020
Rachel Nichols continues to produce great work for ESPN, and NBA fans should know that she's more than a talking head. She's a devoted mother of two and a loving wife.
Enjoy all things sports?
Don't miss a story! Sign up for daily stories delivered to your inbox.