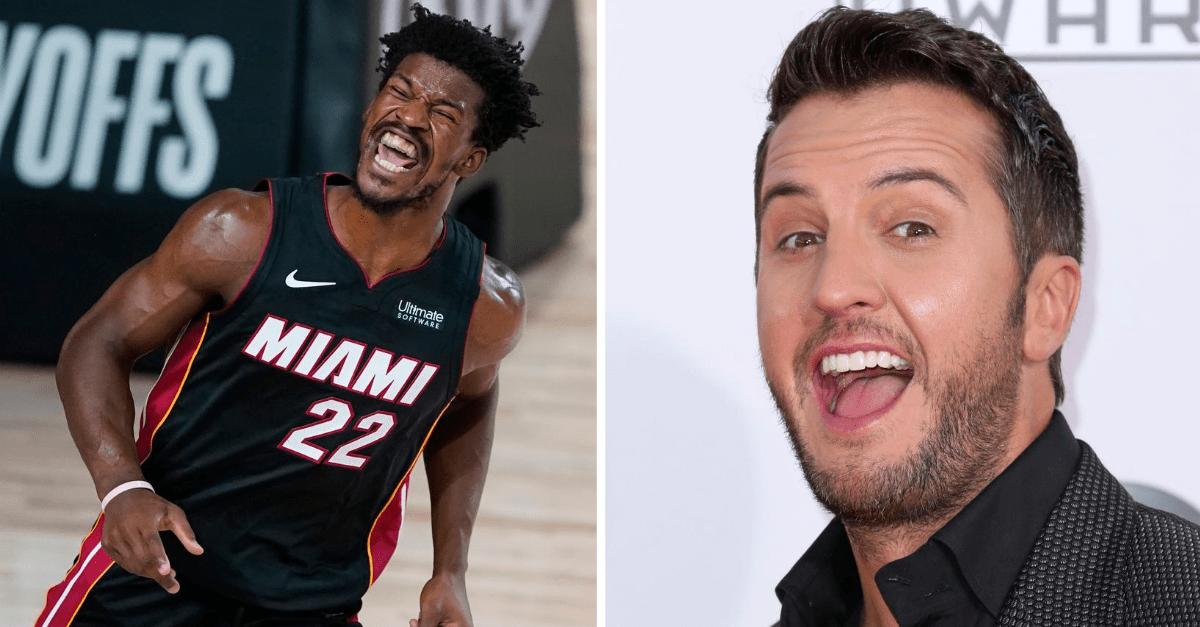 AP Photo/Ashley Landis, Pool (left), zz/RE/Westcom/STAR MAX/IPx 2014 (right)
Jimmy Butler lit it up for 32 points, 10 assists, and 5 steals. She was still on his mind.
He sent a third-straight remorseful text message from the locker room. No response. The media bombards him. Sometimes the spotlight is overwhelming when she's all you can think about.
"What if we were in a relationship and held hands?" he thought.
This is verbatim how Butler's opening scene in country singer Luke Bryan's "Light It Up" video played out.
Jimmy Butler in Luke Bryan's "Light It Up" Music Video
The backstory of how this whole thing came together stems from the basketball player's time with the Chicago Bulls. Butler, a big country music fan, frequented many country shows around the Chicago area. He's particularly a fan of Bryan's music and makes a point to attend his concerts when he's able. The two played hoops together in a video on Bryan's YouTube channel in 2015.
RELATED: Jimmy Butler?s Dating History Is Filled With Celebrity Rumors
Back to the music video. In the 2017 offseason, as the newest member of the Minnesota Timberwolves, the NBA player translated his fandom into acting for his favorite country star.
Jimmy periodically checks his phone throughout the music video, latching onto any sense of hope. His screen-time report was up 3,000 percent that week. He goes to the gym to clear his head.
The superstar returns home to find his girlfriend's belongings on the table. She's just resting after a night with the girls. Turns out her phone broke. Whatever Jimmy did to get in the doghouse, his mistakes were absolved. What a break!
Fellas, the key takeaway here is she's not ghosting you, her phone's just broken. It's only a matter of time before your high school crush gets hers fixed.
Butler and Bryan hung out again following the Miami Heat's 118-111 loss to the Memphis Grizzlies on December 16, 2019. This time, Butler's Heat teammate, Meyers Leonard, tagged along. They kicked off the day practicing archery with a compound bow at Bryan's home in Nashville, Tennessee.
Bryan and his wife Caroline decided to prank the NBA stars with the help of their pet turkey, Juanita. The couple shared the results on social media as part of their "12 Days of Prankmas." It must've been a trending phase for country stars to pull pranks at that time because Carrie Underwood fooled shoppers on Jimmy Kimmel Live! the prior month.
As Jimmy Butler continues to dominate in the NBA, you better believe his close friend is watching.