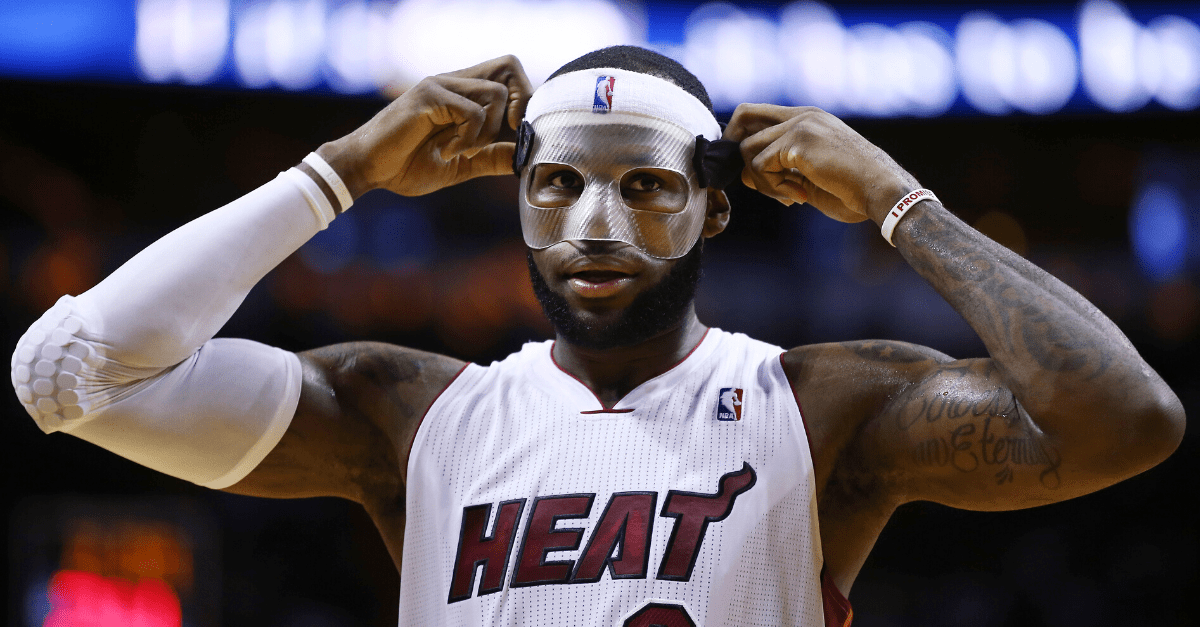 AP Photo/J Pat Carter
LeBron James doesn't seem human most of the time.
At 35 and in his 17th NBA season, the Los Angeles Lakers superstar averaged 25.7 points, 7.9 rebounds, 10.6 assists and had L.A. sitting atop the Western Conference before the 2019-20 season was suspended due to coronavirus.
The guy doesn't falter. No way he would let a broken nose and face mask affect his game.
The Charlotte Bobcats can attest.
Masked LeBron James
During his final season with the Miami Heat, LeBron broke his nose in a game against the Oklahoma City Thunder. He was down on his luck; an appropriate origin story for someone about to don a secret identity. The face wear he chose was a jet black, carbon-fiber mask. He paired the accessory with the Heat's retro black uniforms against the New York Knicks a week after the injury ? It gave off hints of the caped crusader himself. James scored 31 points, grabbed 4 rebounds, and recorded 4 assists in a 108-82 victory.
Unfortunately, the league office banned the black mask. Kyrie Irving, Kobe Bryant, and Joel Embiid are fellow NBA players who sported the Zorro look. What a shame. It adds flavor and style to the game's aesthetic. The same can be said about dark visors in the NFL. As a result, James switched to a clear mask.
Two games later, exhibiting a new look, LeBron torched the Charlotte Bobcats for a career-high 61 points in a 124-107 win, sniping 8 of 10 attempts from three-point land. Sheesh.
LeBron James Scores 61 Points in Face Mask
Was the banning of the black mask the end of the second act when the hero has all the chips stacked against him? Was the 61-point breakthrough the clean resolution to wrap up the LeBron masked-saga?
The protective mask is a brief trademark of LeBron at the peak of his powers. He didn't slow down; he accelerated. It's disappointing we weren't able to see LeBron wear the black mask when he fully embraced the villain role three seasons earlier. The Internet would've exploded with flaming hot takes.