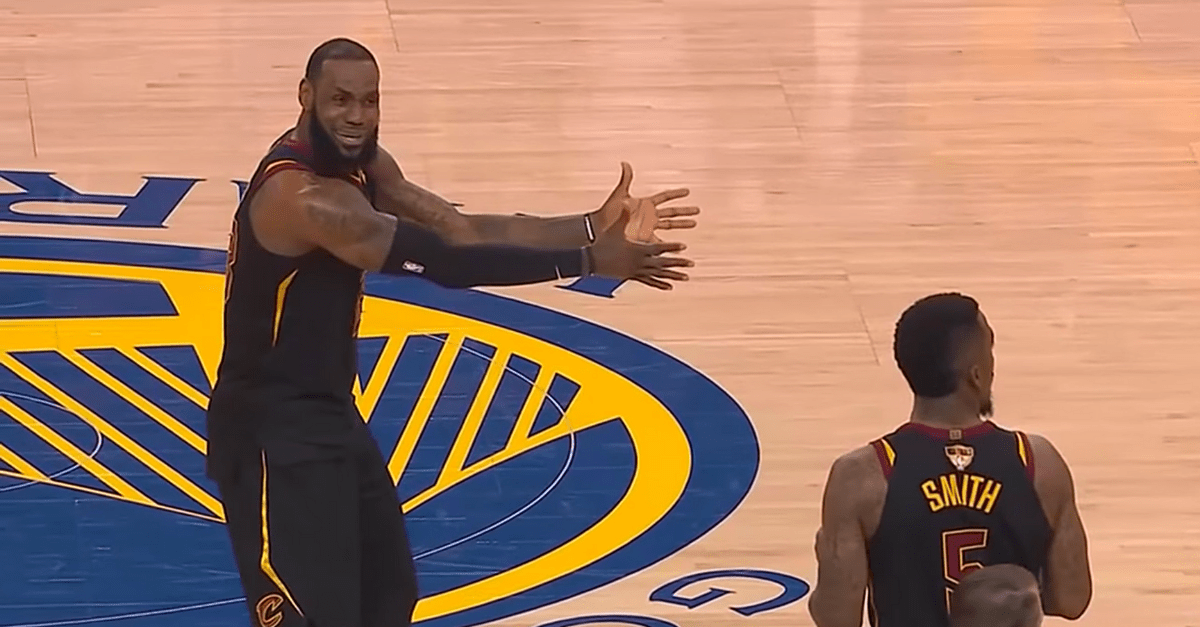 YouTube: CliveNBAParody
Game 1 of the 2018 NBA Finals was the chance. The opportunity to take down the mighty Golden State Warriors in their own building. The Cleveland Cavaliers were nearly there.
Golden State led 107-106 with 4.7 seconds to go in the fourth quarter. Cavs guard George Hill stepped to the free-throw line for two shots. He nailed the first one. Excitement swelled; could Cleveland really pull this off?
Hill left the second shot short, but J.R. Smith grabbed the offensive rebound. The hoop must've eaten shellfish for lunch or something because Smith bolted the other way towards half-court. By the time he realized the clock, LeBron James hectically signaled to Hill in the corner. Smith threw the pass while James frantically attempted to call a timeout, but the refs didn't see him. Hill's desperation three missed the mark and wasn't released in time.
Overtime.
Oracle Arena welcomed the extra five minutes. The Cavs were deflated. The chance to dethrone the latest NBA dynasty gone in the wind.
J.R. Smith's 2018 NBA Finals Game 1 Goof
The game and series could've been called at the end of regulation. The Cavs played their guts out, but the colossal shift in momentum was too big a mountain to climb. Stephen Curry, Klay Thompson, Kevin Durant and Draymond Green spirited Golden State to a 124-114 win.
Smith's gaffe was on everyone's mind.
What was he thinking? According to ESPN's deep dive inside the sequence, Smith and Cavaliers coach Tyronn Lue have different answers.
In his postgame interview, Ty Lue said that Smith thought they were up by one. Smith, swarmed by the media after the game, said he knew they were tied and was creating space to get a clean look or call a timeout.
Salt in the wound.
James, a four-time NBA MVP, put on a stellar performance. He scored 51 points on 19-of-32 shooting, snagged 8 rebounds, and dished 8 assists. Kevin Love chipped in for 21 points and 13 rebounds. James deflected further exploration of Smith's thought process in a tense postgame press conference. Eight days later, the Warriors completed the sweep and won their third title in four years.
LeBron James' Interview After Game 1
Smith has a chance at redemption. After sitting out last season, the former New Orleans Hornets, Denver Nuggets and New York Knicks shooting guard was signed by the Los Angeles Lakers as a substitute player for the league's restart in Orlando. He'll team up with James to embark on another deep NBA Playoffs run. After a three-month layoff because of the coronavirus, the Lakers, Los Angeles Clippers and Milwaukee Bucks are the top contenders.
The baffling play became a fountain of meme material, and for that, we thank J.R. Any J.R. Smith is fun J.R. Smith, and I'm eager to see him in the NBA bubble.