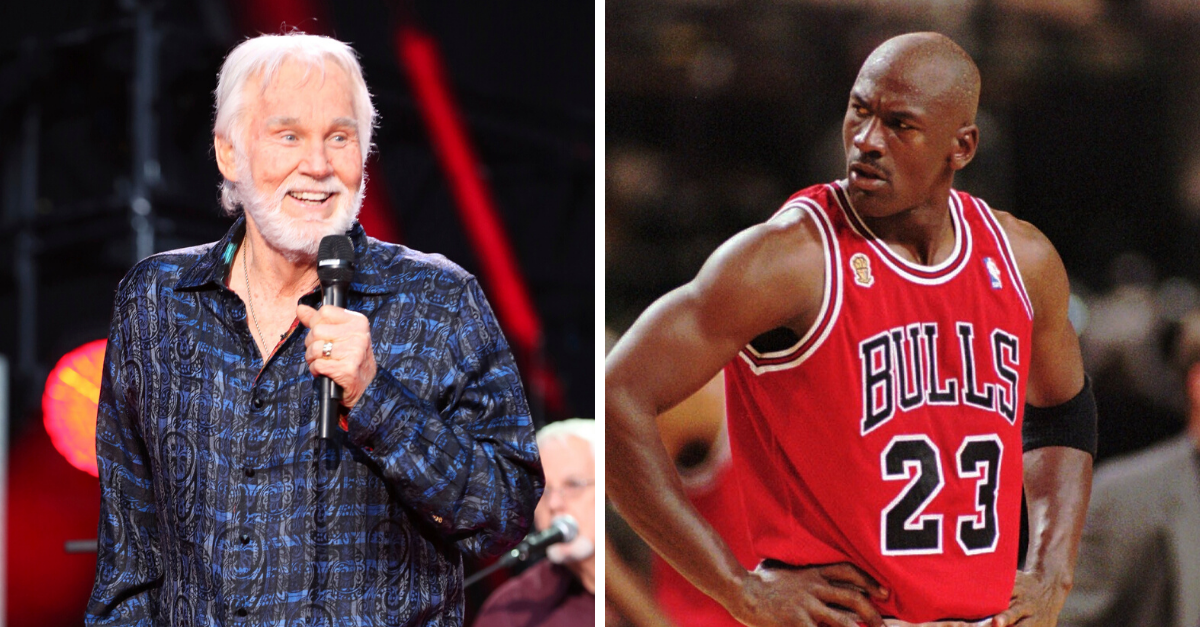 Laura Roberts/Invision/AP (left), AP Photo/Beth A. Keiser (right)
On March 21, 2020, country music legend Kenny Rogers died at his home in Georgia. According to a statement from his family, via Wide Open Country, Rogers "passed away peacefully at home from natural causes under the care of hospice and surrounded by his family." He was 81 years old.
Losing icons who impacted many of us is never easy, but the wake of their passing always uncovers the true beauty in their lives. While Rogers produced timeless classics like "The Gambler" and "Islands in the Stream," one forgotten moment came back to light, linking the Grammy Award-winning songwriter and producer with another legend: Michael Jordan.
The Kenny Rogers Classic Weekend 1988 took place in Athens, Georgia, bringing the biggest celebrities of the day together for a three-day fundraising festival featuring live music, golf, fishing, and a star-studded 3-on-3 celebrity basketball game.
The 1988 edition of the game might as well be inducted in the Naismith Memorial Basketball Hall of Fame. NBA legends Dominique Wilkins, Larry Bird and Michael Jordan highlighted the teams, while Kenny Rogers, tennis star John McEnroe, and actor James Caan helped their teams during the charity game.
As you'd expect of the greatest basketball player ever, M.J. was playing to win. He hit the game-winning shot to help his Red Team defeat Wilkins' White Team, but it was Bird's Green Team who came away champions. The tournament's highlights surfaced on YouTube and offer two minutes of golden era hoops, but all you need to see begins at the seven-second mark.
The Time Kenny Rogers Faked Out Michael Jordan
RELATED: The Space Jam Soundtrack's 14 Timeless Songs, Ranked
With famed Los Angeles Lakers announcer Chick Hearn on the call, Rogers pump fakes, sends Jordan flying by, then nails his jump shot.
"Now, a fake! Kenny Rogers puts Jordan in the popcorn machine and hits a 21-footer! How about that shot?"
Don't worry, "His Airness" got revenge and blocked a Kenny Rogers layup attempt shortly after.
It's a terrible thing to lose a legend, but seeing moments like this help us remember how impactful they really were, not just in their industry, but bringing others together for the sake of charity and fun.
Here's an excerpt from Wide Open Country's obituary on Kenny Rogers' life:
Rogers, born in 1938 in Houston, Texas, first rose to fame with his band the First Edition (later renamed Kenny Rogers and The First Edition), with hits such as "Just Dropped In (to See What Condition My Condition Was In)," "But You Know I Love You" and "Ruby Don't Take Your Love to Town."

Rogers launched his solo career in 1976 with the album Love Lifted Me. Later that year, Rogers released a self-titled album, which featured the No. 1 hit "Lucille." His 1978 album The Gambler, which featured Rogers' signature song of the same title, was a smash hit. "The Gambler" won a Grammy for Song of the Year and solidified Rogers as a country music superstar and pop crossover success. The song was added to the Library of Congress' National Recording Registry in 2018.

Rogers racked up 24 No. 1 hits throughout his career and collaborated with fellow country stars such as Dottie West and Dolly Parton. With Parton, his longtime friend, Rogers recorded several beloved songs, including "Real Love" and "Islands in the Stream." In 2013, they reunited for "You Can't Make Old Friends."

In 2012, Rogers released a memoir, Luck or Something Like It. In 2013, he published a novel, What Are the Chances.

In 2015, Rogers announced his retirement, explaining that he wanted to spend more time with his family.

"My life is about my wife and my 11-year-old twin boys right now. There are a lot of things I want to do together with them to create some special memories," Rogers said. "I don't have a bucket list of my own … I have a bucket list of things I want to do with them."