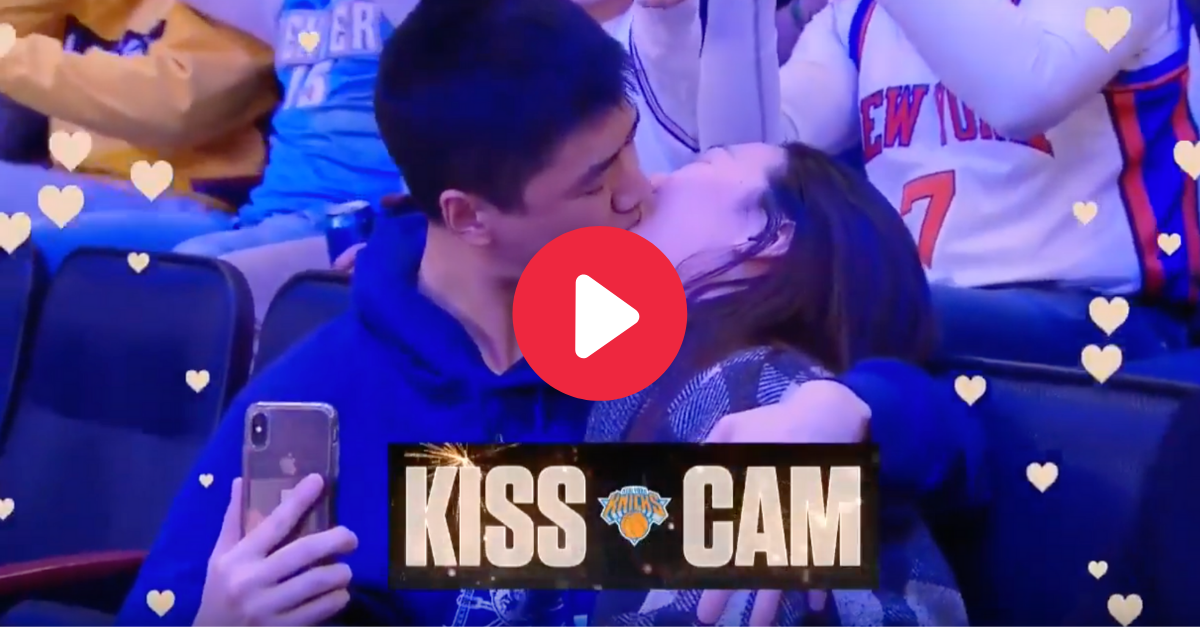 Screenshot from YouTube
The Kiss Cam at sporting events is truly the gift that keeps on giving. Watching couples, or even strangers, go at it in public never gets old for some odd reason. What happened at a New York Knicks game, however, is in a league of its own.
At Madison Square Garden, with the Knicks hosting the Portland Trail Blazers, one couple decided to ring in 2020 by showing the world how much they love each other with perhaps the most awkward smooch of all time.
This wasn?t just your typical New Year?s Eve kiss. Nope. This was an open mouth kiss that will made everyone at MSG cheer, but everyone else watching cringe in disbelief.
And to take the uncomfortable situation to new heights, the Knicks fan decided to record his own make-out session on his iPhone.
Knicks Fan Records Himself on Kiss Cam
RELATED: Luke Bryan Pranks NBA Players Using His Pet Turkey
Wednesday?s Knicks game wasn?t overly exciting. The return of Carmelo Anthony and his season-high 26 points was fun and all, but a 117-93 blowout between two struggling NBA teams isn?t exactly what the doctor ordered.
It definitely did not have the same appeal like Giannis Antetokounmpo?s amazing performance for the Milwaukee Bucks or LeBron James? triple-double for the Los Angeles Lakers.
What this pro sports event did have, through, is a male fan filming himself kissing a girl with a smartphone and causing a trending, social media frenzy.
Give the NBA some credit. They have found ways to keep fans involved during timeouts. From dancing on the jumbotron to chugging beer to half-court shots, it?s all fun and entertaining.
Nothing beats the Kiss Cam, however, and we have a new leader in the clubhouse for the best and most awkward one of 2020.
The confidence of that guy is truly unmatched.