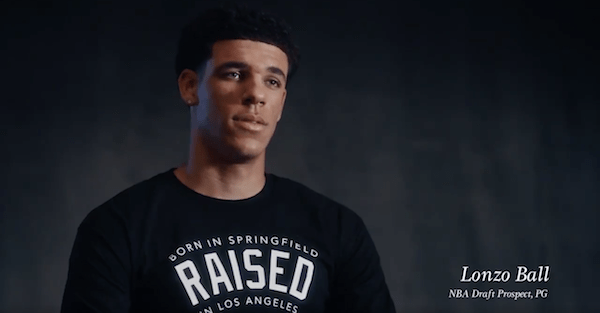 Twitter/Foot Locker
Foot Locker might have just released the best Father's Day commercial of all-time.
The commercial starts out with three 2017 NBA prospects?Jonathan Isaac, De'Aaron Fox, and Jayson Tatum?all detailing what makes their fathers so special. Then, Lonzo Ball appears and he absolutely roasts his boisterous father, LaVar.
Related: One NBA team may already be preparing for how it handles LaVar Ball
Lonzo discusses his father berating his high school coach for not getting his son the ball more and how LaVar chose UCLA for his son. He also mentions LaVar's numerous TV appearances and brings up some of his ridiculous claims.
It's a hilarious commercial and a great idea for Foot Locker, but it might be an even better PR move for Lonzo Ball.
For months, LaVar has had the spotlight and the attention instead of his son, despite Lonzo likely being a top-5 pick in the NBA Draft.
Of course, the ad aired a day after Lonzo and LaVar appeared on Jimmy Kimmel Live and said they could beat Michael Jordan in a game on 1-on-1.
Related: Lonzo Ball takes page out of LaVar?s book and calls out Michael Jordan
The commercial was a good idea for Lonzo to prove his dad doesn't have complete control over him, and it might ease the worry of some teams who are contemplating drafting him (although LaVar insists his son will only play for the Lakers).
The funniest line of the entire commercial, though, is Jayson Tatum saying "fishing" after Lonzo goes on and on about his dad.
Well done, Foot Locker.
(h/t Yahoo Sports)