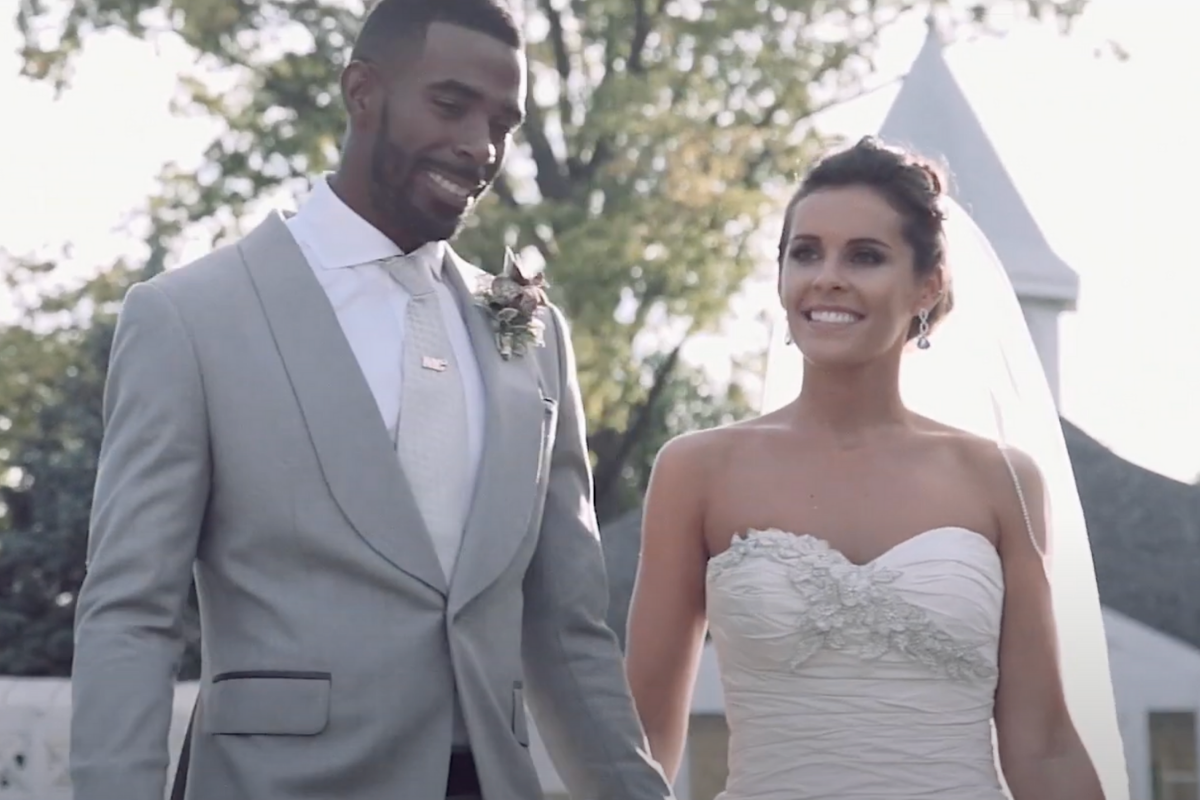 Screenshot from YouTube
NBA player Michael Alex Conley Jr. was born for success. I don't mean to make the Fayetteville, Arkansas native sound like a workhorse, but wait until you meet Michael Alex Conley Sr.
Junior may be an NBA star today, but his dad was the first one on the court. Mike Conley Sr. was on top of the world in 1992 after winning gold and silver at the Barcelona Olympics in the triple jump.
Mike Conley Jr. was only five years old at the time, but his father's success gave him a glimpse into the life of a professional athlete. What Junior learned in those formative years about how hard work relates to athletic success still informs his NBA career today.
Mike Conley is the NBA's humble point guard. He slow cooks opponents like Memphis barbeque. In a league full of flash and complainers, Conley remains calmer than a statue.
Conley isn't lightning in a bottle; he's lightning harnessed and turned into electricity, powering an entire team.
But behind every NBA star, there is a solid rock. Conley is a family man and has been married to his wife for more than five years. The stability in his personal has translated to a stable NBA career that has yet to reach its full potential.
Who is Mike Conley?
RELATED: Greg Oden Didn?t Play Long, But He Walked Away With a Fortune
NBA point guard Mike Conley Jr. is an underrated basketball great. He's a lot like Kawhi Leonard, yet somehow even more stoic. He's the perfect teammate for the low-key Donovan Mitchell and patient zero Rudy Golbert.
Mike Conley currently plays for the Utah Jazz, but his career began at Ohio State University with Greg Oden.
After playing high school ball in Indiana, Conley joined Thad Matta, Greg Oden, and the Ohio State Buckeyes for the 2006-2007 men's college basketball season. The team had high expectations but was ultimately defeated in the NCAA Men's Championship by Joakim Noah, Al Horford, and the Florida Gators.
Conley is a textbook one-and-done hero who went high in the stacked 2007 NBA Draft.
The Memphis Grizzlies selected Mike Conley fifth-overall in the first round of the draft. There, Conley toiled for years, developing subtle excellence in his game that casuals can't see.
Conley was well-rewarded for bringing the Memphis Grizzlies back to relevance but ultimately handed the keys to Ja Morant in 2019. Memphis traded Conley to the Jazz for Grayson Allen, Jae Crowder, Kyle Korver, and Darius Bazley's draft rights.
The two teams face off in the playoffs this year, so it looks like all parties profited from the trade. The Utah Jazz certainly did.
Conley has made two playoff appearances, a long-deserved All-Star appearance, secured the best record in the NBA, continued his streak of never receiving a technical foul, survived a plane malfunction, and added a newborn son to his family.
All that, during his shortened-by-the-pandemic two seasons in Utah.
Who is Mike Conley's Wife Mary Conley?
Mary Conley was Mary Peluso when she met Conley in college. They were both students at Ohio State University, the home of the Buckeyes. The college sweethearts have been together ever since, both staying busy on their toes.
Mary is a woman who wears many hats. She's been with Mike from Ohio to Tennessee to Utah, all while maintaining her own business ventures. Mary is a busy blogger and social media influencer. Her website Living LeReve covers fashion, travel, lifestyle, beauty, wellness, and I'm sure there's some yoga sprinkled throughout, just for good measure.
She blogs about her life, which these days includes three sons.
Mary Conley is the only person Mike has been with since he was drafted into the NBA. Now the Conley Clan has grown to five, with a new son arriving in August of last year.
Mike Conley wed Mary Lereve Conley in the Summer of 2014. They are still together today and have three children.
The birth of his youngest son Elijah Michael Conley in August 2020 caused Conley Jr. to miss the first two games of a first-round NBA Bubble playoff series against the Denver Nuggets in Orlando. Conley returned in game three and scored 27 points.
The Jazz rhythmically blew a 3-1 series lead, but Conley gained his third son. Elijah has two older brothers, Myles and Noah.
There are jokes about Mary possibly cheating on Mike. The disparaging remarks come at Myles Conley's lighter skin tone's expense. Conley couldn't possibly be the father of such a light-skinned baby, right? That's not at all how that works, and Nice Guy Conley has taken the jokes in stride.
That's the reaction I'd expect from a 14-year veteran who has never committed a technical foul. Conley is a class act and might be the coolest thing to ever happen to Utah since they decided to adopt the name Jazz despite having no historical connection to the music.
The way Mike Conley and his wife Mary live their life is pure jazz, and they've got the whole city of Salt Lake humming along.