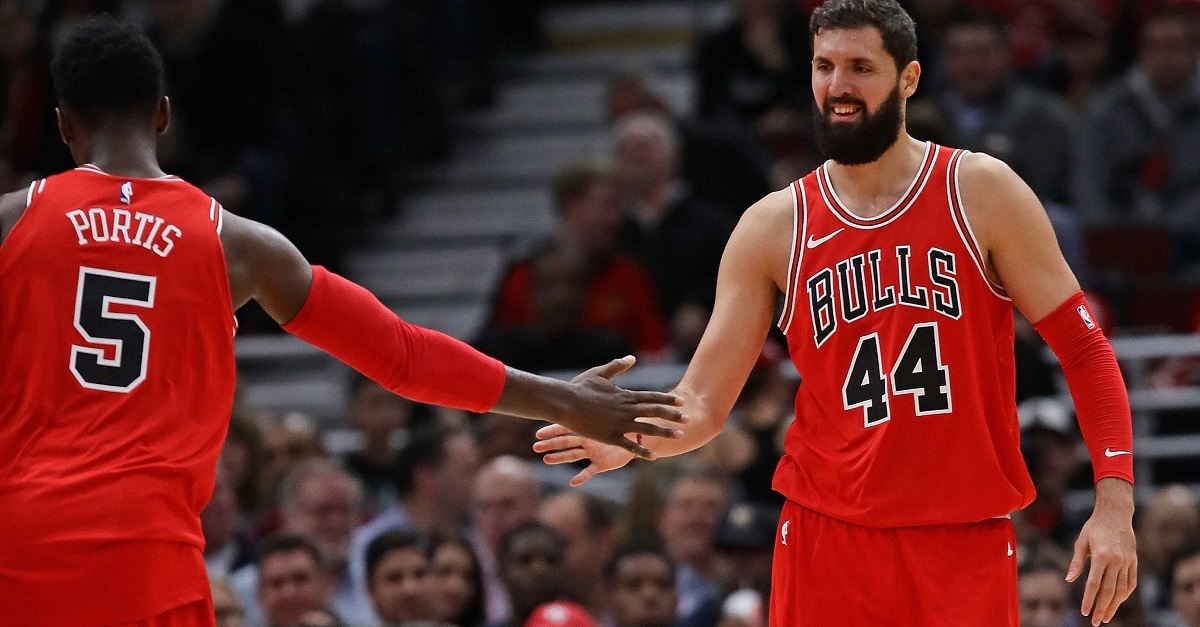 Jonathan Daniel/Getty Images
CHICAGO, IL - DECEMBER 18: Nikola Mirotic #44 and Bobby Portis #5 of the Chicago Bulls congratulate each other after a play against the Philadelphia 76ers at the United Center on December 18, 2017 in Chicago, Illinois. The Bulls defeated the 76ers 117-115. NOTE TO USER: User expressly acknowledges and agrees that, by downloading and or using this photograph, User is consenting to the terms and conditions of the Getty Images License Agreement. (Photo by Jonathan Daniel/Getty Images)
Chicago Bulls forward Nikola Mirotic has reportedly been traded to the New Orleans Pelicans in exchange for center Omer Asik, Tony Allen, Jameer Nelson and a 2018 first-round draft pick, according to Adrian Wojnarowski of ESPN.
News of the trade first surfaced on Tuesday when it was reported by Vincent Goodwill of NBC Sports Chicago that the Bulls were going to trade Mirotic to the Pelicans. The deal reportedly hit a snag on Tuesday as Mirotic wanted his $12.5 million option next season to be picked up in terms of the trade. It appears as though his option will now be guaranteed for next season.
Mirotic has reportedly wanted a trade from the Bulls for quite some time now. He and teammate Bobby Portis were involved in an altercation during a practice just two days before the start of the regular season.
The altercation sent Mirotic to the hospital after it was reported that he suffered a facial fracture and a concussion. Mirotic requested a trade from the Bulls following the altercation and even told the team that he?d be willing to waive his no-trade clause in order to facilitate a trade.
While Mirotic and Portis appear to have put the incident behind them, the team still planned on trading him at some point this season. Although the incident happened prior to the beginning of the season, the team had to wait until Jan. 15 to trade him based on his contract.
Mirotic is averaging a career-high 16.8 points and 6.4 rebounds in 25 games this season for the Bulls while shooting 42.9 percent from three-point range. The Bulls were just 3-20 when Mirotic debuted this season, but have gone 14-11 with Mirotic in the lineup.
By adding Mirotic, the Pelicans pick up another scoring option as they deal with the loss of DeMarcus Cousins after he tore his Achilles last week against the Houston Rockets. Cousins was averaging 25.2 points, 12.9 rebounds, 5.4 assists, 1.6 steals and 1.6 blocks this season prior to his injury.
With the Bulls in a rebuilding year, adding a future first-round draft pick figures to be good compensation for a capable player like Mirotic. The draft pick will reportedly have "minimal" protections on it so the Bulls will likely receive that pick this season.
The Pelicans are 27-23 this season and in seventh place in the Western Conference while the Bulls are 18-33 and in 13th place in the Eastern Conference.