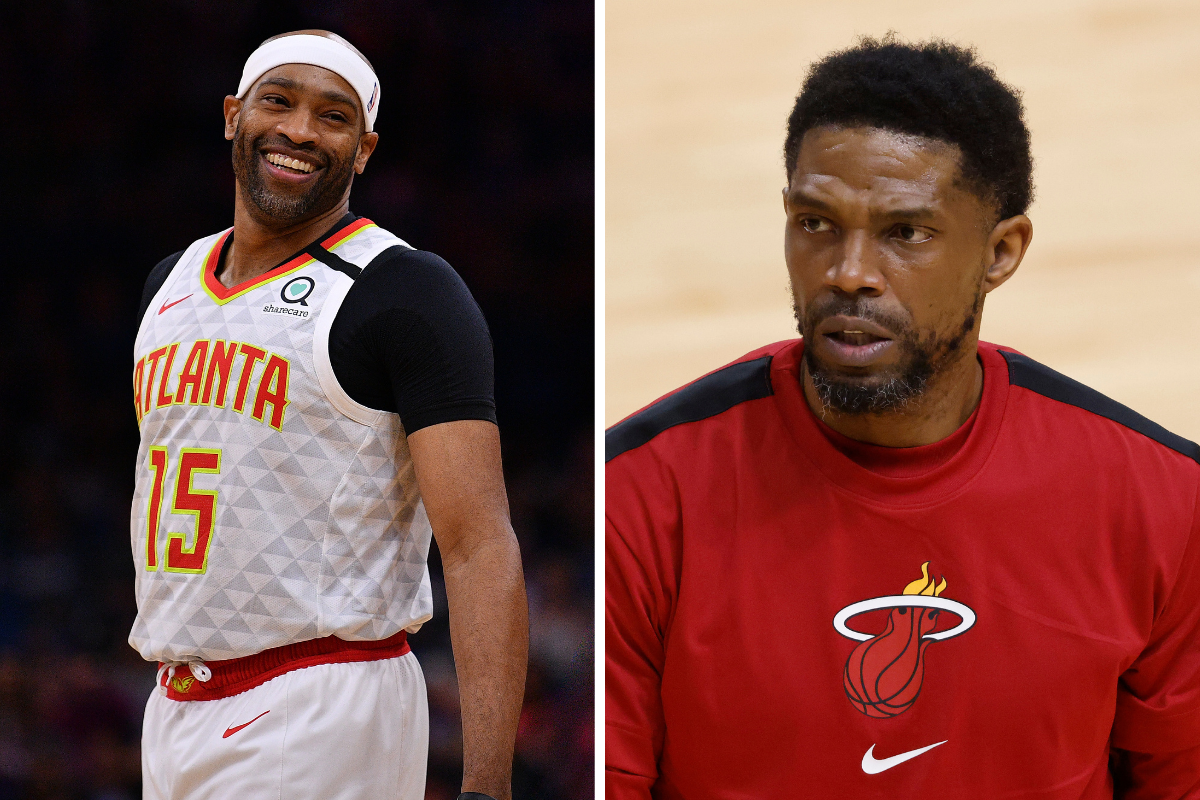 Photo by Mark Brown/Getty Images (left), Photo by Michael Reaves/Getty Images (right)
With yet another NBA Finals behind us and a new NBA season blossoming, you may notice that some of your favorites are starting to look a little older.
Everybody ages, fans and players alike. The league holds the NBA Draft every offseason, allowing every team from the Detroit Pistons to the New Orleans Pelicans to replace their old players with new ones.
Who are the oldest NBA players in league history, and how many of them are still playing today?
The 10 Oldest NBA Players in History
10. John Stockton: 41 years, 35 days
John Stockton is a Hall of Fame point guard, scorer and assists wizard who averaged over 13 points and 10 rebounds per game. The ten-time All-Star spent his entire career with the Utah Jazz and, therefore, never conquered Mt. Jordan, the perennial obstacle standing between Utah and an NBA championship. Even with Karl Malone towering by his side, Stockton never could get past the Chicago Bulls. Stockton played his final game in 2003 at the age of 41 years old.
9. Herb Williams: 41 years, 129 days
Herb Williams was a 6-10 center and power forward who played in the NBA for seasons with four different teams. Williams spent most of his time between the team that drafted him, the Indiana Pacers, and the New York Knicks, the team he retired with. Williams played his final game in 1999 at the age of 41 years and 129 days.
8. Bob Cousy: 41 years, 150 days
Bob Cousy was a funny little man making funny little passes all over NBA courts from 1950-1971. The Hall of Fame point guard played his first 13 seasons with the Boston Celtics, winning six NBA Championships and making every All-Star team in the process. Cousy retired after the 1963 season, only to come out of retirement for seven games in 1970 to help out the team he was coaching, the doomed-to-fail Cincinnati Royals. At the ripe age of 41, Cousy was not very helpful.
7. Udonis Haslem: 41 years, 174 days (and Counting)
Miami Heat legend Udonis Haslem is the only active player to crack the top 10 (more on that in a moment.) Haslem himself thought he would retire after last season and even received a standing ovation in his final game after getting ejected for putting Dwight Howard in his place.
Haslem has played in 863 regular-season games for the Miami Heat, not including his three postseason championship runs. Teammates refer to UD as the team's heart and soul.
6. Kareem Abdul-Jabbar: 42 years, 6 days
RELATED: The 12 Tallest NBA Players in History Are Skyscrapers
Kareem Abdul-Jabbar (born Ferdinand Lewis Alcindor Jr.) is a Hall of Fame Milwaukee Bucks and Los Angeles Lakers center who was an All-Star every damn season of his 19-season career. The former No. 1 overall pick and 1969-70 Rookie of the Year retired in 1989 after winning six NBA championships and six MVP trophies. Abdul-Jabbar had played the most games of any NBA player at the time of his retirement, a record broken by Robert Parish.
5. Dikembe Mutombo: 42 years, 300 days
No, no, no list of old ballplayers is complete without mentioning the 7-2 Congolese-American center who played for 18 seasons. Mutombo is a Hall of Famer, eight-time All-Star, the 1991-92 Rookie of the Year and a Philadelphia 76ers legend. Mutombo retired with the Houston Rockets after the 2008-09 season, tragically with an injury to his quadriceps tendon in a playoff game against the Portland Trailblazers.
4. Vince Carter: 43 years, 45 days
Vince Carter is known for slam dunking so hard that it makes fans go Vinsane. But the Vinsanity doesn't stop there — the eight-time All-Star is one of the greatest passers in the game, too. The 1998-99 Rookie of the Year played for eight teams before retiring after playing in 60 games during the 2019-20 season. Though best known for his time with the Toronto Raptors and New Jersey Nets (pre-Kyrie Irving and the Brooklyn Nets), VC also played for the Memphis Grizzlies, Sacramento Kings, Orlando Magic and Phoenix Suns. Carter retired in Atlanta.
3. Robert Parish: 43 years, 254 days
Robert "The Chief" Parish is a retired Hall of Fame center, a four-time NBA champion and a nine-time All-Star. He began his career in Golden State but is best known as a Boston Celtic, despite brief tenures with the Charlotte Hornets and Chicago Bulls. Parish started playing professional basketball in 1976, continuing to hoop until 1997, when he played with Michael Jordan and the Bulls at age 43.
2. Kevin Willis: 44 years, 224 days
Kevin Willis is a 7-foot NBA champion power forward best known for playing with the Atlanta Hawks. He was born in 1962 and played his final five NBA games during the 2006-07 season with the Dallas Mavericks (he played for the Houston Rockets and San Antonio Spurs throughout his career, too). Willis had retired after the 2004-05 season and re-retired in 2007.
1. Nat Hickey: 45 years, 363 days
Nat Hickey, the improbable oldest player in NBA history record holder who you've probably never heard of, has an even more improbable story of how he got there.
In 1948, Hickey coached the Providence Steamrollers of the newly formed Basketball Association of America, the NBA's precursor. Hickey's team was so bad that he ran out of ideas as a coach and resorted to putting on a jersey himself. He played poorly in two games with his team, playing his last game just before his 46th birthday. Hickey was 45 years and 363 days old and wouldn't have lasted two seconds in today's NBA.
Current Oldest NBA Players
Udonis Haslem, 41

Andre Iguodala, 37

Carmelo Anthony, 37

LeBron James, 36

Paul Millsap, 36
Currently, the NBA has several players who spend more time than the rookies stretching their lower backs.
As mentioned above, Udonis Haslem is the only active player in the top 10 and therefore the oldest active NBA player.
Udonis is followed by former Heat teammate Andre Iguodala, who Golden State Warriors Draymond Green recently called "old as s***."
Speaking of old as s***, two members of the Los Angeles Lakers starting five make the list (though the entire roster deserves a mention). Carmelo Anthony is 37, and LeBron James is a receding 36.
Denver Nuggets power forward Paul Millsap rounds out the NBA Retirement Club at 36, 42 days younger than LeBron. Millsap is closely followed by recent NBA champion and Sneaker Jesus P.J. Tucker.
Related Videos