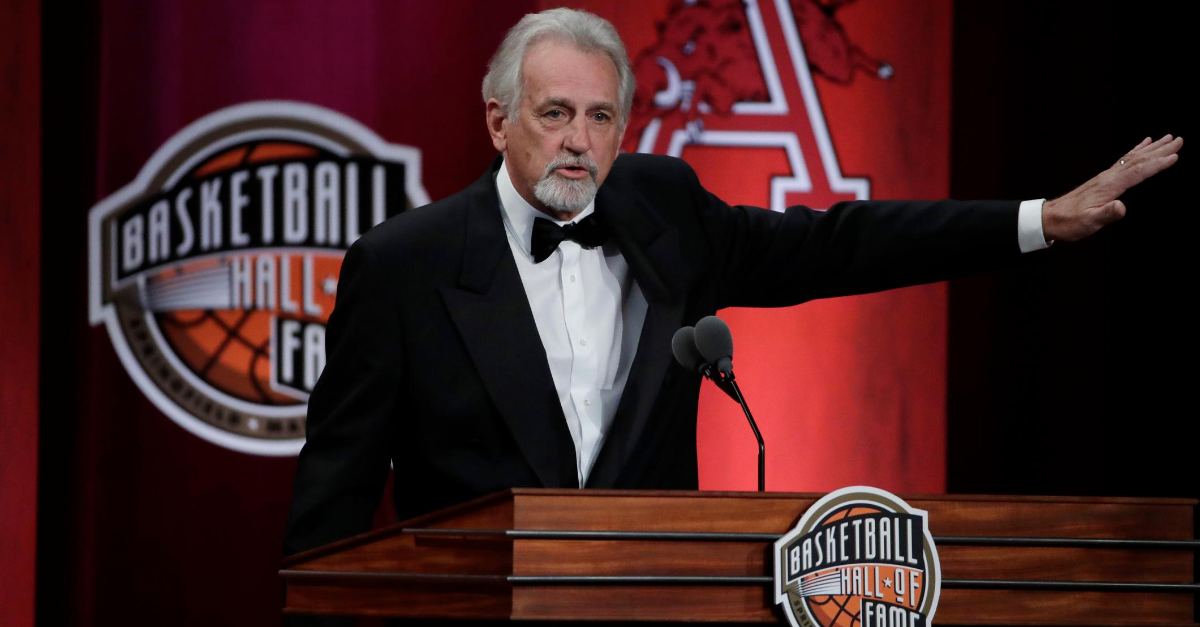 AP Photo/Elise Amendola
For nearly 50 years, Paul Westphal gave basketball everything he had. Whether as a player or a coach, you couldn?t have an in-depth talk about the game without at least mentioning him. Now, he is fighting for his life.
Westphal, a 2019 Naismith Memorial Basketball Hall of Fame inductee, was recently diagnosed with brain cancer. The tragic news was first shared by New York Daily News columnist Mike Lupica.
?I?ve been close friends with Paul Westphal ever since his 1972-73 rookie year with the Boston Celtics and had the pleasure of celebrating his wonderful career with him last September when he was inducted into the Naismith Memorial Basketball Hall of Fame,? Lupica wrote on social media. ?With his permission I am letting the basketball world know he has just been diagnosed with brain cancer. Specifically glioblastoma. Please pray for friend, No. 44.?
Glioblastoma is an ?aggressive type of cancer that can occur in the brain or spinal cord? and is ?very difficult to treat,? according to Mayo Clinic. The 69-year-old Westphal is entering his biggest battle yet.
Basketball Hall of Famer Paul Westphal Diagnosed With Brain Cancer
RELATED: Ernie Johnson Protects His Adopted Son?s Life at All Cost
Born in Torrance, California, Paul Westphal burst onto the scene as a star guard for Aviation High School and the USC Trojans in Los Angeles. He was then the No. 10 overall pick in the 1972 NBA Draft by the Boston Celtics and had a sensational career.
Westphal won a title with the Celtics in 1974, was a five-time NBA All-Star, and a three-time All-NBA First Team selection during his time with the Phoenix Suns.
No. 44 could do it all on the hardwood ? most notably scoring 12,809 points during his career ? and proved to be a solid coach, including four playoff appearances and leading the Suns to a NBA Finals appearance against the Chicago Bulls in 1993.
The Suns released a statement following the sad news during the coronavirus pandemic and COVID-19 outbreak.
?The Phoenix Suns organizations share their unwavering support for Paul Westphal and his family during this challenging time. We are devastated to hear of his brain cancer diagnosis. Paul has been an iconic cornerstone of the Phoenix Suns franchise for decades, both as an outstanding player and coach. His tenacity on the court and on the bench led the franchise to two NBA Finals appearances and his impact on the Phoenix community extends well beyond the hardwood.?
Westphal played for the Celtics, Suns, Seattle Supersonics and New York Knicks. He was the head coach at Southwest Baptist Bible, Grand Canyon and Pepperdine at the college level, while also leading the Suns, Supersonics and Sacramento Kings in the NBA. He was an assistant coach for the Dallas Mavericks and Brooklyn Nets before retiring in 2016.
Needless to say, Coach Paul Westphal?s impact has been felt across the country for years and now the entire basketball community is rooting for him to recover.