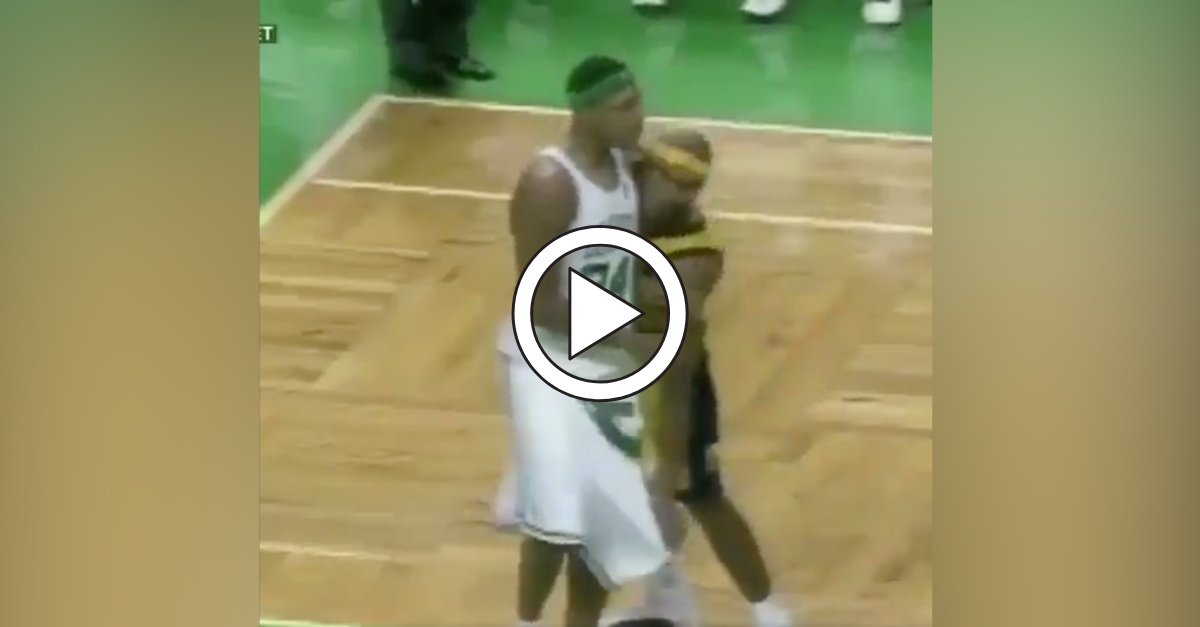 Screenshot from Twitter
Before he changed his name to Metta World Peace, Ron Artest was one of the best defensive NBA players during his 11-year career. The 6-foot-6 small forward won the 2004 NBA Defensive Player of the Year with the Indiana Pacers and twice was named to the NBA All-Defensive First Team.
Famous for his role in the "Malice at the Palace" fiasco between the Pacers and Detroit Pistons, Artest never shied away from confrontation. He often initiated contact, irritated opposing players, and just plain got under their skin.
Artest had many tricks in his defensive bag, but he broke out his best against the game's most prolific scorers. Longtime Boston Celtics small forward Paul Pierce qualifies under that title. The future Hall-of-Famer and 10-time All-Star scored more than 26,000 points during his time on the court.
Sometimes, the only way to stop someone nicknamed "The Truth" is to catch him with his pants down.
Literally.
Ron Artest Pulls Down Paul Pierce's Pants
In a game between the Pacers and Celtics back in 2005, Artest resulted to some drastic measures when guarding Pierce.
Artest yanked Pierce's pants down to his knees and forced him to pull them up while running around the court. Pierce, who ran to behind the 3-point line with Artest on his hip, then drilled a 3-point attempt in Artest's face while his shorts still dangling below his waist.
That Pierce barely flinched and recovered so well is amazing on its own. My question is how in the world did the referees not notice Artest's middle school-type antics? Also, what's the rule on pulling on someone's shorts down?
Ron Artest Explains Why He Did It
Metta World Pierce explained why he pantsed Pierce in an appearance on FOX Sports's "Undisputed," and honestly I don't blame him for yanking those trousers.
?When I pulled Paul Pierce?s shorts down, I was like, ?Ok, what can I do to not get ejected, but to bother Paul because he?s killing me right now,'? he said. ?I figured that was the best thing I could do, no tech, and he still hit the three. Oh my goodness. With his shorts down, unbelievable.?
Apparently, Pierce and Artest had history while guarding each other the rest of their careers. During the 2009-10 regular season, the two got into a shoving match when Artest was a member of the Los Angeles Lakers.
Artest's value at the time not only lied in his defensive abilities but in that he took pressure off his teammates. Kobe Bryant, for example, didn't have to guard an opposing team's best player and instead could focus more on his scoring.
The Lakers wound up beating the Celtics a 2010 NBA Finals matchup and Bryant was named Finals MVP. Pierce credited Artest's defense prior to that playoff series.
"He's the most physical player at the wing position," Pierce told ESPN in 2010. "He plays the forward/guard position like a power forward or center. He likes to bang you, get on your body, grab you, hold you, pull down your shorts. He'll do anything. You guys know that, just from watching him over the years. He'll do anything to get in an opponent's head. From playing him over the years, I'm used to the things he tries to do. I just go out there and play my game, not get into the antics."
Artest was never really the same offensive player he was after being traded by the Pacers in 2006. Metta World Peace will always be remembered for his role in "Malice at the Palace" but let's never forget the time he pulled down an all-time NBA great's pants.
Or how he sang a very odd, apologetic song to Pierce: