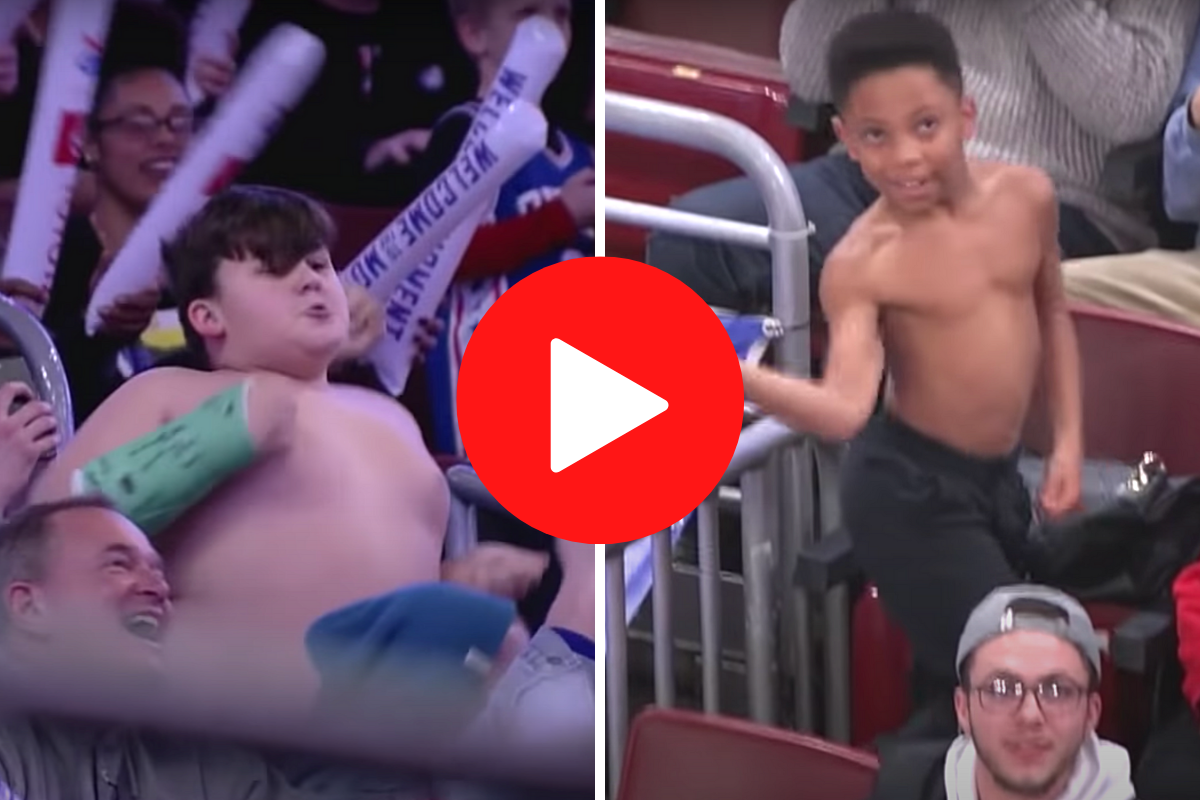 Screenshot from YouTube
Some of the greatest fan moments at NBA basketball games are captured on the arena's Jumbotron. During the 2019 season, the Philadelphia 76ers would display dancing fans on the big screen, and it created some hilarious viral moments.
The most notable moment came during the fourth quarter of a Sixers home game, during which two shirtless boys were engaged in an intense dance battle.
Shirtless Dance Battle at 76ers Game
RELATED: BYU Mascot's Viral Dance Routine Completely Stole the Show
The moment between the two boys was a sight to behold and instantly went viral on social media. The boys, who were seated across the arena from one another, somehow got involved in a dance-off after the Jumbotron panned from one kid to the other, all the while the stadium was blasting music and the crowd was partying on during the Monday Night game.
The Philly crowd went wild for the two lads, 10-year-old Anthony Stuard and 9-year-old Dominic Prybella, who were pulling off a variety of dance moves including the classic Fortnite meme dance, the Floss.
The Sixers' dance-cam focused solely on these two individuals, as the first time it displayed someone else, fans began to boo. Even the high school-aged guy next to one of the boys tried to get in on the action, but the cameraman was having none of that. The viral video was picked up by multiple notable media outlets, including the Daily Mail.
The two even were interviewed by some outlets.
While the coronavirus pandemic has robbed us of heartwarming moments such as this one, fans can only hope that when stadiums allow max capacity, Jumbotron workers will be on the lookout for this kind of hilarious scene.
Here's to hoping these kids continued to pursue their passion for dance. Hell, for all we know they could be TikTok famous living out in Los Angeles at this point.