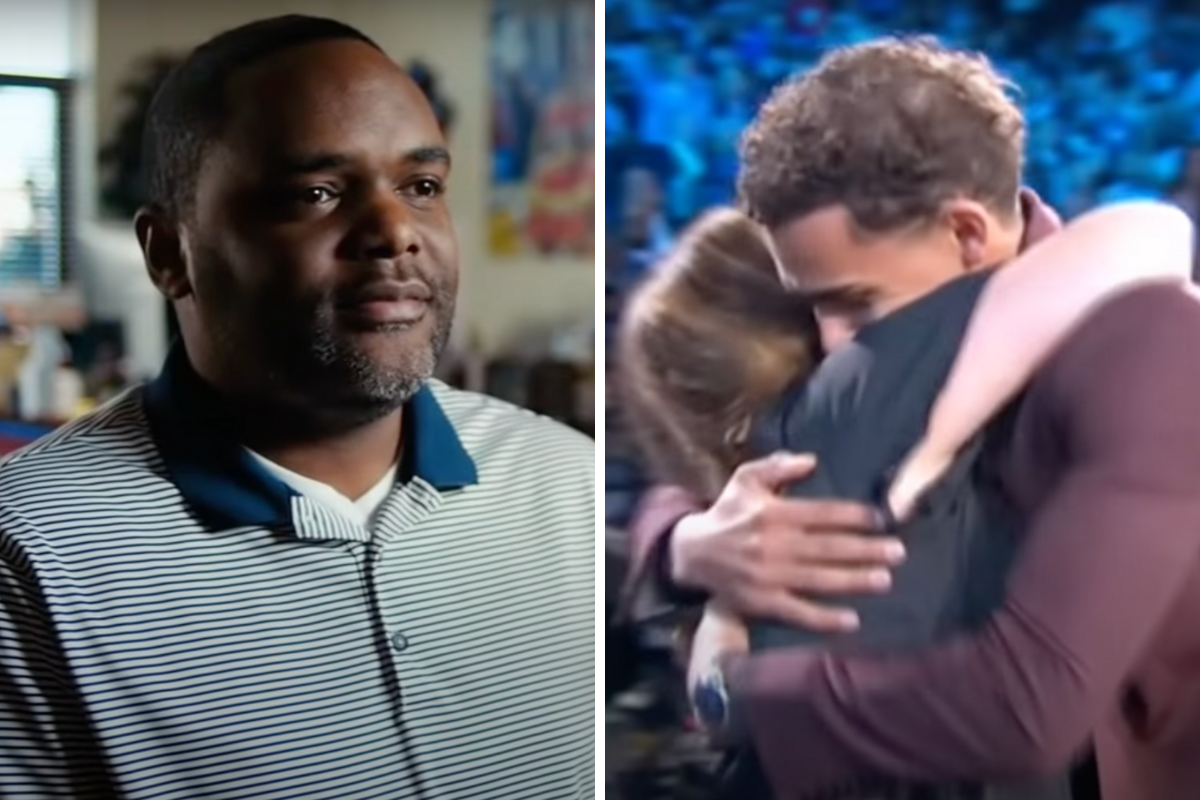 Screenshot from YouTube: ESPN (left), Screenshot from YouTube: NBA (right)
Atlanta Hawks point guard Trae Young is arguably one of the NBA's most divisive stars.
He has the Kobe Bryant shot mentality, a notorious weakness on the defensive end and a knack for drawing fouls akin to James Harden.
I don't know of many Trae Young fans who aren't Hawks fans.
That being said, Young rises to the occasion. He was berated by the hostile crowd at Madison Square Garden in the first round of the 2021 NBA Playoffs against the New York Knicks and led his team to a gentleman's sweep. Luckily for him in the Eastern Conference semifinals, Philadelphia 76ers fans have a reputation for welcoming opposing players with open arms.
No matter the reaction his game incites, Trae powers through it. To get that mentality requires a tough mindset, and a tough mindset requires the teachings from someone who knows a little something about hoops.
Trae learned from his parents.
Trae Young's Parents
RELATED: Luka Doncic?s Mom is The Real MVP of His Basketball Journey
Trae Young's parents are Candice and Rayford Young.
Rayford was a college basketball star for the Texas Tech Red Raiders. He averaged 14.1 points, 3.2 rebounds and 3.8 assists during his NCAA career. A guard himself, the elder Young earned All-Big 12 honors twice.
Trae Young's dad also played professional basketball in France, Italy, Portugal and Spain.
He moved into medical equipment sales following his basketball career.
Trae's full name is Rayford Trae Young after his father.
Trae's mother, Candice Young, is the daughter of pastors from Lubbock, Texas. She and Rayford were teenage sweethearts at Pampa High School and continued their relationship at Texas Tech.
Trae was born before Rayford's junior season.
The Young family moved to Norman for Rayford's graduate assistant position at Oklahoma under then coach Kelvin Sampson.
Trae is the oldest of four children. He has two younger sisters?Caitlyn and Camryn?and a younger brother named Timothy.
Trae's grandfather and uncle also played college basketball at the junior college and NAIA level, respectively.
Trae Young's Basketball Career
Having hoops DNA made it an easy choice for Trae to play basketball.
He was a five-star recruit out of Norman North High School and chose to stay home and attend the University of Oklahoma.
As an Oklahoma Sooner, the star basketball player asserted himself as one of the best players in NCAA basketball. Perhaps his most memorable performance was a 26-point, 9-assist outing in an 85-80 win over Kansas. It was rare to turn on ESPN during college basketball season and not hear them singing Young's praises.
Young was named an All-American and left Norman after his freshman year to turn pro.
He was the fifth overall pick by the Dallas Mavericks in the 2018 NBA Draft. On draft night, the star point guard was famously traded to the Atlanta Hawks for Luka Doncic.
Young has grown into one of the brightest young stars in the league. He's an incredible playmaker who uses lightning quickness to shoot threes, floaters and create for teammates.
The 2020 NBA All-Star is a tough matchup for the Los Angeles Lakers, Houston Rockets, Milwaukee Bucks, Oklahoma City Thunder or anyone who squares off against the Hawks.
He might not be LeBron James or Kevin Durant, but Trae Young's game was made for social media highlights, and more recently, the playoffs. And his parents couldn't be prouder.