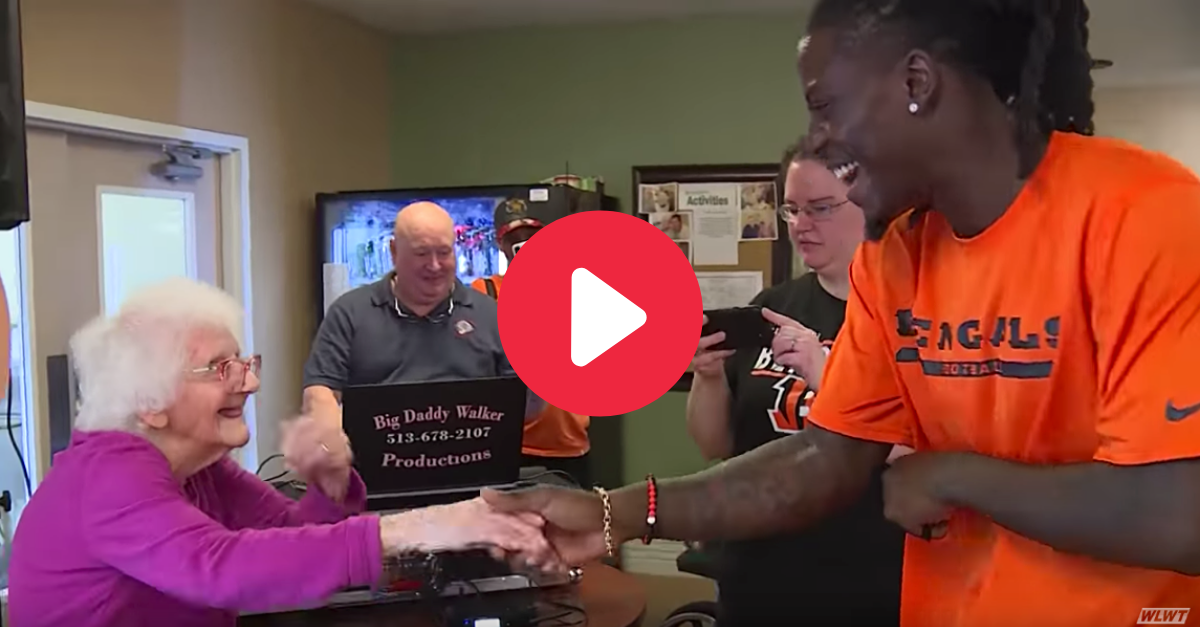 Screenshot from YouTube: WLWT
The first rule of getting older is to never let age define you. You'll never be able to pull off incredible feats, and even make history, if you allow the number of years you've been on Earth to limit what you do.
When Cincinnati Bengals cornerback Dre Kirkpatrick showed up at a local nursing home and threw a tailgate party ahead of a Thursday night game against the Baltimore Ravens, one 95-year-old woman shut the party down when the music starting playing over the speakers.
Forget BINGO and save Pinochle until after lunch. This wasn't your average nursing home party.
Leave it Dr. Dre and Snoop Dogg to get an elderly party rocking, and when "The Next Episode" came on, a dance battle of epic proportions went down.
This 95-year-old woman laid it all on the line and became the star of the show. Thankfully, Brandon Saho of WLWT in Cincinnati was there to capture her moves in all their glory.
Nursing Home Dance Battle
All the former two-time national champion with the Alabama Crimson Tide could do was watch as his partner throws it down.
Dre Kirkpatrick is a regular face in the Cincinnati community, including taking a group of elementary school kids from his hometown in Gadsden, Alabama on a back-to-school shopping spree earlier this summer.
The former No. 17 overall pick in the 2012 NFL Draft just finished his eighth season with the Bengals in 2019. Kirkpatrick has logged 65 passes defended and 10 career interceptions.
Hopefully, this dance-battle loss doesn't stick with Kirkpatrick for too long because I'm sure this woman is ready to dish out more L's when he comes back.
This article was originally published September 13, 2018, and we're not letting Kirkpatrick forget this L any time soon.