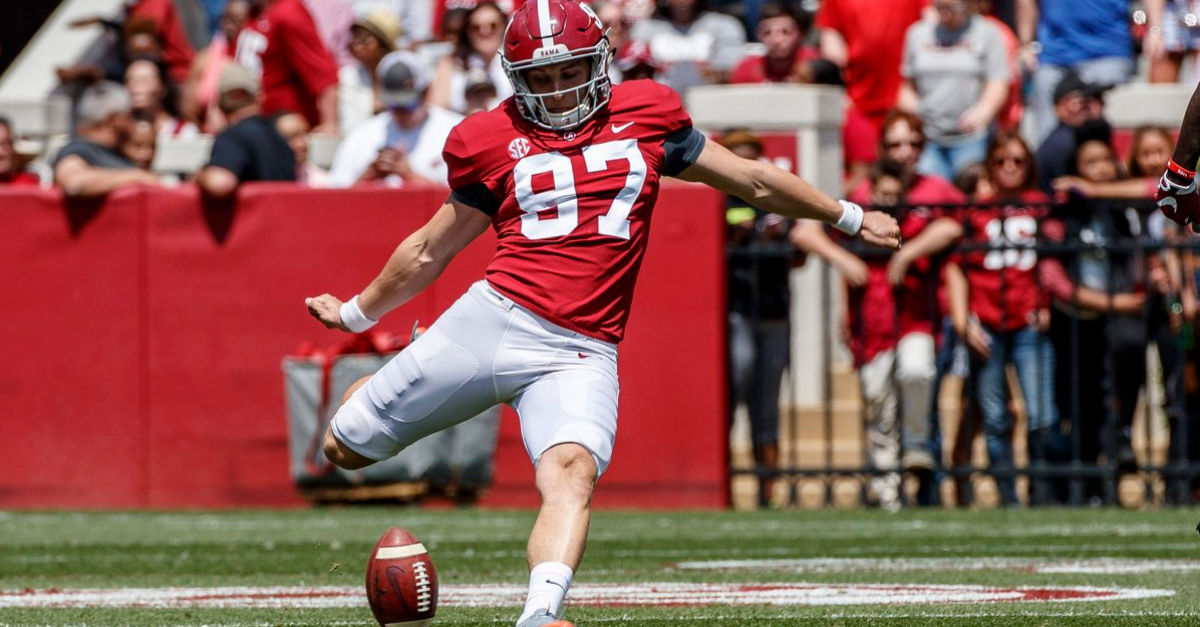 Twitter: @BamaOnLine247
Twitter: @BamaOnLine247
It's no secret that the Alabama Crimson Tide are the most talented all-around football team in the country year after year. Still, despite their run of dominance recruiting the best players in high school football, this team has a history of struggling to find an answer at place kicker.
The same problem is plaguing the Tide early in the year, and change is coming yet again. Heading into Saturday's game against SEC West foe Ole Miss, head coach Nick Saban will bring in his second kicker of the season trying to remedy a shaky situation as conference play begins.
Saban is turning to redshirt freshman Joseph Bulovas to take over as the starting kicker this Saturday. In relief of graduate transfer Austin Jones last week, Bulovas made all five of his extra point attempts, as well as connecting on the first field goal of his career from 39 yards.
Bulovas hails from Mandeville, Louisiana and was rated as the No. 6 kicker in the nation by 247 Sports coming out of high school in 2017.
The 66-year-old head coach is looking for confidence, and he believes an early season change is in order.
?I said earlier that the specialists need to perform. Obviously, when you miss two extra points, that?s not a good thing. I thought Joe did a good job when he went in there. Those two guys have been in close competition the whole time. I think it has a lot to do with confidence and sometimes when you lose your confidence, things don?t go right.

?We still have a lot of confidence in both guys. We just have to get their mind right so they have the confidence in themselves to go do it. I thought Joe kicked off well and did a good job when he kicked the field goals and extra points.? — Nick Saban
Temple transfer Austin Jones began this season as Alabama's starting kicker. As an Owl, Jones was almost automatic making 97-of-98 extra point attempts, and in one stretch, he connected on 19-consecutive field goals.
During his junior season in 2016, Jones tore his ACL covering a kickoff against Memphis. After being unable to comeback to his top form during the 2017 season, he transferred and brought his experienced kicking leg to Alabama.
Jones missed his second and third extra point attempts during the Tide's 57-7 rout of Arkansas State. He also missed an extra point and a 27-yard field goal during Alabama's first win over the Louisville Cardinals. Those points may not have mattered in back-to-back blowouts, but they'll definitely matter down the road.
As SEC play moves forward, there's still a chance Saban bounces back to the redshirt senior if he shows improvement in spot duties, as well as practice.
Alabama might be blowing teams out now, but with a huge night game on the road against the LSU Tigers in November, as well as games at home against Texas A&M, Mississippi State and Auburn, those handful of points coming from their kicking game will prove to be critical.
Then again, if quarterback Tua Tagovailoa and this offense keep rolling up points like this, why not let Tua kick the field goals, too?