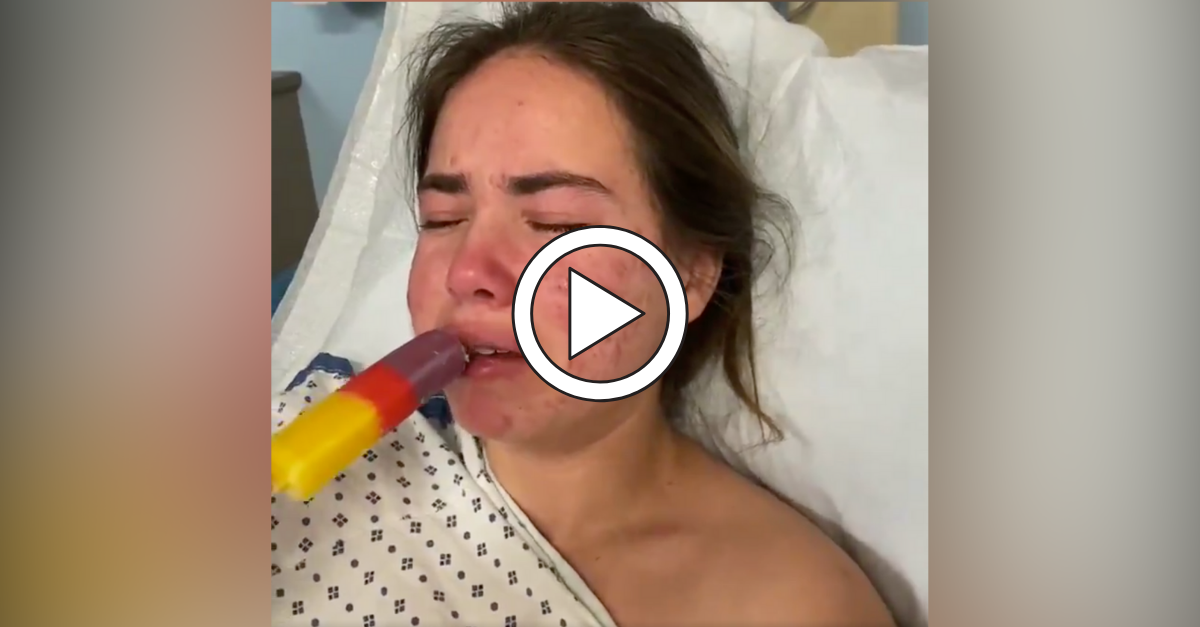 Screenshot from Twitter
Green Bay Packers quarterback Aaron Rodgers is a likable guy. It?s part of the reason why he makes the big bucks and has sideline reporters making fun of him. The two-time NFL MVP is also very taken by girlfriend Danica Patrick, but that wasn?t stopping one teenager from confessing her love for her favorite player.
Callie Kessler loves the Packers. Earlier this month, she had her tonsils removed and was under anesthesia, according to CBS 58 and WDJT in Milwaukee. And when she woke up, the 18-year old confessed her true love for the Green Bay quarterback. Now the entire world knows.
?I guess you can say I love the packers even under anesthesia?? Kessler wrote in her tweet.
Kessler?s video quickly became a viral sensation on social media and it?s one of the funnier things you?ll watch this offseason.
WARNING: This video has NSFW language.
Packers Fan Confesses Love for Aaron Rodgers
The Packers did not make it to the Super Bowl, but that?s not why Kessler was crying. Her throat definitely hurt and she wanted Aaron Rodgers to be by her side. Who knows how long she raved about Rodgers, but the two-minute video is certainly classic comedy while she took down some delicious popsicles.
Here are a few quotes from the viral video.
?I love him so much. He?s my best friend.?

?It?s OK. It?s really hard being a Packers fan because we get so far and it just doesn?t happen for us, but Aaron Rodgers is the man. He always will be and I love him. I want Aaron Rodgers to come and my throat wouldn?t hurt.?

?But then we could be best friends forever.?

?I honestly thought that I was waking up like him and that Aaron Rodgers was going to be right there for me, but he wasn?t.?

?And I love Aaron Jones? Thank God we have a running game so the pressure is a little relieved off of Aaron [Rodgers] because he?s so great.?

?My throat hurts. Aaron Rodgers, he would buy me 400 popsicles.?
The power of social media can be a beautiful thing. Not only did Kessler get to laugh at her own expense, she received an amazing gift. Former NASCAR driver Danica Patrick saw the video last week and offered to buy Kessler the 400 popsicles.
Then, it actually happened. Kessler received boxes of Otter Pops original in the mail.
Green Bay Packers fans are loyal. None just might be bigger than Callie Kessler. Perhaps her next trip to Lambeau Field in Wisconsin can have her confess her love directly to her favorite athlete ever.
This post was originally published on February 10, 2020.