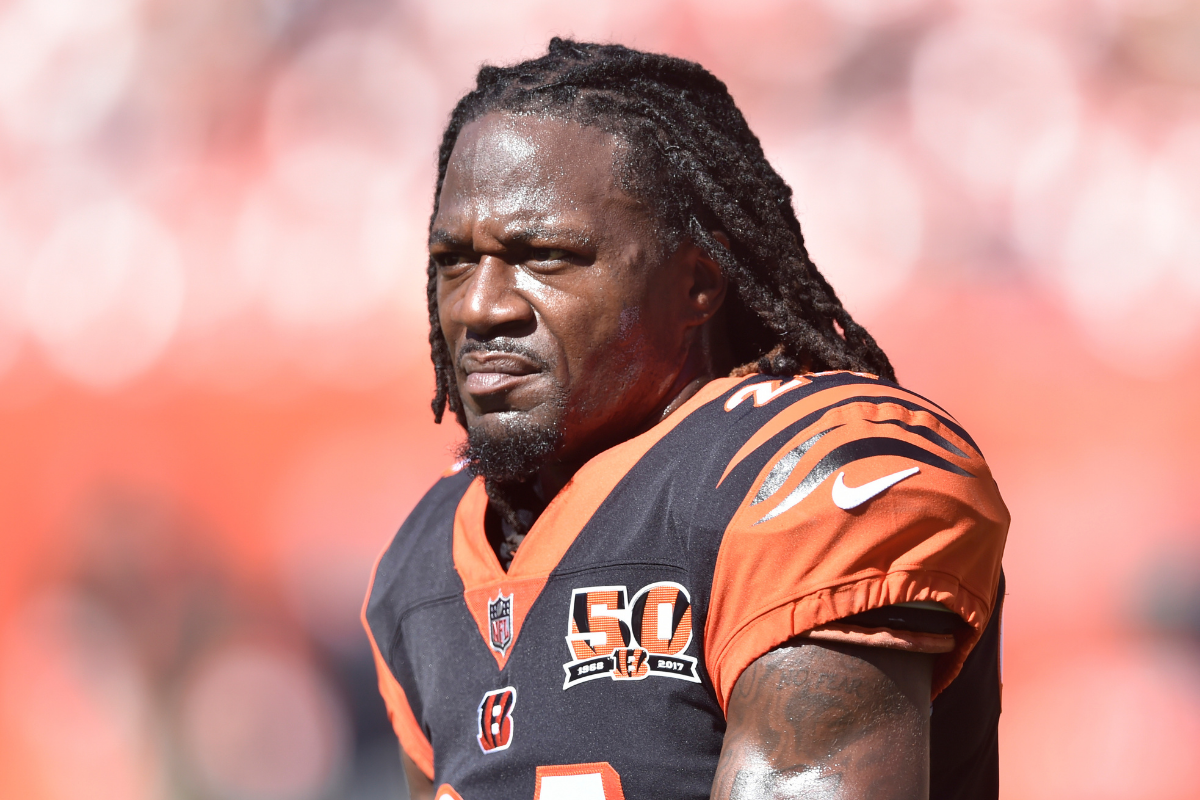 AP Photo/David Richard, File
Despite what his children's video game nickname might suggest, Adam Pacman Jones is seemingly an unapproachable guy. Sure, he was a former professional American football player, but he was also arrested more times than he ever made the Pro Bowl. The laundry list of evidence speaks for itself.
But I'm getting way ahead of the story.
There are lots of offseason Pacman stories along that vein. His tales have involved nightclubs and things going wrong. He still managed to spend 12 years in the National Football League, where he recorded 17 interceptions as a defensive back.
Pacman is out of the league, but where is the former NFL player now?
Who is Adam "Pacman" Jones?
Adam Bernard Pacman Jones was born in Southwest Atlanta, Georgia, to Deborah Jones. Pacman was raised by his mother and grandmother Christine Jones after his father died during a robbery.
Without a male parental figure in his life, football coaches at Westlake High School formed a father-by-committee to keep Jones out of trouble. Even though the football player won two state championships with the basketball team, he accepted a scholarship to play football at West Virginia University in 2002.
Jones both stopped and scored touchdowns as a cornerback, defensive back and punt returner. He made First-Team All-Big East in 2004 and second team in 2003. Jones never won more than nine games in a season under Rich Rodriguez. The Mountaineers never won a bowl game, either.
Jeff Fischer and the Tennessee Titans took a chance on Pacman with their first-round pick (sixth-overall pick) of the 2005 NFL Draft. The Titans considered it their official business to keep Jones out of legal trouble. But Pacman's illicit activities got him arrested before their first preseason minicamp even began.
Pacman was an acceptable AFC safety who nobody could call clean. He sniped the occasional interception but rarely played well enough to make an All-Pro or Pro Bowl selection. He never did those two things during the same season.
Jones played for the Tennessee Titans, Dallas Cowboys, Cincinnati Bengals and Denver Broncos during his 12-year career. He never got traded because he was talented; Jones moved around because he was often in trouble. His single season with Denver in 2018 was the last year of his NFL career.
At last, Pacman retired in 2019.
Trouble & Controversies
RELATED: Never Forget ?Pacman? Jones Threw Down With an Airport Worker
Pacman Jones has a rap sheet longer than a CVS receipt. Here is a sampling of some of the safety's most infamous moments, collected from court documents all over the country.
Jones has been arrested for disorderly conduct off the field as well. When Jones retired, he pledged to become a family man and cut out the nonsense. Unfortunately, that doesn't seem true.
Adam "Pacman" Jones Now
Adam "Pacman" Jones is 37 now.
He retired in 2019 after no NFL franchise (not even the bottom-feeding Raiders) wanted anything to do with his particular brand of locker room poison. He only had two starts in his final season as a Bronco, arguably two more than he deserved.
In his official retirement statement, Jones recited his intention to spend more time with family. Perhaps he has spent more time with his wife and children. He has verifiably spent time coaching youth football players.
However, he's also found more trouble.
Since 2018, Jones was caught on camera fighting an airport worker in Atlanta, accused of casino cheating in Indiana, and may even fight Jake Paul in a match.
In 2021, Pacman was also arrested in Cincinnati and charged with misdemeanor assault after he allegedly "punched and kicked a person in the head until the person was unconscious," according to Hamilton County, Ohio court documents. He made bail and even went on a podcast within a week of the alleged assault, saying he had nothing to do with it.
Adam Pacman Jones may be out of the NFL, but it seems he's not out of trouble.