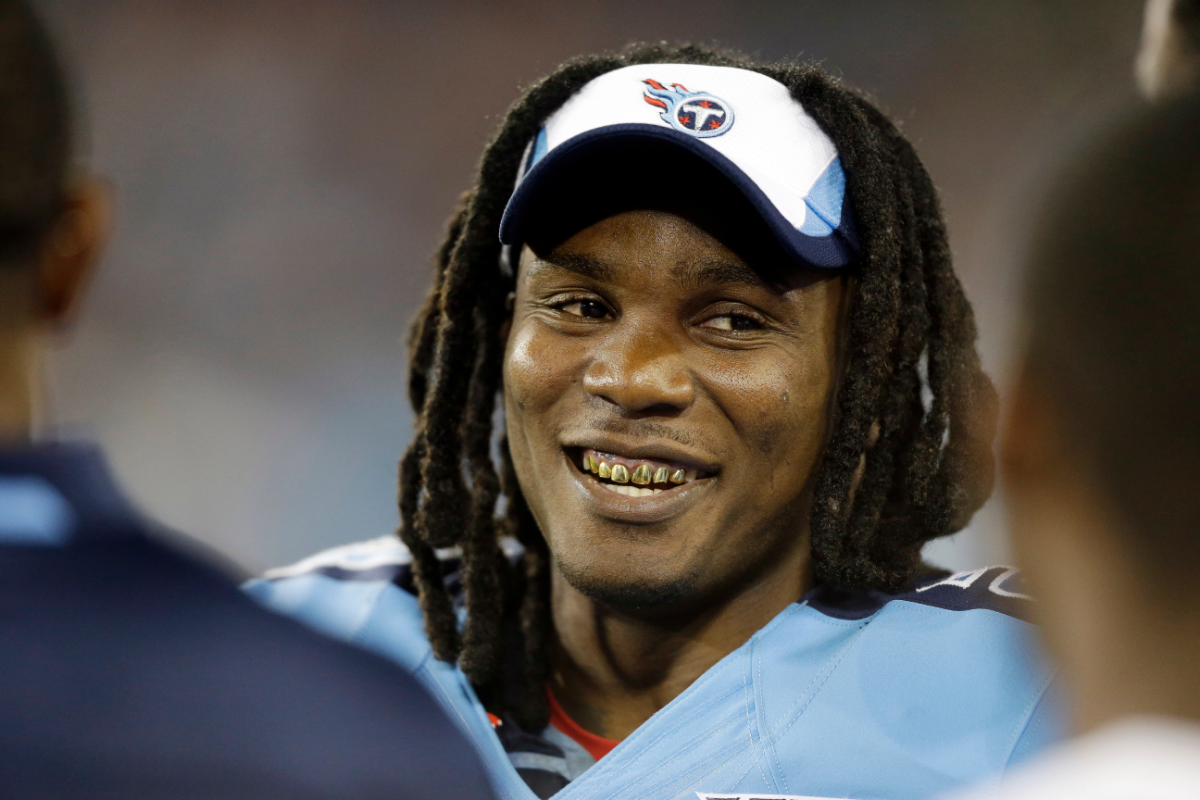 AP Photo/Wade Payne, File
During his time in the National Football League, Chris Johnson was defined by his speed.
Heck, his 4.24 40-yard dash at the NFL Combine stood as a record for nearly 10 years before John Ross broke that mark. Johnson's career, much like he did in uniform, took off quickly. The NFL running back known as "CJ2K" because of his incredible 2009 season certainly made his mark on the league.
Along the way, he signed a couple deals that certainly filled his pockets with cash. How much is he worth today, though?
Early Life & College
RELATED: Bo Jackson Ran Fastest 40-Yard Dash Ever, According to Leaked Report
Christopher Duan Johnson was born in Orlando, Florida, where he played for the Olympia High School football team. Despite his track speed, Johnson was only a two-star recruit as a football player.
He only had three offers from FBS schools. He could have stayed close to home and gone to South Florida in Tampa. UConn also wanted him. In the end, Johnson decided to play for East Carolina University, not exactly a powerhouse in the world of American football.
While Johnson made the Conference USA All-Freshman Team for the Pirates, that was largely due to his return skills. Johnson remained an excellent return man in his senior season, but he also broke out as an all-around player. He rushed for 1,423 yards and 17 touchdowns, as well as 528 receiving yards and six touchdowns through the air. Let's not forget his 1,009 yards as a return man.
In his final game of his senior season, he picked up an FBS record 408 all-purpose yards against Boise State, giving him a whopping 2,960 all-purpose yards on the year. By then, Johnson was on the NFL's radar.
Then, the Scouting Combine happened. He blazed for a time of 4.24 in the 40-yard dash, which broke Rondel Menendez's record (John Ross has since run a 4.22). This led the Tennessee Titans to take the back out of ECU in the first round (24th overall pick) of the 2008 NFL Draft.
NFL Career
Johnson signed a five-year deal with the Titans prior to his rookie campaign and came out of the gate with gusto.
As a rookie, he tallied 1,228 rushing yards and 10 total touchdowns, which earned him a spot in the Pro Bowl and a second-place finish for Offensive Rookie of the Year.
The 2009 season turned Johnson into a star, as he had one of the all-time best seasons for a running back. He rushed for a whopping 2,006 yards, making him one of eight backs to ever cross the 2,000-yard threshold. On top of that, he had 503 receiving yards as well. His 2,509 total yards from scrimmage broke Marshall Faulk's record. This earned him the Offensive Player of the Year award and the nickname "CJ2K."
While he took a step down in 2010 with 1,364 rushing yards, he made his third Pro Bowl in as many seasons in the NFL. That offseason, Johnson used the hot start to his career to renegotiate his deal. He signed a four-year extension for $53.5 million, which made him the highest-paid running back in the NFL.
Johnson did rush for over 1,000 yards in each of the next three seasons with the Titans, but he did not make the Pro Bowl in any of them. It seemed like CJ2K had already hit his peak, and in 2014 he was released by the Titans. He did not play out the entirety of his extension.
The back signed a three-year deal with the New York Jets prior to the 2014 season, but he only rushed for 663 yards and had the rest of his contract declined. After that, he signed with the Arizona Cardinals, and though he rushed for 814 yards in only 11 games in his first season there, he was basically an afterthought after that.
Johnson quietly retired after the 2017 season.
Chris Johnson Net Worth
Johnson was definitely a celebrity for a moment. In 2013, he appeared in an episode of "Ink Master" and raced a cheetah for a National Geographic special. Shockingly, the cheetah won. That was a long time ago, though.
In the time since he retired, he has gone back to college and finished his degree, but otherwise has not been in the public eye.
Additionally, he's a reminder of the fact that the full value of an NFL contract is often inflated. Johnson may have signed a deal that made him the highest-paid running back in the National Football League, but he has an estimated net worth of $9 million in 2021, according to Celebrity Net Worth.
That's more money than most of us will ever have, but it's a fraction of that $53.5 million extension he once signed.