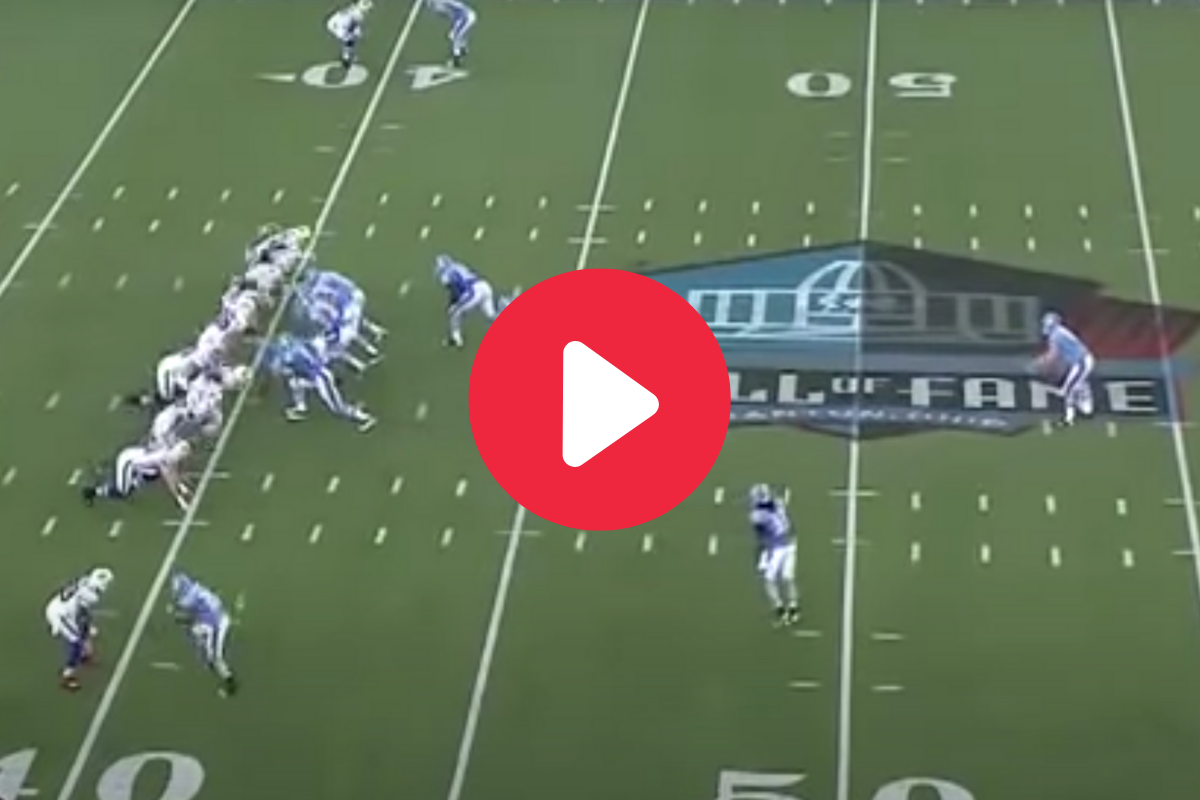 Screenshot from YouTube
Many people don't remember former NFL punter A.J. Trapasso. That's totally understandable. He bounced around the league and never played in the regular season. He did, however, pull off one of the greatest trick plays you will ever see during a preseason game.
Back in 2009, the Tennessee Titans and Buffalo Bills played in the iconic Hall of Fame Game in Canton, Ohio. The showdown featured plenty of stars, including Terrell Owens and Vince Young, to usher in the new NFL season. Nobody cared what the scoreboard said at the end. Football was officially back, and Trapasso started it off in a big-time way.
Running a fake punt in the first preseason game is hilarious. How the Titans pulled this one off was legendary.
A.J. Trapasso's Fake Punt Touchdown
RELATED: Dolphins Pull Off Incredible Punter-Kicker Trick Play TD
Early in the first quarter, Tennessee Titans punter A.J. Trapasso got the nod from head coach Jeff Fisher. The undrafted rookie from Ohio State was getting his first taste of the NFL without Craig Hentrich available. Needless to say, he didn't disappoint.
At first, the play looked helpless. Titans safety Michael Griffin released to the backfield and left an entire side of the offensive line open. If it wasn't a fake punt, a block seemed likely. Then, the snap came.
Trapasso secured the ball, took two steps, and acted like he was going to boot it away. Meanwhile, Griffin ran behind him as if it was going to be a reverse. Instead of handing him the ball, Trapasso, who was a running back in high school, put it behind his back, sprinted upfield and galloped into the end zone untouched for a 40-yard touchdown.
It was brilliant, much like the Houston Oilers throwbacks the Titans were wearing, but that wasn't the last of Trapasso that night or even that preseason.
On the last play of that Sunday night game, Trapasso ran backwards 34 yards for a safety to secure the Titans' 21-18 win. A couple of weeks later against the Dallas Cowboys, he was the first punter to drill the scoreboard at the new Cowboys Stadium.
That was the most action he saw in his NFL career.
A Pickerington, Ohio native, Trapasso played for the Ohio State Buckeyes before spending time on NFL rosters for the Titans (twice), New York Jets, Tampa Bay Buccaneers and Denver Broncos. He was last cut during the 2010 offseason.
Today, Trapasso is a logistics account executive in Columbus, Ohio. He has the greatest story to tell his co-workers, too, because that fake punt is a classic.
This post was originally published on August 26, 2020.