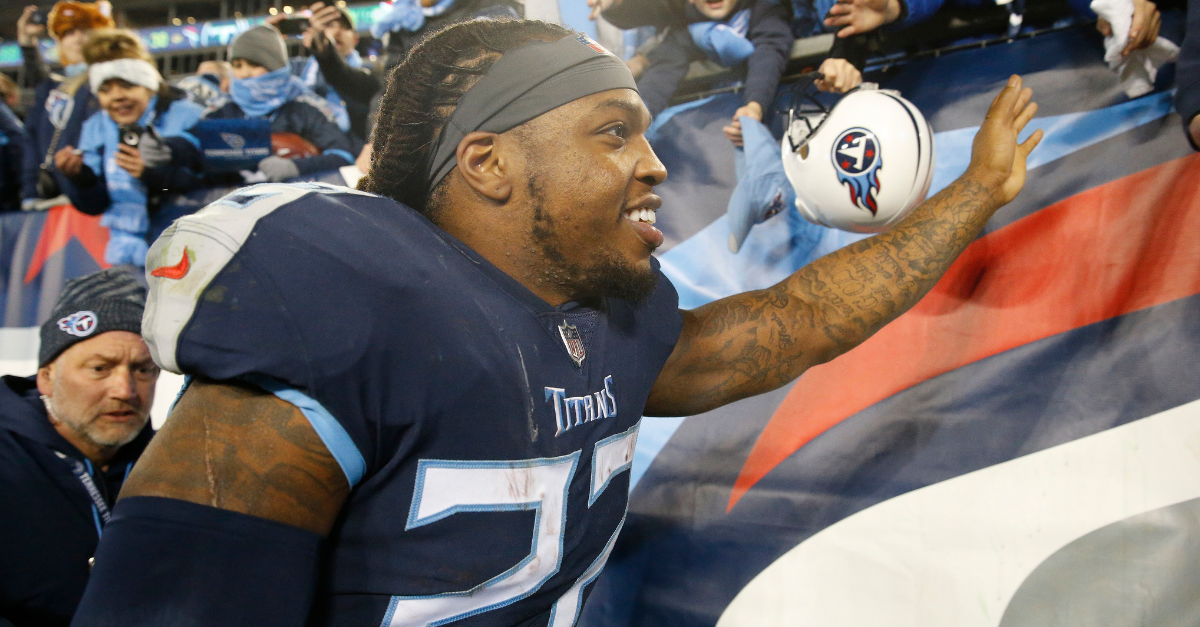 AP Photo/James Kenney
Thursday Night Football was great for the Tennessee Titans. It was also somehow great for Alabama Crimson Tide fans, too. The only people it was terrible for were the Jacksonville Jaguars, and The Action Network's Darren Rovell.
Let's start with the great. Prior to Thursday, only former Dallas Cowboys great Tony Dorsett had taken a handoff 99 yards for a touchdown. That was until Titans running back Derrick Henry took one to the crib midway through the second quarter of a 30-9 victory at Nissan Stadium in Nashville, Tennessee.
The run was epic in every way.
RELATED: Derrick Henry Give Kids the Back-to-School Surprise of a Lifetime
With great success comes a lot of hate and Rovell, a sports business reporter who recently left ESPN for The Action Network, certainly got cooked for a take straight out of the freezer by the Titans' official Twitter account.
Look, the tackling was far from the stellar by the Jags defenders. There were plenty of mistakes and missed assignments to allow the 6-foot-3, 250-pound Henry to get from goal line to goal line.
But when only two players in the league's 99-year history have rushed for a 99-yard touchdown and Henry's was one of them, yeah, it's one of the best in NFL history, no matter what.
So brilliantly, the Titans made sure to hilariously call him out.
Oh, boy, that's a good comeback right there. And naturally, in defeat, Rovell, a Northwestern grad, took it on the chin and will likely always remember the Titans after that moment.
Let's go back to why it was great for the Tennessee Titans and Alabama Crimson Tide for a minute.
Derrick Henry rushed the ball 17 yards for 238 yards and four touchdowns, including the record 99-yarder. It was by far his best NFL performance of his career and it should bring back some great memories for the Crimson Tide faithful, who watched Henry do this on a regular basis.
From 2013-15, Henry ran wild in Tuscaloosa, Alabama and all over SEC defenses, compiling 3,591 yards with 42 rushing touchdowns in his career en route to winning the Heisman Trophy, Maxwell Award, Doak Walker Award, and Walter Camp Award in 2015.
Henry was also the SEC Offensive Player of the Year, unanimous All-American and helped the Crimson Tide win the SEC and College Football Playoff national championship.
College football fans remember how dominant Henry was. Titans fans are realizing how dominant Henry can be with one of the best runs in NFL history.
Rovell forget them both and paid the price by calling the 99-yard touchdown run one of the worst tackling jobs on his Twitter account.