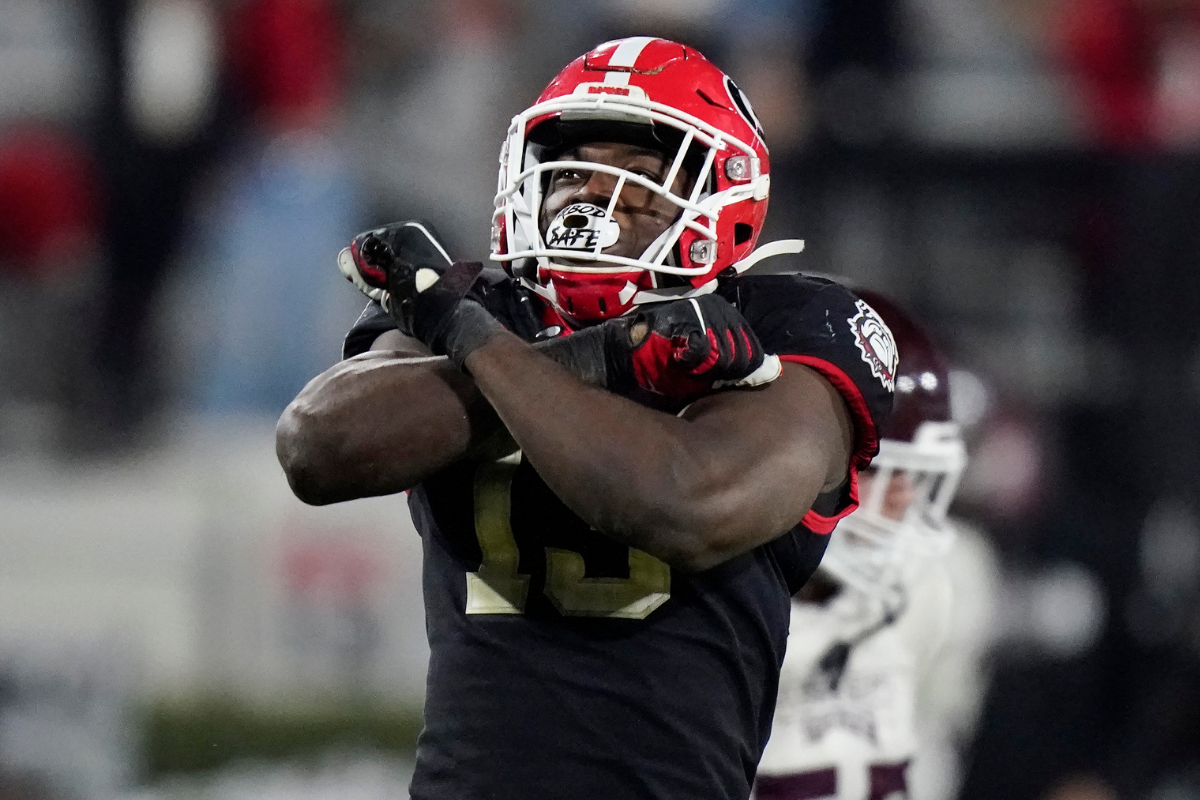 AP Photo/Brynn Anderson
The 2021 NFL Draft Class looks extraordinarily clean-cut. What they're missing is a little EDGE, and I'm not talking about gold teeth.
Georgia Bulldogs star Azeez Ojulari brings more than just a little edge. The outside linebacker is a hybrid defensive monster who can switch to a defensive end in the blink of an eye. Don't believe me? Ask the Southeastern Conference.
SEC quarterbacks, offensive lineman, offensive tackles, running backs, and tight ends will all tell you — Ojulari has an edge to him.
The EDGE linebacker does more than just tackle his opponents. Ojulari straight-up wrecks them.
His future looks bright. His NFL floor is high; his ceiling even higher. Where'd this talent come from, and what gives him his edge?
Azeez Ojulari's Early Life
Azeez Ojulari was born on June 16, 2000, in Marietta, GA. The No. 1 film at the time was "Shaft".
Ojulari gave rivals the shaft as a defensive end at Marietta High School. His athleticism and quickness as a pass rusher made him an NCAA darling. The four-star recruit received offers from Tennessee, Auburn, Florida, South Carolina, and Alabama.
Ojulari wanted to play college football, but he preferred to stay in-state.
Ojulari wanted to be Top Dawg. He made the Kirby Smart choice and chose the University of Georgia (UGA) Bulldogs. Here's a video of him announcing his decision. I love how much joy there is at the end.
Azeez Ojulari: Damn Good Dawg
RELATED: Trey Lance?s Parents Raised a Future NFL Star
During his senior year in high school, Olujari suffered an ACL tear. He thought it wouldn't cause him to redshirt, but he was wrong. As a freshman, EDGE defender Azeez Olujari only saw two games with the Georgia Bulldogs.
Ojulari developed into one of the NFL's top draft prospects over the following two seasons. The Junkyard Dawg led the pass rush, forced fumbles, and karate-chopped his way through blockers.
Ojulari had what they call "The Breakfast of Champions" while in Athens — a Sugar Bowl followed by a Peach Bowl. After having the best game of his college career against Cincinnati in the Peach Bowl, Ojulari was snubbed for First-Team All-SEC honors and made the Second-Team All-SEC instead.
Ojulari was looking way past SEC teams by then.
The All-SEC team may think Ojulari is a second-string talent, but nobody in the NFL agrees.
Azeez Ojulari's 2021 NFL Draft Outlook
The Georgia edge rusher is a first-round pick in most people's mock draft, and it looks like almost every single team is interested in hiring Georgia's Azeez Ojulari.
Here's who's been linked to the outside linebacker (OLB) since his impressive Pro Day: the Cleveland Browns, New York (Giants and Jets), Miami Dolphins, Pittsburgh Steelers, and his hometown Atlanta Falcons.
Georgia fans would love it if the kid who grew up just north of ATL could stay in his home state to play ball. Only time will tell. Ojulari isn't the only in-state talent Atlanta is considering — Ojulari grew up in Marietta, right next to Justin Fields in Kennesaw.
For once, EDGE Azeez Ojulari isn't rushing into anything. He's taking his time. According to PFF and CBS, that's why the redshirt sophomore is slowly creeping up the draft boards.
With the NCAA behind him and the NFL ahead, Georgia's Azeez Ojulari is enjoying today. Some analysts have Ojulari as the first EDGE rusher off the board, others as the second or third. But at that point, who cares?
Ojulari is living his dream, one tackle at a time. The only question left is this: who's he going to push over the edge next?