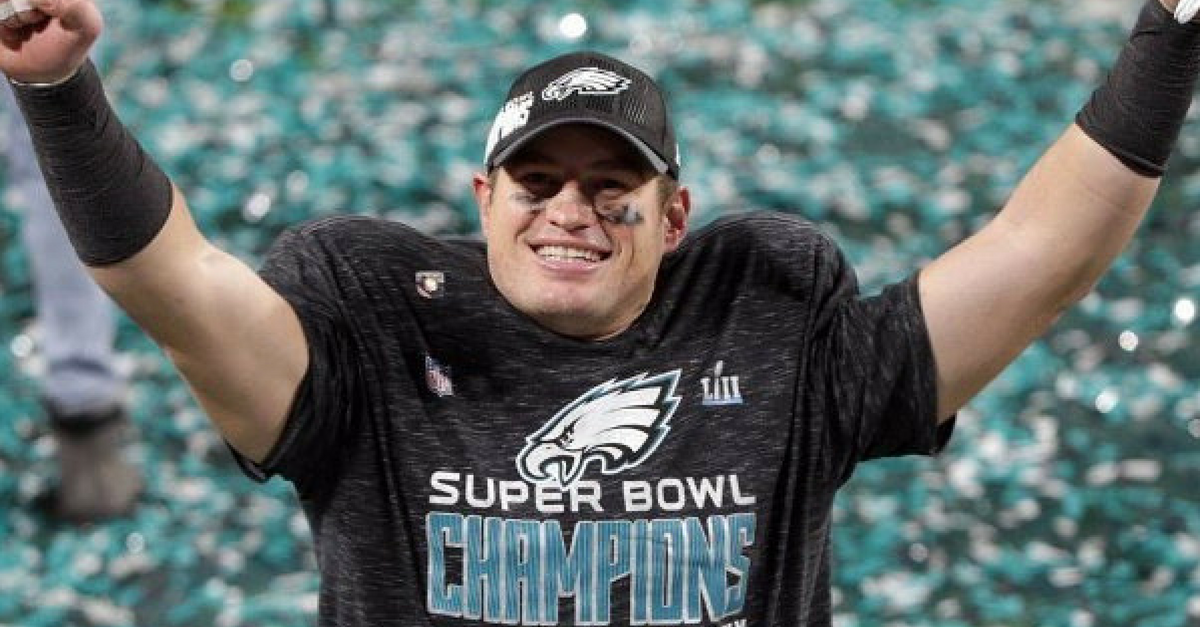 Instagram: @brentcelek
Instagram: @brentcelek
The Philadelphia Eagles probably won't ever let the New England Patriots forget that they handed them a 41-33 loss in Super Bowl LII to take home the city's first Lombardi Trophy. That team will forever be remembered in the streets of Philadelphia, just like one of the franchise's all-time leading receivers.
Tight end Brent Celek has decided to call it a career and hang up his legendary No. 87 Eagles jersey for the last time. Celek spent all 11 seasons of his NFL career in the "Fighting City of Philadelphia," and there's no other team he would rather play for.
In a letter penned to Philadelphia Eagles fans, Celek talked about why he's decided to leave the NFL at age 33, and why the green and white Eagles' colors are the only he will ever wear:
Eleven years later I was part of a team that won the first Super Bowl in Philadelphia history. It has been an amazing journey – a journey that is now coming to an end. It?s a big decision, but it?s not a tough one: Though I know I?m still capable of playing football at a high level, and though I had offers to continue my NFL career, my heart told me that this was the time. The bottom line was this: When I thought long and hard about the prospect of putting on another uniform, it just seemed wrong. In the end, I couldn?t do it. My career began, and ended, with the Philadelphia Eagles – and man, did we go out in style.
The veteran tight end was born and raised in Cincinnati, Ohio playing his high school football for La Salle. He didn't travel far for his college education, attending the University of Cincinnati and playing four years for the Cincinnati Bearcats football program.
The Eagles selected Celek in the fifth round of the 2007 NFL Draft. He went on to become one of Philadelphia's most reliable targets over the next decade helping his team claim three NFC East titles, make the playoffs five times, and culminating his career with a victory in Super Bowl LII.
In Philadelphia history, Brent Celek ranks fourth in receptions (398), eighth in receiving yards (4,998) and he holds the franchise record with 10 catches in a playoff game.
Celek is fourth all-time in Philadelphia franchise history with 175 games played in an Eagles uniform during his 11-year career — he only needed to appear in 14 more games to break kicker David Akers franchise record for games played.
He closed his letter with this:
Thank you to all the fans who have supported me along the way. I was just a kid from Cincinnati with a dream to play in the NFL, a kid who wasn?t invited to the combine and wasn?t a top pick. I was guaranteed nothing, but I believed in myself ? and now I bleed green, for life. To all the young kids out there: Dream Big. Work hard, and believe in yourself. Anything is possible. Philadelphia, I thank you for making me one of YOU. I hope this is just the beginning of our journey together. And know this: I?m at peace with this decision, because as stressful as the beginning of my career was ? before I got the call from Andy Reid that day in my parents? basement ? the ending was as blissful as I could ever imagine.

Love, Brent
Celek is the definition of a professional who always worked hard, showed up every game and never settled for less than his best. He might not be a Hall of Fame candidate, but his legacy is cemented as one of Philly's most respected football players of all-time.
It's the perfect ending to a brilliant football career.