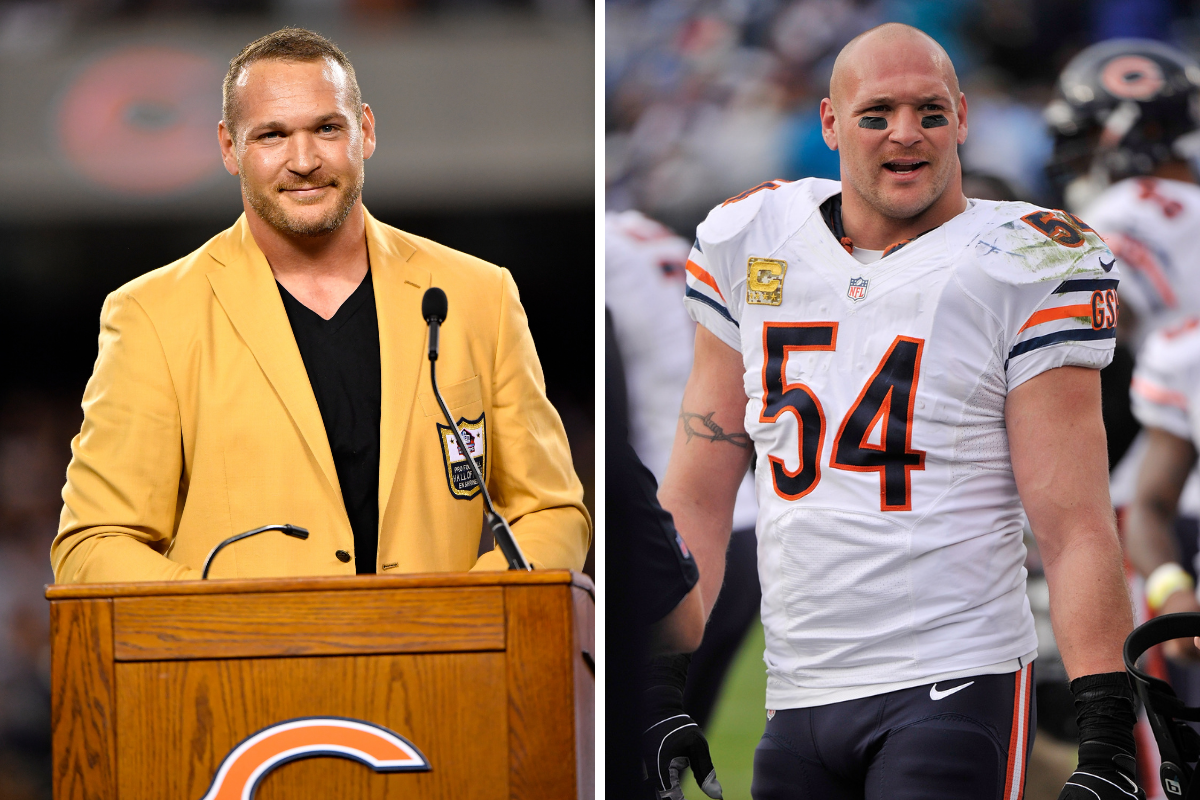 Quinn Harris/Getty Images (left), Frederick Breedon/Getty Images (right)
Brian Urlacher was one of the most feared linebackers of his era, manning the Chicago Bears? defense with ferocity.
The celebrated 43-year-old enjoyed 13-years in the NFL, staying with the Bears for his whole career until his retirement in 2012.
Well, it seems Urlacher has been enjoying retirement, and in what is arguably the greatest comeback story in football history: the formerly bald linebacker has even sprouted a head of hair, as evidenced by his posts on social media.
Brian Urlacher?s Hair
RELATED: Rex Grossman Played in a Super Bowl, But Where is He Now?
Urlacher's new hair made its public debut in 2016 on WGN News, stunning those who remembered the Pro Bowl linebacker's bald head. Seeing him with a full head of hair was a complete shock to football fans in Illinois and a drastic new look than what he had when tackling members of the New York Giants.
Urlacher explained the shocking development to Dan Patrick, telling him how he underwent a hair restoration procedure via RESTORE, which was founded by Dr. Arthur Katona in order to restore hair to his head and achieve his new look, boasting the most hair he's had since high school.
Urlacher told RESTORE he initially started suffering hair loss in college at New Mexico and began shaving his head when he reached the NFL for convenience purposes. Soon, fans grew accustomed to the bald look, and it was there to stay.
The FUE hair transplant procedure stands for Follicular Unit Extraction, differs from other hair transplant methods in that it removes each follicle of donor hair one at a time.
Believe it or not, this isn't the first time the former Chicago Bear's baldness has made headlines.
Urlacher filed a lawsuit against Charles Medical Group and Dr. Glenn Charles, a hair restoration company located in Boca Raton, Fla. The Hall of Fame linebacker accused the company of using Urlacher's name and likeness to market their own hair restoration product without permission from the former tackle machine.
According to the Chicago Tribune, Urlacher is seeking $200,000 from the Florida-based company, who denied using his name in a now-deleted blog post. The defendant's attorney, Gary Ostrow, spoke to the Chicago Tribune regarding the situation.
"Doctor Charles at no time took credit for the procedures elected by Urlacher, in fact to the contrary. There is a link to an Esquire magazine article, reflecting the procedure being undertaken by the doctor who performed the advanced procedure on Urlacher."
Urlacher was never able to win a Super Bowl with the Bears, but the former All-Pro managed to achieve something no one thought was possible in retirement by flaunting his new look.