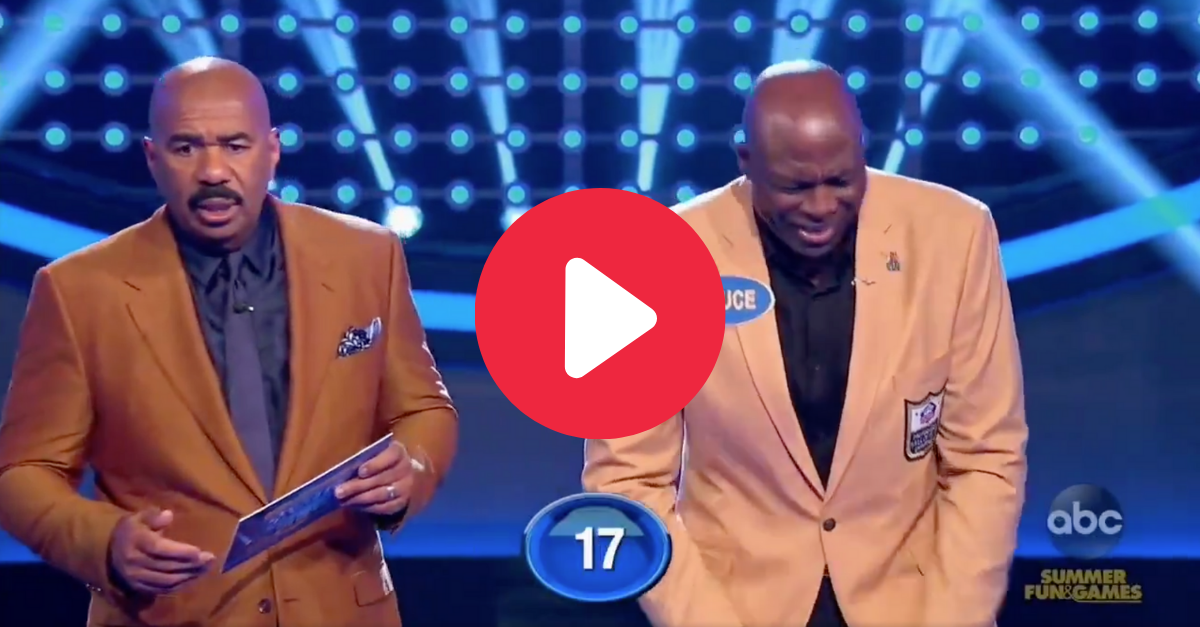 Screenshot from Twitter
Hall-of-Famer Bruce Smith is an NFL legend for many reasons. The former defensive end played nearly two decades for the Buffalo Bills and Washington Redskins, earning 11 trips to the Pro Bowl and winning NFL Defensive Player of the Year twice. Let's not forget he's the NFL's all-time sack leader either.
While the former defensive whiz used to be known as "Sack Man" playing college football at Virginia Tech, he hilariously fumbled the heck out of a question when he appeared on Celebrity Family Feud alongside Pro Football Hall of Fame members like Michael Irvin, Cris Carter and Orlando Pace.
It even left host Steve Harvey speechless.
Bruce Smith's Hilarious Family Feud Answer
RELATED: Steph Curry, Chris Paul Clash on Celebrity Family Feud
Bruce Smith and the NFL legends were competing against rising stars like Marlon Humphrey, Aaron Jones and Courtland Sutton for charity on ABC's popular game show Sunday night.
When it was time for the "fast money" round in which participants have to think quickly, Smith apparently shouted the first thing that came to mind for one question.
Harvey asked, "If Captain Hook was moonlighting as a handyman, he might replace his hook with what tool?"
Smith answered with "hammer," which was already said. One might say the next logical choice is a wrench or drill or maybe even pliers. Smith, however, had something else in mind.
"Penis," the NFL Hall of Famer said.

Harvey began reading the next question before he realized what word just came out of Smith's mouth.

"What the f*** did he just say?" Harvey hilariously asked.
This is A+ comedy right here. There's no doubt it was going viral instantly.
I've seen some wild answers on this show, but this one might take the cake. It's easily the greatest clip I've seen of an athlete on this show, which by the is saying a lot considering all sorts of MLB, NBA and NFL players have appeared on celebrity episodes. Pedro Martinez even once tried rhyming "yummy" with "Miami."
As for Bruce Smith's answer, well, let's just hope he's not shaking hands with anybody anytime soon.
This article was originally published July 13, 2020.