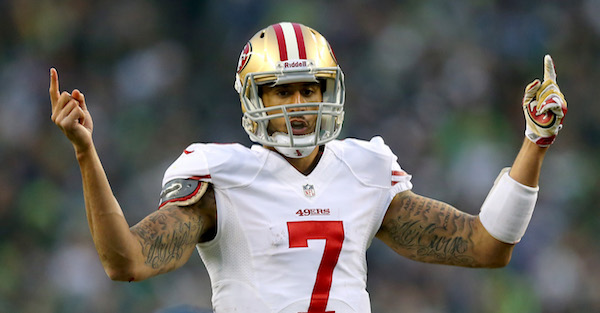 Ronald Martinez/Getty Images
Ronald Martinez/Getty Images
According to the the Montreal Gazette, Colin Kaepernick hasn't been invited to Montreal for a workout or team visit, but the team's general manager has reached out to his agent to discuss possibilities. According to Pro Football Talk, Kaepernick is the one who's not interested.
"A source close to Kaepernick told PFT that Kaepernick is not interested in playing Canadian football."
Here's what the Alouettes GM said earlier in the week.
?He?s in the midst of some very important things,? Reed said. ?We understand there?s a movement going on around him. We?re doing our due diligence and making certain they know we want to see where he?s at. It?s a matter of kicking the tires at this stage.
?To me, he?s a very good player. Take all the movement stuff aside. He?s a young man that we feel has a very good football IQ. He has taken a team to a championship level. The talent?s there. As a GM, you have to look at the talent. It?s incumbent on us to explore it.?
The discussion comes after a week of intense controversy from the NFL.
Here are the explosive comments seemingly directed at Colin Kaepernick's national anthem protest movement:
?Wouldn?t you love one of these NFL owners? when someone disrespects our flag say, ?Get that son of a bitch off the field, right now, out, he?s fired.?
In turn, NFL, NBA and MLB athletes have responded with either comments pushing back against the president or reactionary statements such as kneeling or staying in the locker room.
One college has even banned athletes from kneeling during the national anthem.
Kapernick has thrown 72 touchdowns to 30 interceptions over his six-year NFL career.
He opted out of his $14.5 million contract to become an NFL free agent over the summer, but hasn't landed anywhere since.