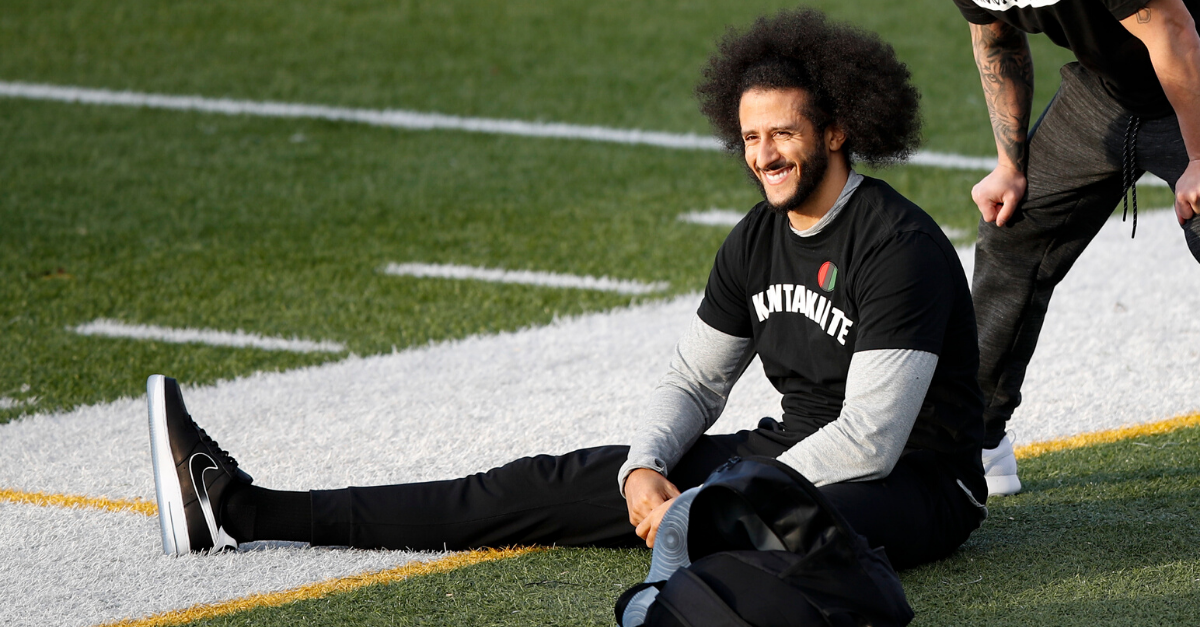 AP Photo/Todd Kirkland
Colin Kaepernick hasn?t had an NFL job in over three years. He will be the first to tell you that. The former San Francisco 49ers quarterback is still holding out hope to get another chance, but he?s still making plenty of money even without playing in the league.
In the past year alone, for better or for worse, Kaepernick has been everywhere. One of the highlights was winning an Emmy as the face of Nike?s ?Just Do It? 30th anniversary campaign. Now, the athletic apparel giant is giving him his own signature shoe.
First, it was the Colin Kaepnernick Icon Jersey, which sold out in less than 24 hours. The Colin Kaepernick signature shoe was scheduled to be released nationwide this month, according to Yahoo Sports.
?The inclusion of a shoe and a Kaepernick branded ?Icon? jersey was first reported by Yahoo Sports in 2018, with his footwear rollout speculated to be on track for the 2019 holiday season,? Yahoo?s Charles Robinson reported.
RELATED: Nike Pulls ?Betsy Ross? American Flag Shoes After Colin Kaepernick Complains
This is all part of Kaepernick?s endorsement deal with Nike, and if the shoe is anything like the authentic versions of the Nike jersey, expect this to be another smash hit online and in the secondary market. Yahoo Sports even reports counterfeit versions of the jersey on secondary clothing sites are selling for as much as $50.

What Does Colin Kaepernick's Nike Shoe Look Like?
Before the nationwide release of the shoe, Kaepernick was seen wearing them before his workout for NFL teams in Atlanta last month. Carolina Panthers safety Eric Reid, Kaepernick?s former teammate, already has a pair, too.
?Game day fit,? Reid posted on social media. ?You already know #ImwithKap y?all see the kicks.?
Unlike the Nike Air Max 1 with the Betsy Ross flag he opposed to, the Colin Kaepernick signature shoe is very custom. The black Nike Air Force 1 Low features "K" on the tongue, has a picture of his face on the back, and even features the date of his first kneel — August 14, 2016 — for racial injustice and police brutality on the bottom.
Of course, like anything involving the former NFL quarterback, there will likely be some backlash. Some people in the United States simply cannot get over his protests during the national anthem years ago.
However, whether you like it or not, a Colin Kaepernick signature shoe is coming, and don?t be surprised if they sell out in a matter of hours, too.
Colin Kaepernick Shoe Release Date
Surprise, surprise! Just hours after Colin Kaepernick announced the worldwide release of his Nike "True to 7" sneaker, they sold out in a matter of hours.
According to Nike's website, not a single pair of the shoes are available.
That was quick.
This post was originally published on November 21, 2019.