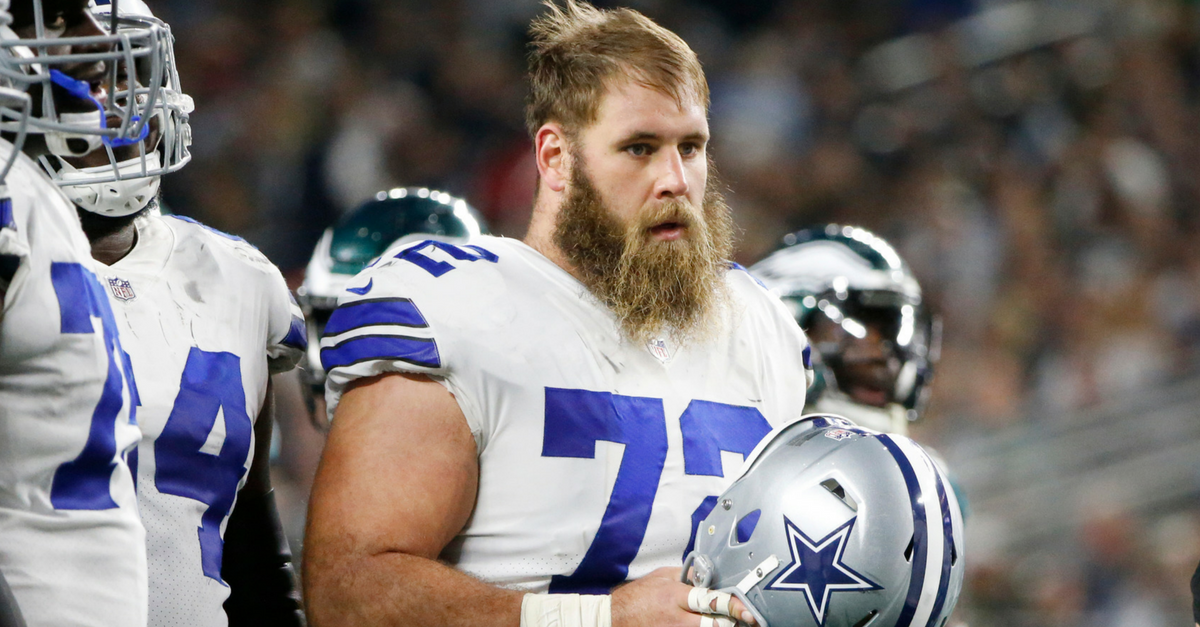 AP Photo/Michael Ainsworth, File
AP Photo/Michael Ainsworth, File
Life comes at you fast. We've all experienced it in one way or another, as things can change without warning. The best we can do is be prepared for anything and stay positive in all aspects of life.
The Dallas Cowboys center Travis Frederick had been experiencing shoulder and neck issues during training camp, which were initially diagnosed as a series of stingers. It turns out the All-Pro's diagnosis is much more serious than originally thought.
The Sharon, Wisconsin born offensive lineman is one of the NFL's elite centers — The fifth-year pro has been named to four consecutive Pro Bowls, as well as being named to the NFL's All-Rookie team in 2013.
The anchor to the Cowboys' elite front-five, Frederick has helped Dallas' rushing attack finish second in the NFL in three of the last four seasons, most recently on the legs of star running back Ezekiel Elliott.
After discomfort the past few weeks lead Frederick to get an extensive examination, the three-time All-Pro was diagnosed with Guillain Barre Syndrome, a rare disease where your body's immune system attacks its nervous system.
According to the Mayo Clinic, there is no known cure for Guillain-Barre Syndrome, although it can be treated.
Fortunately, the rare autoimmune disease was discovered at a fairly early stage, but a timetable for Frederick's immediate future cannot be determined.
Frederick was the 31st overall pick in the 2013 NFL Draft by Dallas. During his time at the University of Wisconsin, Frederick was named first-team All-American in 2012 and was a two-time Big Ten champion with the Badgers.
Alongside fellow All-Pro lineman Zach Martin and Tyron Smith, the Cowboys' offensive line is regarded as one of the elite units in the NFL.
The loss of Frederick, at a thin position in the league, is a huge loss from a football standpoint.
The narrative, though, isn't about football — it's about Frederick's health and recovery.
There has been an outpouring of tremendous support from the Cowboys organization, as well as from around the sports world, providing further evidence to the high character of Travis Frederick.
For Frederick to feel better from an "overall strength perspective" after just a few treatments is awesome to see, but his battle is just beginning.
Wishing good health and speedy recovery to one of the league's highest character individuals, and for a writer who played his position, a personal favorite player in the NFL.