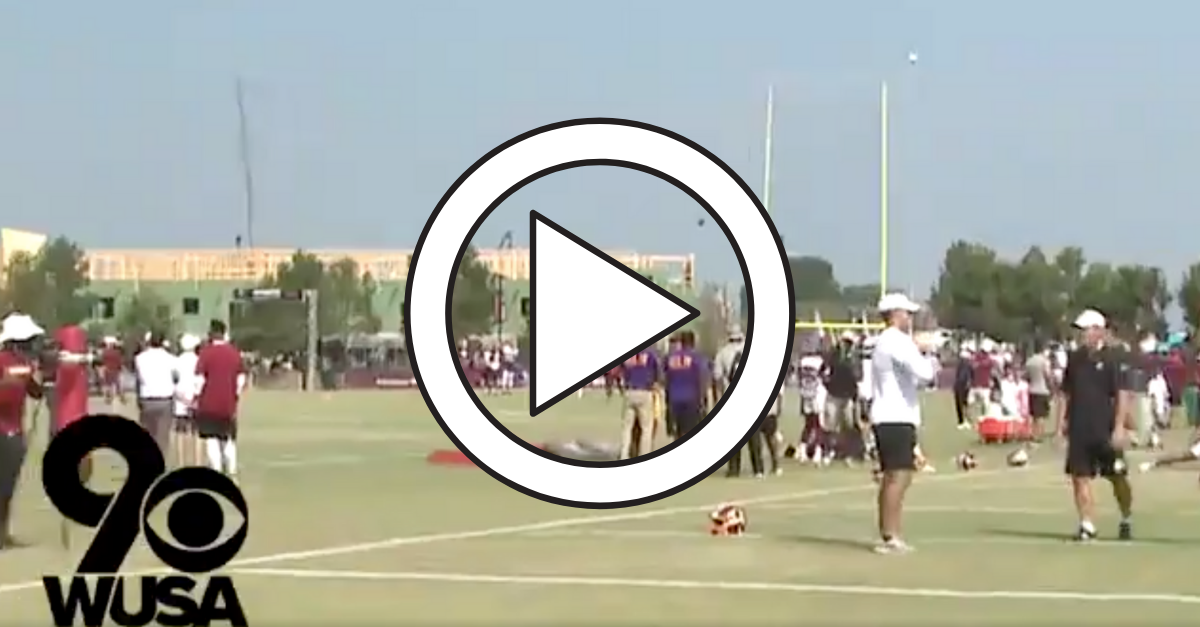 Screenshot from Twitter: DarrenMHaynes
Nothing beats a good, old football rivalry. In Alabama, every Auburn fan loves to hate the Crimson Tide. Over in Texas, one Longhorns fan actually stole the Aggies' dog mascot. In the NFL, well, nothing is off limits, especially between two teams that play in the 17th biggest sports rivalry in the world, according to The Sportster.
The Dallas Cowboys and Washington Redskins first played on October 1960, with the Redskins chalking up a 26-14 win. Heading into the 2019 NFL season, Dallas leads the all-time series with a 71-45-2 record. From to the 1983 NFC Championship Game to the Josh Norman-Dez Bryant commercial battle of 2017, there's bad blood everywhere. And at Redskins Training Camp this summer, the latest installment to the rivalry ruffled quite a few feathers.
At a construction site across from the Bon Secours Training Center, some jokesters working there proudly hung a huge Dallas Cowboys flag from the structure for every Washington football player to marvel at. The iconic star is impossible to miss, and it's safe to say the Redskins weren't too keen on the joke.
"The receivers were down there closest to it, and I pointed it out to everybody," wide receiver Trey Quinn, named 'Mr. Irrelevant' as the final pick of the 2018 NFL Draft, told WUSA9 sports director Darren M. Haynes. "We were going to go take it down and fight somebody."
RELATED: While Dallas is at Training Camp, Ezekiel Elliott Heads for Mexico
"They're outside of the stadium, outside of the practice facility so, you know, haters are always going to hate man," veteran offensive lineman Morgan Moses said later.
Whether it was an angry Redskins fan, the site's foreman losing his mind because someone was slacking on the job, or simply because it was time to get back to work, it wasn't long before the flag was taken down.
The Redskins and Cowboys meet nice and early this season, when Washington's FedEx Field plays host to this NFC East division rivalry on September 15. Week 2 isn't far off, and while this is hardly the same thing as on-field yammering, you better believe the bad blood will be alive and well.
I guess these rankings were right. The Cowboys really do have the greatest fans in the NFL.