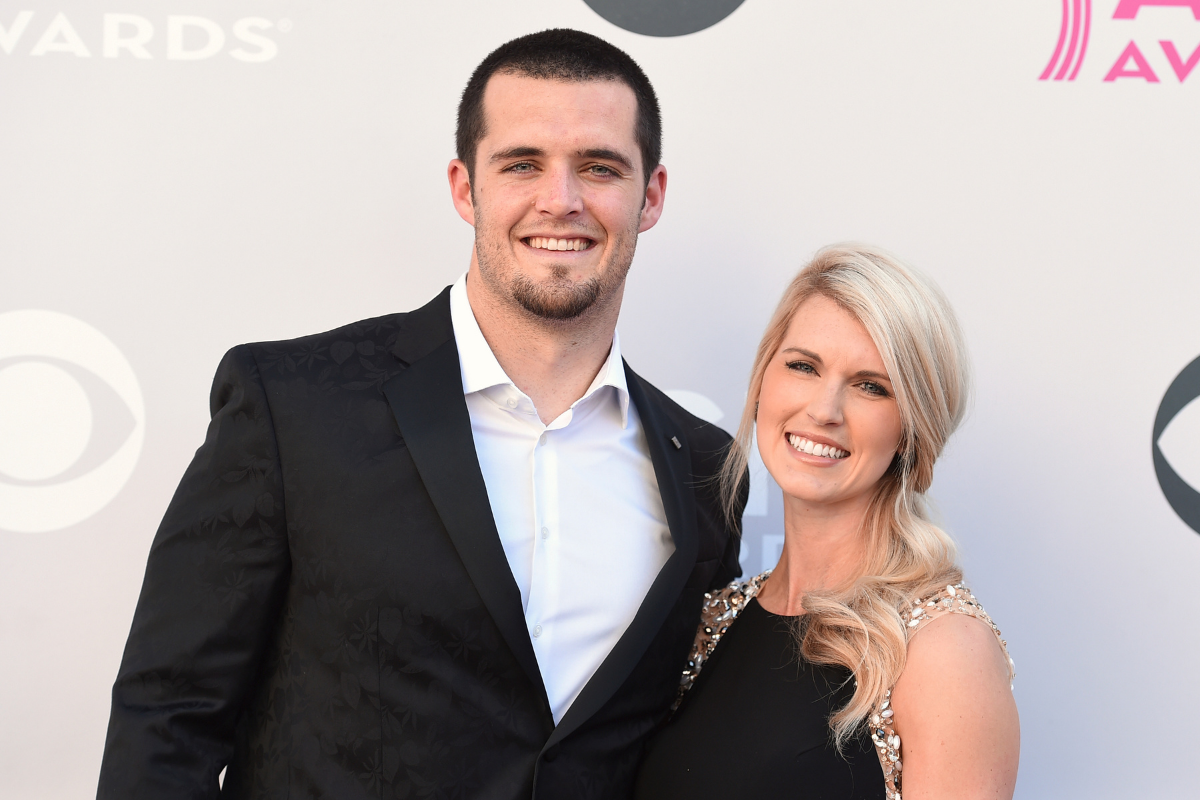 Photo by Jordan Strauss/Invision/AP
Derek Carr has spent much of his life living in the shadow of his older brother David Carr, the first-overall pick in the 2002 NFL Draft who played 10 years in the pros. They have been pretty tough expectations to live up to.
Well, not only did Derek find his path to football, having been drafted fourth-overall in the 2014 NFL Draft to become the Oakland Raiders quarterback, he's turned out a solid NFL career as well.
All the while, including a move to Las Vegas, Carr has had the support of his loving family behind him.
Derek Carr's Wife
RELATED: Matt Ryan Met His Wife in the Weight Room
Las Vegas Raiders quarterback Derek Carr has been married since his college days at Fresno State. He and wife Heather Neel tied the knot in 2012. While QB Derek Carr was commanding the Fresno State Bulldogs offense, Neel was on the sideline as one of the team's cheerleaders.
Despite being a cheerleader, the two didn't meet through the football team. Rather, Neel and Carr met at BJ's Brewhouse, where Heather worked throughout college. Carr used a rather humorous pickup line, involving earrings, to get Neel's attention, and the pair have hit it off ever since.
Heather Neel, now Heather Carr, frequently posts pics to social media, namely Instagram, of her and Derek, as well as their children.

Derek Carr's Kids
Derek Carr and Heather Neel have three sons, all of who's name start with the letter D, naturally.
Carr's children are named Dallas, Deker and Deakon, the latter of whom was born in 2019. Dallas, who was born in 2013, suffered from intestinal malrotation, in which his intestines were essentially tied in a knot. The newborn required multiple surgeries over several weeks to repair his intestines. Fortunately, the child was in good hands and managed to survive.
In other good news for the Carr family, they are expecting a baby girl in 2020, which will certainly even the playing fields for Heather in what is a male-dominated household.
Derek Carr's Football Career
NFL quarterback Derek Carr has been dominating on the gridiron since his high school days, having attended both Bakersfield Christian High School in California and Clements High School in Sugar Land, Texas. Despite receiving interest from various universities, Carr accepted a scholarship to play football at Fresno State.
During his time at Fresno State, Carr started three seasons, really turning it on during his junior and senior seasons. Across those two campaigns, Carr tossed 87 touchdowns (50 durinng his senior year), more than 9,200 yards, and was picked off just 15 times. His performance saw him named MWC Offensive Player of the Year in 2012 and 2013, and he won the Sammy Baugh Trophy in 2013.
In his NFL career, Carr has made the Pro Bowl three times, and has remained the face of the franchise amid the organization's move to Las Vegas to play at Allegiant Stadium.
While Carr is still the Raiders starter, that hasn't kept him out of the watchful eye of head coach Jon Gruden, who was less than thrilled with some of the play calls voiced by Carr at the line of scrimmage.
After hearing Carr call an audible during the 2020 season opener against the Carolina Panthers by saying "Cindy Gruden Tiger Woods," Gruden responded by telling his quarterback to "keep my wife's name out of his mouth."
While Las Vegas Raiders quarterback Derek Carr and his wife Heather may not have the superstar status that Tampa Bay Buccaneers quarterback Tom Brady has with Gisele, the couple have found happiness together and he knows she's always rooting for him on game day.