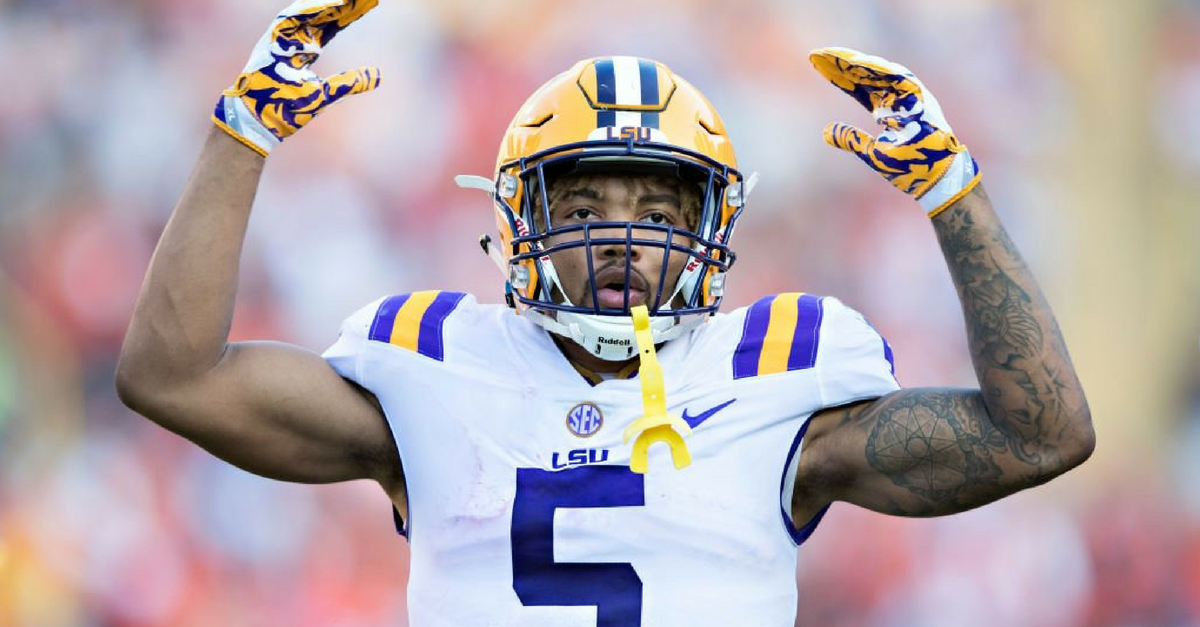 Twitter: @bleacherreport
Twitter: @bleacherreport
Derrius Guice was a second-round pick in this year's NFL Draft by the Washington Redskins. Heading into the season, the former LSU Tigers star was expected to be the team's starting running back, and many had him pegged as a potential Offensive Rookie of the Year candidate.
In the first quarter of the Thursday night's preseason opener versus the New England Patriots, Guice had to be helped off the field heavily favoring his left leg. The diagnosis is gut-wrenching.
The initial diagnosis of a sprained MCL turned out to be much worse than the Redskins thought prior to an MRI.
Guice, who had a nagging knee injury from his time as a running back at LSU, is officially done for the season, according to NFL Network's Ian Rapoport.
The 59th overall pick's highly anticipated rookie season is over after an ACL tear in his preseason debut.
At LSU, Guice was the backup to Leonard Fournette as a freshman in 2015. The following year, he was again expected to be the second-string back, but injuries forced Fournette to appear in only seven games.
That's when Guice exploded for 1,387 rushing yards and 15 touchdowns on his way to being named first-team All-SEC.
Despite a hyperextended knee that limited some of his action during his final college season, Guice still ran for 1,251 yards and 11 touchdowns to earn second-team All-SEC.
Guice is the first player in SEC history to rush for 250 yards in a game three times.
Don't expect an August preseason game injury to stop the Baton Rouge, Louisiana native from making an epic comeback.
The typical recovery time for a torn ACL is almost a full year, but with Guice's history of problems with that same left knee, the Redskins may opt to Guice off the field until the start of next year's regular season as a precaution.
The NFL family to took to social media in a show of support for the rookie running back.
The Louisiana State University product knows how to overcome the odds, and you can bet he'll return with a score to settle in 2019.
Until then, best wishes and good vibes go out to Redskins rookie Derrius Guice.