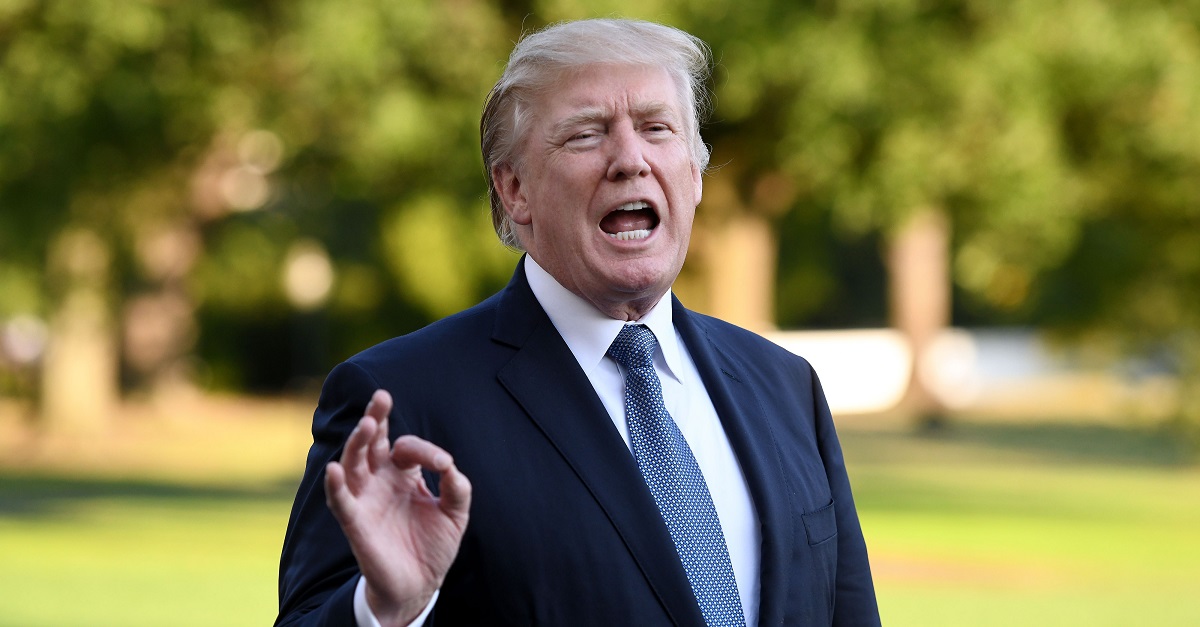 Olivier Douliery - Pool/Getty Images
WASHINGTON, DC - SEPTEMBER 24: (AFP OUT) U.S. President Donald Trump answers questions from the press after stepping off Marine One on the South Lawn on September 24, 2017 in Washington, DC. (Photo by Olivier Douliery - Pool/Getty Images)
Teams and players throughout the NFL have been making statements and protesting in various ways after President Donald Trump's recent remarks. The Pittsburgh Steelers remained in the locker room during the anthem, while numerous players took a knee for the anthem.
Related: Only one member of the Pittsburgh Steelers stood for the national anthem on Sunday
Carolina Panthers coach Ron Rivera told reporters that he told his team that they should show commitment to the flag and to the country by standing for the anthem. Here's what he said (via Pro Football Talk):
"I told the guys I really think what we need to do is if we are to be united we need to all stand, look at the flag and be at attention," Rivera said. "Left hand down at our side and right hand on our heart, we need to look at the flag and listen to the national anthem. We need to think it and vision it for an America that we believe in, that is free from injustice, free from bigotry, and free from prejudice.

"Then when you guys ask me, we tell you that we believe in America, that we support our military, we support our first responders, and we most certainly do not believe in racism and bigotry and we want to see that out of this country. I told them that?s how I feel and I have my personal reasons to feel that way. We left it at that."
Related: Ahead of NFL Sunday, Donald Trump gives another statement on national anthem protests
Panthers owner Jerry Richardson is one of the few owners not to issue statement regarding the president's remarks.
Rivera's players all stood for the anthem with the exception of one: 16-year veteran defensive end Julius Peppers. Peppers opted to remain in the locker room according to Pro Football Talk, and he said it wasn't to disrespect the military or police.
"I thought it was appropriate to stay in," Peppers said after the Panthers' 34-13 loss to the New Orleans Saints. "We know what went on this week; the comments that were made by the President. I felt like he attacked our brothers ? my brothers in the league. I felt it was appropriate to stand up with them and stay in the locker room.

"I know a lot of people might not understand it. A lot of people might be upset about it. And that?s fine. I?m not living my life trying to make everybody happy. I?m doing things that I feel are right and things that I believe in. There are only a few times in a man?s life where you have a chance to stand up for something that you believe in and make a statement. Today I thought that was that chance, and I took it."
Here's Peppers after the game with reporters.
This is an issue that won't be going away anytime soon. More teams and players will likely continue to protest for the remainder of the season, and it could worsen over the course of the year.
(h/t Pro Football Talk)