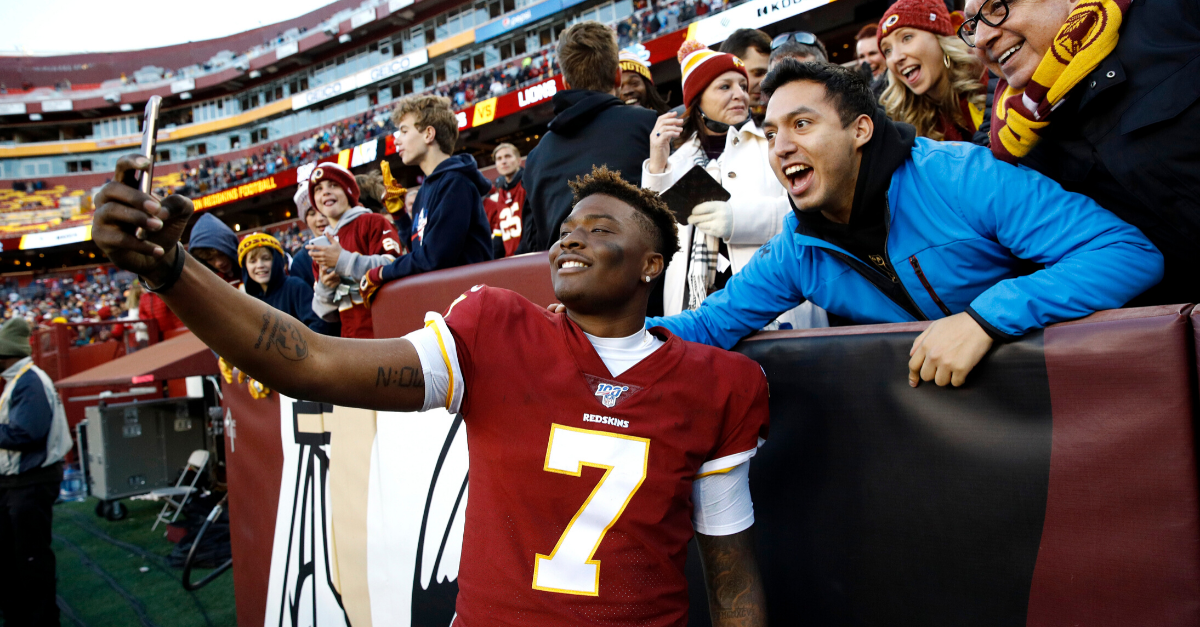 AP Photo/Patrick Semansky
For the first time in what seemed like forever, the Washington Redskins won an NFL game. Beating the Detroit Lions is nothing special, by any means, but the struggling franchise finally got over the hump for the first time in weeks. Needless to say, emotions were running high.
No one felt the sigh of relief more than Redskins rookie quarterback Dwayne Haskins. After battling the entire game, Haskins led his team down the field before kicker Dustin Hopkins made a 39-yard field goal with 16 seconds remaining.
It eventually became Haskins? first win as an NFL starter, and he was very emotional on the sideline following his game-winning drive.
There was a problem, though.
After the field goal, Lions quarterback Jeff Driskel threw an interception with eight seconds left. When it was time for the Redskins to get into victory formation, interim coach Bill Callahan couldn?t find his starting quarterback.
People were curious why backup quarterback Case Keenum was in the game for the final snap and kneel down, and now we know why. Haskins, the former Ohio State star, was busy taking selfies with fans.
Seriously, this actually happened at FedEx Field in Landover, Maryland.
QB Dwayne Haskins Misses Final Play
It?s one thing to be hype on the sideline. Nobody can blame the 22-year-old for getting exciting about the comeback or winning a football game. But for the head coach not knowing where his quarterback is for the final play and final snap of the game isn?t a good look.
Let?s put it this way: Former Redskins quarterback Joe Theismann was fuming.
?How do miss the last snap of a game because ur taking selfies,? he posted on Twitter. ?That?s unprofessional & wrong.?
Some people loved it. Other people hated it. That?s probably not a surprise, but this is likely a moment the rookie quarterback will remember forever but also one he will probably want back.
Either that, or the Redskins will need to put a selfie stick on the sideline if this keeps up.