The quarterback position in fantasy football is one of your team's more interesting roster spots, and a mistake in selecting your signal caller can ruin a perfect fantasy football draft.
For standard lineups (one QB leagues), you can get away with having a roster that may not have that stellar real-life quarterback, and the point differential at quarterback is not as stark as in other positions.
For example, Buffalo Bills quarterback Josh Allen finished with 417 points, whereas Kyler Murray finished with 310 points in 2021. That's a 100-plus point difference, but Allen was the QB1, and Murray was the QB10, playing three fewer games.
So, when it comes to studs and duds at the quarterback position, it's not always looking at whether the quarterback will be good or not -- it's assessing the average draft position and finding value.
Below are our top studs and duds at the quarterback position heading into the 2022 season. And just a reminder, all ADP data is courtesy of Fantasy Football Calculator (PPR).
Stud: Jalen Hurts, Philadelphia Eagles
ADP: QB7; Draft Position: 6.04
Finishing as the QB9 in 2021, playing 15 games, Hurts has a fantastic opportunity to finish as the QB1. Hurts only threw for 3,144 yards last season, and 16 touchdown passes. However, on the ground, Hurts had 784 yards and 10 touchdowns.
Not only will Hurts' rushing upside continue, but he also has wide receiver A.J. Brown in the fold.
It's safe to say we could see some rushing touchdown regression seeing how running back Miles Sanders had zero all last year. Still, Hurts will make up for it in his second entire season as the team's starting quarterback in the passing game. However, to be fair, there's still a chance Hurts retains that rushing value as we've never seen a breakout from Sanders yet.
If you were to simply take his 2021 point total (321.16) and extrapolate that from 15 games to 17 games, Hurt would've been the QB4. He has the weapons this year and the rushing upside.
Take Hurts.
Dud: Josh Allen, Buffalo Bills
ADP: QB1; Draft Position: 2.10
Now before you get your pitchforks out, hear us out. Let's clarify: Allen is a fantastic, perennial MVP quarterback. This "dud" designation is a lesson in ADP value.
Allen finished 2021 as the QB1, and he was also the QB1 in 2020. He's shown he can repeat, but three seasons in a row will be a challenging feat.
Regardless, Allen, toward the back-end of the second round, eliminates so much value from the wide receiver and running back market.
Here are some players going a few picks after him:
Mike Evans

Leonard Fournette

Mark Andrews

Ezekiel Elliott

Tyreek Hill

A.J. Brown

James Conner

Keenan Allen
By the end of the season, Allen will have more overall fantasy points than any of those guys, but this goes back to the point differential between the top quarterback options. Looking at Hurts' ADP, would you rather, for example, have Hurts and his No. 1 option Brown or Allen and Adam Thielen?
Allen will be fantastic, but there's more value in the other positions at 2.10.
Stud: Trey Lance, San Francisco 49ers
ADP: QB14; Draft Position: 9.09
There are no more questions -- Lance is the guy in San Francisco.
While we didn't exactly see the most inspiring performances from the rookie in 2021, you need to remember that he was coming into the league after not playing for over a year and only starting 19 games at North Dakota State. With his rookie season under his belt and an entire training camp as the No. 1 guy, things can only point up for the sophomore, especially with an offensive weapon like Deebo Samuel on the Niners roster for the foreseeable future.
We don't have any questions about his arm, but it's fair to be a bit skeptical about Lance's accuracy. One thing we cannot question, however, is his ability to move the ball with his legs. Lance is similar to Hurts in that they can both move the ball, but I'd even argue that, compared to Hurts' first season, Lance will be the better passer of the two.
If you leave the draft with Lance as your starter after taking him in the ninth round, you've struck gold. You were able to build the other position over the first eight rounds and have put your roster in a good spot with a top-seven-ish upside quarterback.
Dud: Joe Burrow, Cincinnati Bengals
ADP: QB5; Draft Position: 5.02
Admittedly, this pick could come back to bite us, and sure, but again, this is all about value. Finishing as the QB5 in 2021 (through Week 17), Burrow is redrafted in that same spot this year, going toward the top of the fifth round. And while the Bengals' offensive line has always been an issue, there are a few newer problems to note heading into 2022 NFL season for Joe Cool.
In 2021, the Bengals tied for seventh-lowest plays per game at 61.8. That could haunt the final stat line in 2022, especially if Burrow doesn't continue his all-time efficiency stats, such as a 70.4% completion rate last year. Even if his main target is a first round pick, that doesn't immediately make Burrow the best option.
In round five, taking a quarterback is fine at this point in the draft. Still, it would be best if you leaned toward guys that will score the touchdowns on the ground and rack up 600-plus rushing yards like Lamar Jackson or Kyler Murray.
Burrow will still be a fine quarterback, but it'll be difficult for him to match that QB5 value.
Stud: Jameis Winston, New Orleans Saints
ADP: QB20; Draft Position: 13.11
In 2021, Winston averaged 18.36 fantasy points per game from Weeks 1 to 7 with absolutely no options besides running back Alvin Kamara. Coming off an injury, Winston, a former 5,000-yard passer, will now have wide receiver Jarvis Landry, Michael Thomas, and rookie Chris Olave in the fold.
Winston played low-risk football before his injury, averaging just over 167 passing yards per game and throwing only three interceptions. Remember that two years before that, Winston threw for 5,109 yards, 33 touchdowns, and an astonishing 30 interceptions with the Tampa Bay Buccaneers. We don't want 30 interceptions again, but Winston did finish as the QB3 that year.
If you think Winston played the way he did because of the lack of options, you could now only logically assert that things will open up more for him. We're not saying to draft Winston as your starter. Still, if you want to add him in the late rounds as a backup QB to stash for a bye week if no other valuable position players are there or are in a two-QB league, Winston is a value.
If Winston finishes as a borderline QB1, don't be surprised.
Dud: Matthew Stafford, Los Angeles Rams
ADP: QB9; Draft Position: 7.07
After posting nearly 4,900 yards and 41 touchdown passes in 2021, Stafford finished 11th in the league in fantasy points per game. This is coming off a year in which wide receiver Cooper Kupp finished with the triple crown, and the team brought in Odell Beckham Jr. after Robert Woods was injured. In 2022, Stafford will have Kupp again, and Allen Robinson is coming into the fold. However, Stafford is already experiencing elbow issues similar to what would cause Tommy John surgery in baseball. That's not ideal for Rams head coach Sean McVay.
There's no reason to speculate Stafford will miss time, but even if he does play all 17 games, he's pretty capped out as a 20-ish points per game quarterback.This is an acceptable average, but there are some higher upside quarterbacks such as Russell Wilson, Dak Prescott and Trey Lance going after him.
Stafford is likelier to be a QB12 or 13 than top-nine.
Stud: Lamar Jackson, Baltimore Ravens
ADP: QB4; Draft Position: 5.02
Flat out: If Jackson is there in the fifth round, take him immediately. Last year, Jackson finished with the seventh-most fantasy points per game at the quarterback position without his dynamic rushing attack behind him. I mean, the Ravens had arguably the most notable injuries in a single season we've ever seen.
With a restored defense removing the need to stay in the game by throwing the ball through the air and the running game is a bit restored, Jackson is in a prime position to get back to his peak performance.
Will he finish as the QB1? That's unlikely, but he'll finish at his ADP or above, thanks to a healthy roster around him and the ability to rush for 1,000 yards a year.
Stud: Kyler Murray, Arizona Cardinals
ADP: QB6; Draft Position: 5.11
We all know that wide receiver DeAndre Hopkins will miss the first six games of the season, but that shouldn't deter you from Murray as the QB6.
In 2021, Murray finished as the QB1 in three separate weeks. He can throw the ball, averaging over 270 passing yards per game, and he averaged over six carries a game last year

The Cardinals will have wide receiver Marquise Brown as the No. 1 placeholder until Hopkins returns. During that time, Murray should be more than fine. Remember, the team lost Chase Edmonds in the offseason, so that's one less running back to eat into his rushing production.
There was a point last year where Murray was the frontrunner for NFL MVP, and that's due to how dynamic of a player he is. Like Jackson, if Murray is there as you cross into round six, you'll, at a minimum, return that value.
Honorable Mentions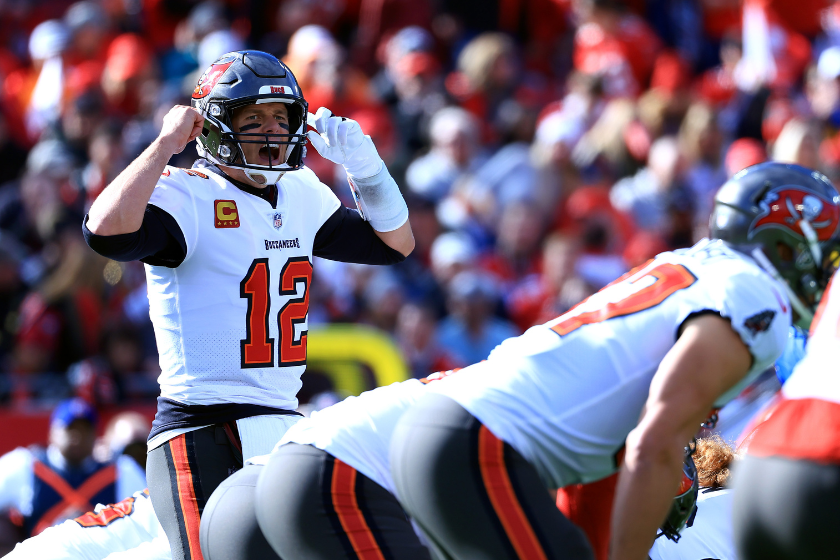 Stud: Justin Herbert, Los Angeles Chargers
Dud: Aaron Rodgers, GreenBay Packers
Stud: Tom Brady, Tampa Bay Buccaneers
Dud: Daniel Jones, New York Giants
Stud: Russell Wilson, Denver Broncos
Dud: Dak Prescott, Dallas Cowboys
Stud: Justin Fields, Chicago Bears
Dud: Jared Goff, Detroit Lions
Stud: Derek Carr, Las Vegas Raiders
Dud: Ryan Tannehill, Tennessee Titans
Statistics are courtesy of Pro Football Reference, Pro Football Focus, and Team Rankings.
ADP data is courtesy of Fantasy Football Calculator.
Enjoy all things sports?
Don't miss a story! Sign up for daily stories delivered to your inbox.