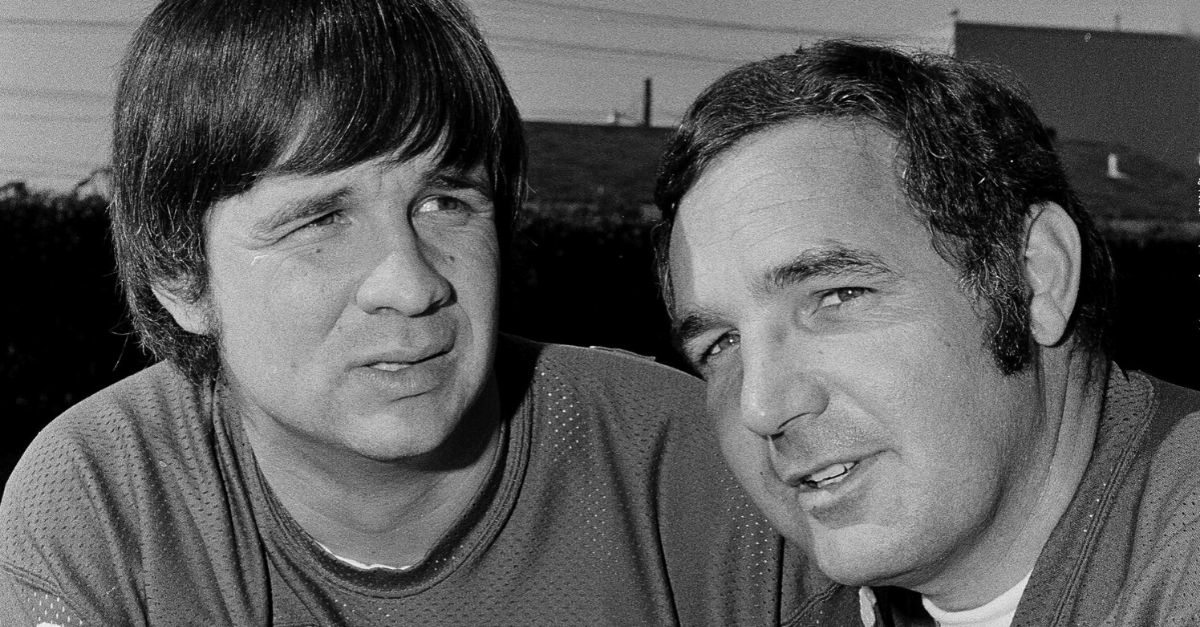 AP Photo
I would be shocked if you've never seen, thrown or heard of a NERF football. Hasbro's foam balls and dart gun blasters grew into America's hottest toys starting in 1969, when Twister inventor and toy developer Reyn Guyer created the first-ever NERF ball. That round, indoor toy was made of neon foam, but it gave way to waves of variations, like the NERF Sports Pro Grip Football and NERF Sports Weather Blitz Football.
But before the Aero Howlers and Air-Tails of our childhoods, it was a former NFL kicker and his partner who invented the first-ever NERF football.
Who Invented the NERF Football?
Former Minnesota Vikings kicker Fred Cox was one of the greatest players that fan base ever had. In 15 seasons with the Vikings from 1963-77, Cox played all 210 regular season games (third-most in franchise history), retired as the Vikings' all-time leading scorer (1,365 points; 34th all-time), and was an All-Pro on Minnesota's 1969 NFL Championship team. Cox led the league in made field goals three times and appeared in four Super Bowls.
Cox, however, wasn't always a kicker. The eighth-round pick of the 1961 NFL Draft was selected to be the blocking back for Cleveland Browns' Hall of Famer Jim Brown. Back issues, however, turned the future chiropractor towards kicking, and he thrived.
Before his playing career ended, he and Minneapolis native John Mattox wanted to create a soft and safe ball for kids to practice with. This excerpt from a Vikings.com segment called "Where Are They Now?" highlights how the iconic idea came to be:
When told by Mattox that he intended to use a heavy ball so kids wouldn't kick it out of their yard, Cox suggested a lighter alternative, something made of foam, to prevent, as he says, "a bunch of sore-legged kids."

Inspired by the idea, the duo had a mold made of a full-sized football and employed an injection molder in the Twin Cities region to produce a prototype of the lightweight ball. The process resulted in a thick-skinned football that was denser than the existing round Nerf balls intended for indoor play that entered the marketplace in 1970.

"The weight was right,? Cox says. ?When you threw it, it flew like a football."
Cox and Mattox pitched their foam football to Parker Brothers, and the rest is history.

Fred Cox Death
Sadly, the Vikings revealed in a press release that Fred Cox died on November 20, 2019. The Monangahela, Pennsylvania native was 80 years old, just three weeks shy of his birthday.
"The Vikings mourn the loss of Fred Cox, one of our proudest legends and a member of the 50 Greatest Vikings. A respected teammate and friend, Fred's football career as the Vikings all-time leading scorer set the stage for a life where he went on to achieve great things in business and in his community. Fred?s positive energy, strength in his faith and passion for life will be missed."

? Statement from Minnesota Vikings
Hearing NFL legends discuss how important the NERF football was to their childhood brings back so many memories. The football world lost a true legend in Fred Cox, but his incredible invention will live on forever in the United States and beyond.
Our condolences are with his family members at this time.