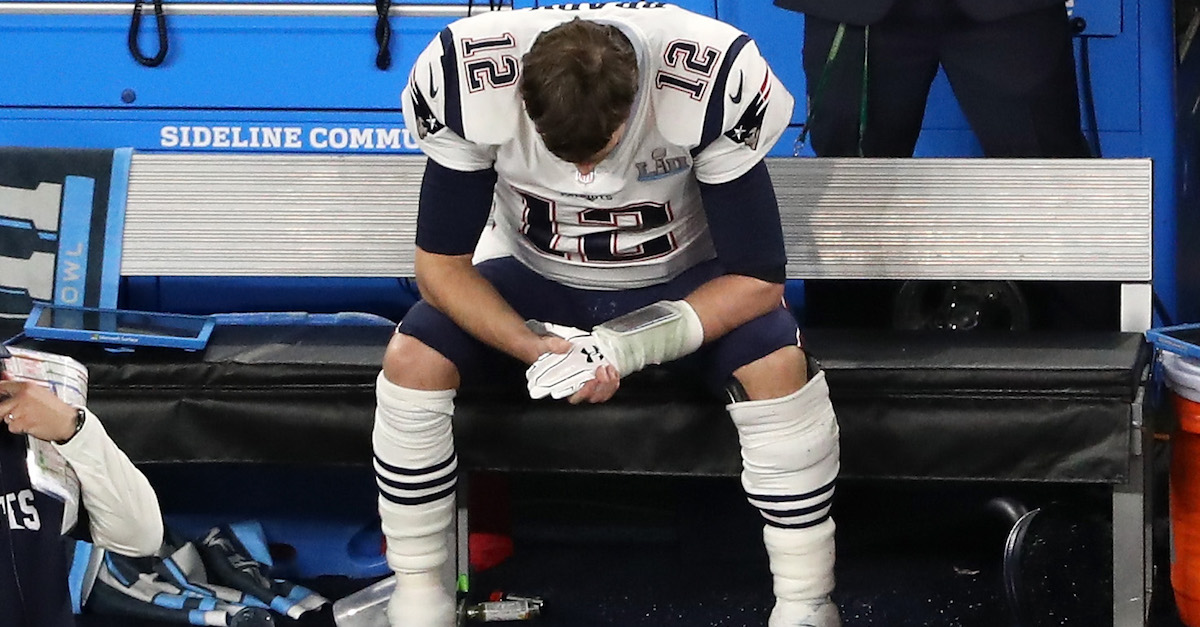 Patrick Smith/Getty Images
MINNEAPOLIS, MN - FEBRUARY 04: Tom Brady #12 of the New England Patriots sits on the bench after having the ball stripped by Brandon Graham #55 of the Philadelphia Eagles late in the fourth quarter in Super Bowl LII at U.S. Bank Stadium on February 4, 2018 in Minneapolis, Minnesota. (Photo by Christian Petersen/Getty Images
Sunday night was a rough one for quarterback Tom Brady, as his New England Patriots lost to the Philadelphia Eagles in Super Bowl LII, 41-33.
Brady's strip-sack fumble gave the Eagles the ball back late in the fourth quarter, setting up for a field goal that put them up eight. The quarterback simply didn't have enough to push his team down the field, as a desperation heave as time expired fell to the turf.
After the game, Brady's wife, Gisele Bundchen shared an emotional Instagram post of the Patriots quarterback:
"Congratulations Eagles for winning the Super bowl, what a game that was! Congratulations Patriots for giving your best and to my love, we are incredibly proud of you because we are able to see ever day all the commitment, sacrifice and hard work that you have devoted to become the best in what you do. We love you! ? Parabéns Eagles por ganhar o Super bowl, que jogo! Parabéns Patriots por dar o seu melhor e ao meu amor, estamos incrivelmente orgulhosos de você porque vemos todos os dias o compromisso, o sacrifício e o trabalho árduo que você dedicou para se tornar o melhor no que você faz. Nós te amamos!"
Brady shared before the game that he expects to return for another season. The same may not be true for teammate Rob Gronkowski or Malcolm Butler.
Brady completed 28-of-48 passes for 505 yards and three touchdowns. He was sacked once, which resulted in the fumble in the fourth quarter.