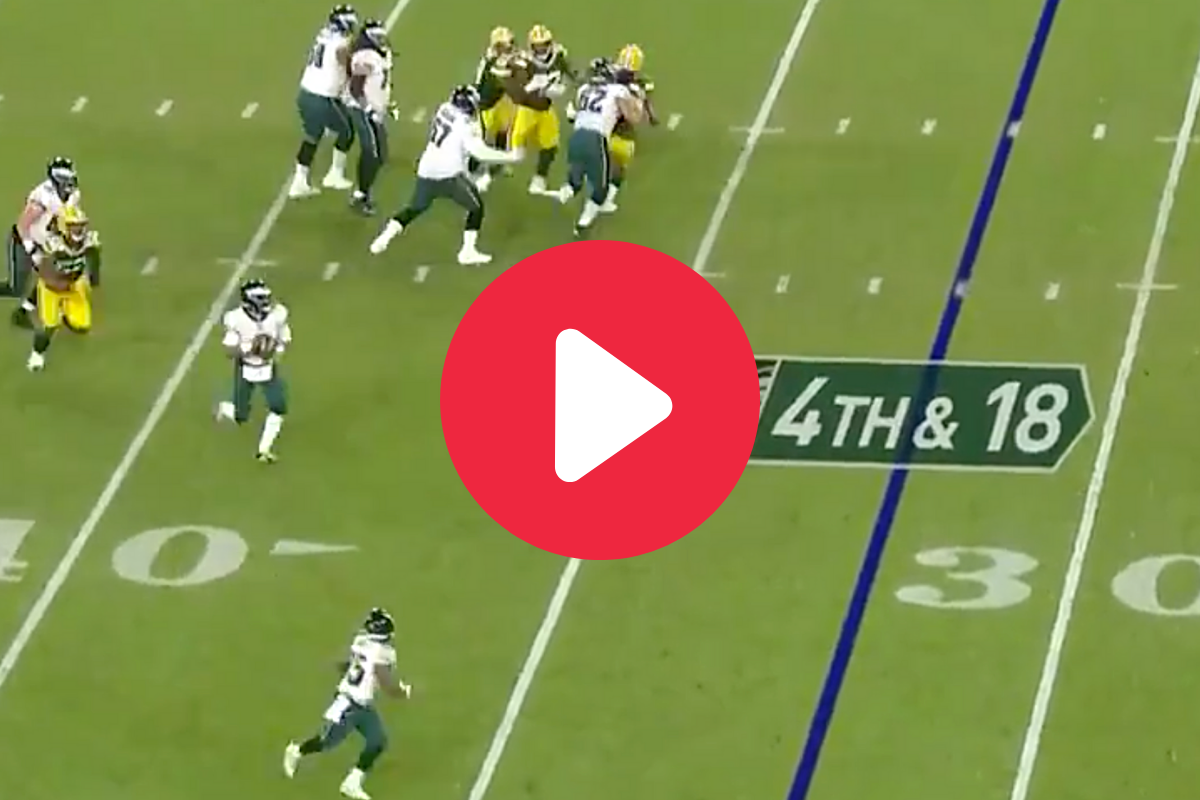 Screenshot from Twitter: NFL
Jalen Hurts is still a special talent. Let's not forget that. The same kid who played in multiple national championship games at Alabama and as a senior scored 52 touchdowns and nearly won the Heisman Trophy at Oklahoma can still sling it.
It was only a matter of time before the 2020 second-round NFL Draft pick would take over the Philadelphia Eagles and throw his first NFL touchdown. It wasn't quite the 55-yard bomb that his first Alabama touchdown was, but Hurts' first score in the pros was certainly impressive.
Jalen Hurts First NFL TD
RELATED: Jalen Hurts Fired a 55-Yard Bomb for His First Alabama TD
Jalen Hurts replaced Eagles starting quarterback Carson Wentz against the Green Bay Packers. With eight minutes left in the fourth quarter of Sunday's game, Hurts heaved a pass on 4th-and-18 that he will remember forever.
Hopefully someone kept that football.
The 32-yard strike to wide receiver Greg Ward was a beauty. Even Wentz has to applaud his fellow quarterback teammate after that dime. Broadcaster Tony Romo called it a "perfect, soft throw."
Hurts even got a shoutout from a former teammate. New England Patriots and former Alabama running back Damien Harris tweeted that he was proud of Hurts.
Hurts finished the game with 109 passing yard, one touchdown and one interception, completing five of 12 passes. Wentz struggled mightily, completing six of 15 attempts for 79 yards and zero touchdowns.
The Eagles wound up losing the game, 30-16. The front-page story is that Jalen Hurts is now a legitimate threat to unseating Wentz. Philadelphia head coach Doug Pederson undoubtedly has a quarterback controversy on his hands.
After the game, Hurts responded to those questions with pure class and humbleness.
?I?m trying to do what I can do for this team. I think it?s simple as that. Working hard. Putting my best foot forward. Anything that can help this team," he told reporters.
If the Eagles can somehow win the dismal NFC East and make the playoffs, it'll likely be behind Jalen Hurts. I'd say he has plenty of big-game experience to make that happen.