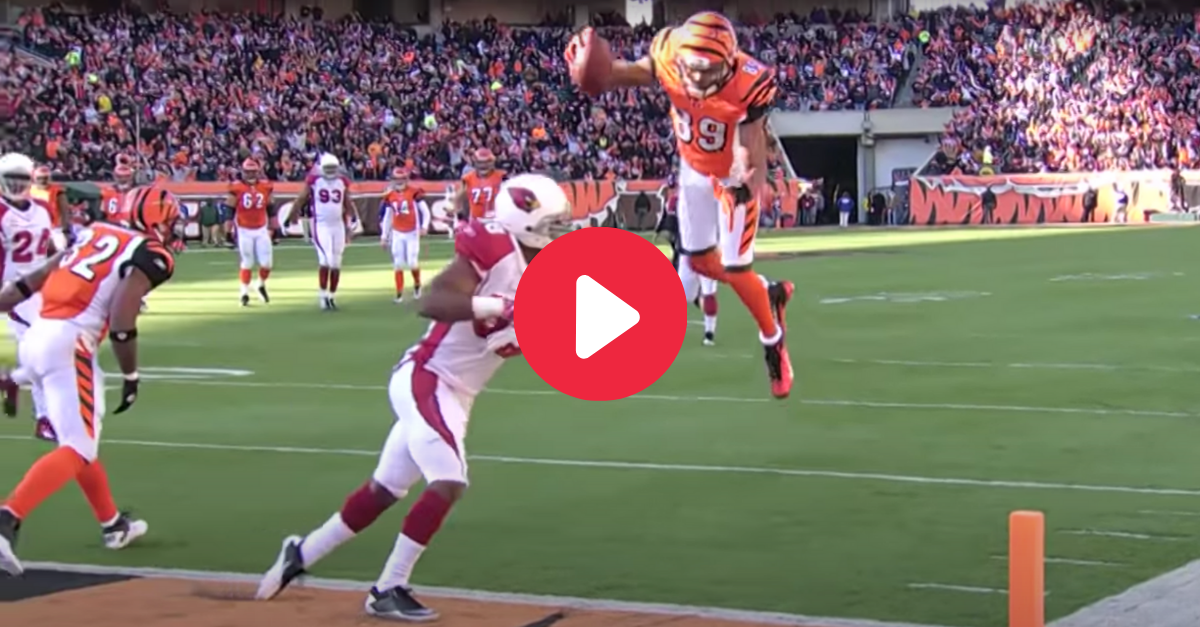 Screenshot from YouTube
In football, all it takes is one moment to become a legend, one play that catches everybody?s attention to change that player?s highlight reel and life forever. Fans might not know much about former NFL wide receiver Jerome Simpson, but they absolutely remember and still talk about the greatest play of his career.
On Christmas Eve in 2011, the Cincinnati Bengals hosted the Arizona Cardinals at Paul Brown Stadium in Ohio. The 23-16 final score makes it seem like the AFC-NFC showdown was close, but it really wasn?t. It was a beatdown early, and head coach Marvin Lewis? squad escaped a furious fourth-quarter rally.
Details of that game are ancient history at this point, but there is one specific play that will be watched for years and years to come.
WR Jerome Simpson?s Front Flip Touchdown
RELATED: Strange Formation Turns Into NFL?s Biggest Trick Play Fail
Late in the second quarter, with the Cincinnati Bengals up 10-0 and looking to put more point up before halftime, quarterback Andy Dalton took the shotgun snap and fired a strike to his left to Jerome Simpson, who took off sprinting past the sticks and toward the end zone.
Then, with Arizona Cardinals linebacker Daryl Washington looking to come lay a big hit, Simpson jumped from the two-yard line and did a full somersault over Washington for the touchdown.
Nobody could believe what just happened or that Simpson somehow stuck the landing before putting his hands up in celebration.
"To tell you the truth, it was just instinct. I just saw the guy. It seemed like he was going to hit me and I didn't want to get hit, and I used my athletic ability and my jumping ability," Simpson said. "My mom and my dad and family blessed me with … I've jumped over a guy before, but never did a flip and landed it … I just made a play, man. It was instinct. It helped my team, and I just want to do anything possible to win games for this team.?

? Jerome Simpson, via Bengals.com
The 19-yard touchdown pass from Andy Dalton helped extend the lead, but Jerome Simpson?s flip made the play extra special and proved to be the top play of his professional career.
A second-round pick in the 2008 NFL Draft, it took the former Coastal Carolina star a couple seasons to find his role with the Bengals, especially as a rookie, but was ultimately able to earn playing time and success. He also played for the Minnesota Vikings and San Francisco 49ers, but it was in Cincinnati where his talent shined the brightest.
Before the famous play, police searched Simpson?s home in Kentucky and found several pounds marijuana, but no arrests were made. He was indicted on felony drug charges during the following offseason and sentenced to 15 days in jail and three years probation, according to ESPN.
Still, no matter what his life was like before and after, that front flip touchdown will live on forever as one of the best plays in NFL history.
This post was originally published on May 13, 2020.