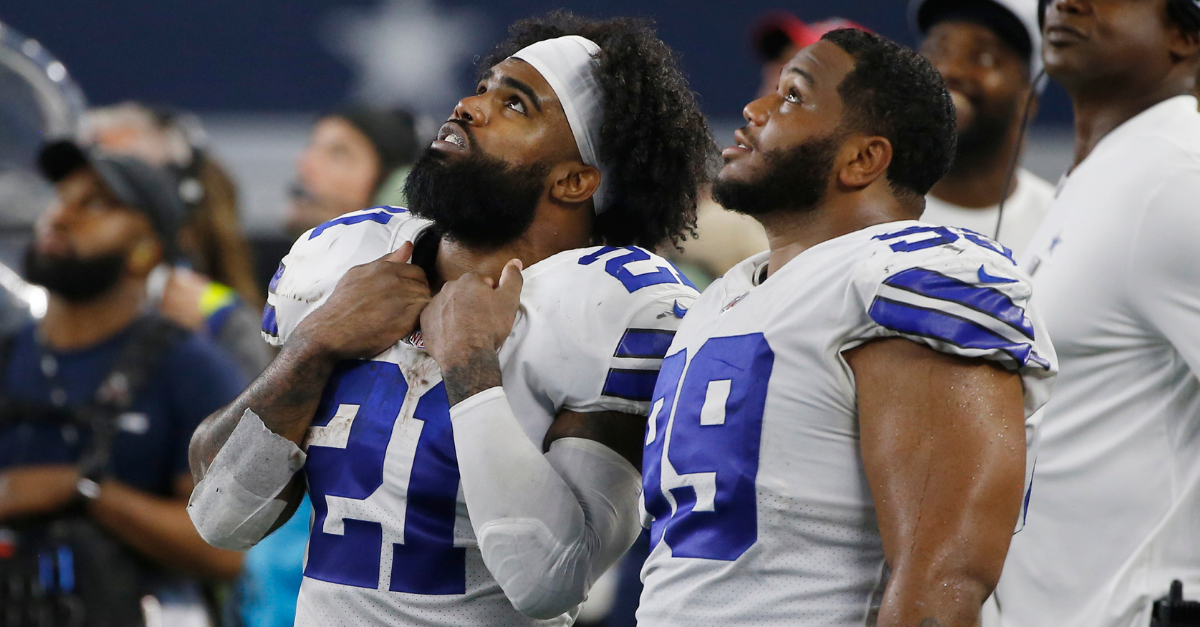 AP Photo/Ron Jenkins
AP Photo/Ron Jenkins
After a debacle on Monday Night Football against the Tennessee Titans, the Dallas Cowboys find themselves at 3-5 and facing not making the playoffs once again under head coach Jason Garrett.
Garrett and his staff are definitely on the hot seat, and Cowboy fans are ready for a change.
But fans in Dallas aren't the only one's saying there needs to be a change, as former Dallas Cowboys quarterback Troy Aikman said there needs to be a overhaul of the whole organization.
If you a Cowboys fan, you know that will probably be impossible with owner Jerry Jones at the helm. Jones' daughter Charlotte Jones Anderson, gave an interview recently about her father and offered an insight into his mindset to the Fort Worth Star-Telegram.
"I think one of the things that is most criticized but also one of his best qualities is how much he cares about each player. Sometimes to the extent that he can't part with the player. He is so invested in each one of them and truly cares about them and their family. The more challenges they have the more he wants to help them and the more chances he wants to give them. I think it's such a great inspiration for people that are trying to get it together and trying to make things work and trying to get a healthy start, but he often gets criticized for that because he's 'giving them too many chances,' and that 'he's too loyal and can't make difficult decisions' like that. But if that's your biggest foible then so be it." — Charlotte Jones Anderson, via Fort Worth Star-Telegram
RELATED: 7-Year-Old Roasts Jerry Jones in Personal Letter About Cowboys' Woes
And there you have the real reason why Jerry Jones refuses to make any changes to the his team: he is too loyal.
So don't expect Jones to make any major changes, at least right now, because Jason Garrett is his guy. Garrett, unlike previous head coaches, will bend to the well of his owner and won't challenge him.
It's just like when the Cowboys didn't go after a wide receiver in the first round of last year's draft because Jones was being loyal to his current wideouts, but after four loses he came to the reality that he needed a No. 1 receiver and traded for Amari Cooper.
If you look at the situation with Dak Prescott, the only reason why he became a Cowboy was because of Tony Romo's injuries, but it took losing Romo for the season again for Jones to realize he needed to draft a new quarterback.
It normally takes a lot for Jerry Jones to make any moves, so if the Cowboys go down the tubes, Jones' loyalty to his coach will be tested. If history is any indication, his loyalty to Garrett will end soon.