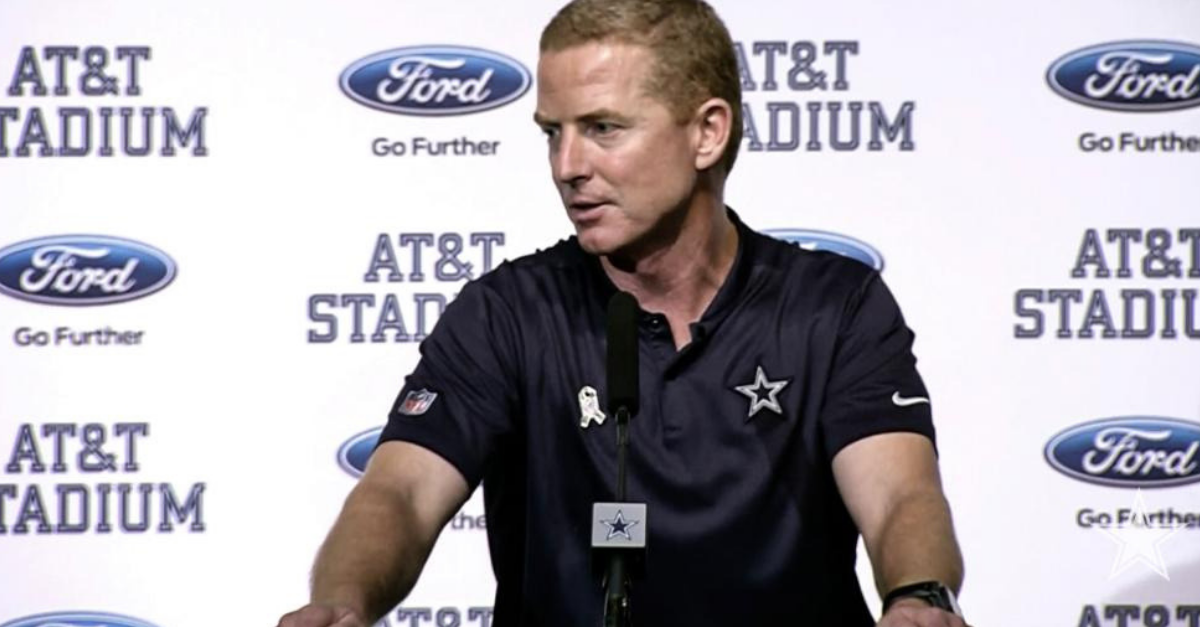 Twitter: @dallascowboys
It doesn?t take rocket science to figure out the Dallas Cowboys are not a very good football team this season. All you had to do was watch the latest Monday Night Football performance or look up the rather mediocre 3-5 record. The proof isn?t hard to find, but it certainly begs the question: How does head coach Jason Garrett still have a job right now?
Sure, adding Amari Cooper was a step in the right direction, and America?s Team has some talent, albeit struggling some with quarterback Dak Prescott and running back Ezekiel Elliott. The defense isn?t terrible, either, so something else just has to change.
This isn?t just about the uninspired 28-14 loss to the Tennessee Titans at AT&T Stadium in Arlington, Texas. This is looking at the big picture and not just kicking someone when they are down.
RELATED: Cowboys Long Snapper?s Obscure Penalty Proves Costly and Controversial
Since 2010 ? when Garrett was named the interim head coach after owner Jerry Jones fired head coach Wade Phillips ? the Cowboys have a 69-58 regular-season record with just two playoff appearances and only postseason victory in the 2014 NFL Wild Card game against the Detroit Lions.
That?s it. A barely above average record in the regular season and no meaningful playoff wins in nearly a decade. Yet, for some reason, Garrett, a former NFL player himself, and 2016 NFL Coach of the Year, is still employed by the most valuable franchise in the league.
Let?s not pretend like this is a lone thought. Even Pro Football Hall of Fame quarterback turned NFL analyst Troy Aikman, who won three Super Bowl titles with the franchise, claimed the team has some dysfunction from top to bottom during his weekly appearance on 1310 The Ticket.
"I don't think, where (Jones) is at right now, that he wants to go through another regime change. I think he's very comfortable with Jason (Garrett). I do believe he respects Jason and he's hoping like crazy that good things will happen here down the stretch so that a change doesn't have to take place. But I think the one thing Jerry has done over the years, whether it's accurate or not, I think Jerry has done things after seasons to at least give a fan base hope going into the following year. And that will happen again this year, whether that ultimately means the head coach, a change there, or something else." ? Troy Aikman
As of right now, nothing will change. Jones will still be the owner and outspoken decision maker. Prescott will still be the quarterback. Garrett will still be the coach.
The first two are probably fine, but the last one likely needs to go this summer if this team ever wants to reach the football promise land in the near future.
It?s been too average for too long to really think otherwise.