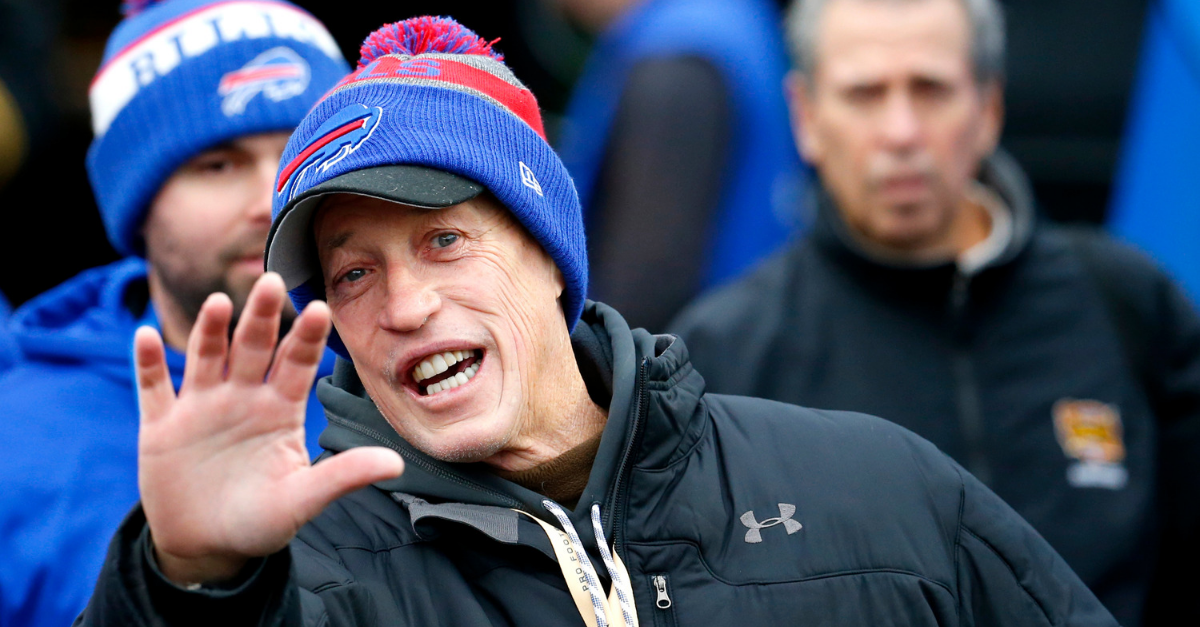 AP Photo/Jeffrey T. Barnes
Pro Football Hall of Fame quarterback Jim Kelly is one of the most respected NFL players of all time. During his time leading the Buffalo Bills to four-straight Super Bowl berths in the early 1990s, the Pittsburgh, Pennsylvania native's fact-paced, no-huddle "K-Gun" offense was years beyond its time, which gave way to how offenses are run today. Kelly's No. 12 jersey was retired by Buffalo in 2018.
Some years after his playing days ended, Kelly announced in June 2013 that he was diagnosed with squamous cell carcinoma, a form of cancer in his upper jaw. From that point, Kelly's biggest battle began.
Over the next few years, Kelly underwent treatment for the cancer, including multiple surgeries to remove the cancer and reconstruct his jaw. On two separate occasions, the former Bills quarterback announced his cancer had returned. If that's not enough, Kelly contracted MRSA ? a serious bacterial infection in his bones ? back in 2014 and had his gall bladder removed in 2018.
Following another recurrence of the cancer in 2018, Kelly was awarded the Jimmy V Award for Perseverance at the ESPY Awards.
After being deemed cancer-free in January 2019, Jill Kelly, who is Kelly's wife of 23 years, announced in an Instagram post that the Hall of Famer's most recent scans revealed that his oral cancer remains in remission.
"All we have is this moment and what is right in front of us. It's so easy to get caught up in the 'what if's' of tomorrow and totally ignore the gift of RIGHT NOW.

"I was worried about the outcome of the scans. What if…? And the Lord reminded me of the fact that no matter what the outcome, no matter what the scan results showed, God is still GOOD, REGARDLESS… because He is God! And His plans are perfect! He doesn?t make mistakes!

"This kind of trust doesn?t happen overnight! It?s a letting go and letting God one moment at a time. It?s learning to understand and accept how little I can control, but how perfectly in control God is."

? Jill Kelly, via Instagram
Knowing several members of my family who have battled cancer, and are currently battling it every day, each moment of positivity is a win. Another clean scan means another hurdle is cleared, and life can continue on with some much-needed good news.
Congratulations to the Kelly family on this great news, and here's to many more clean scans in the future!