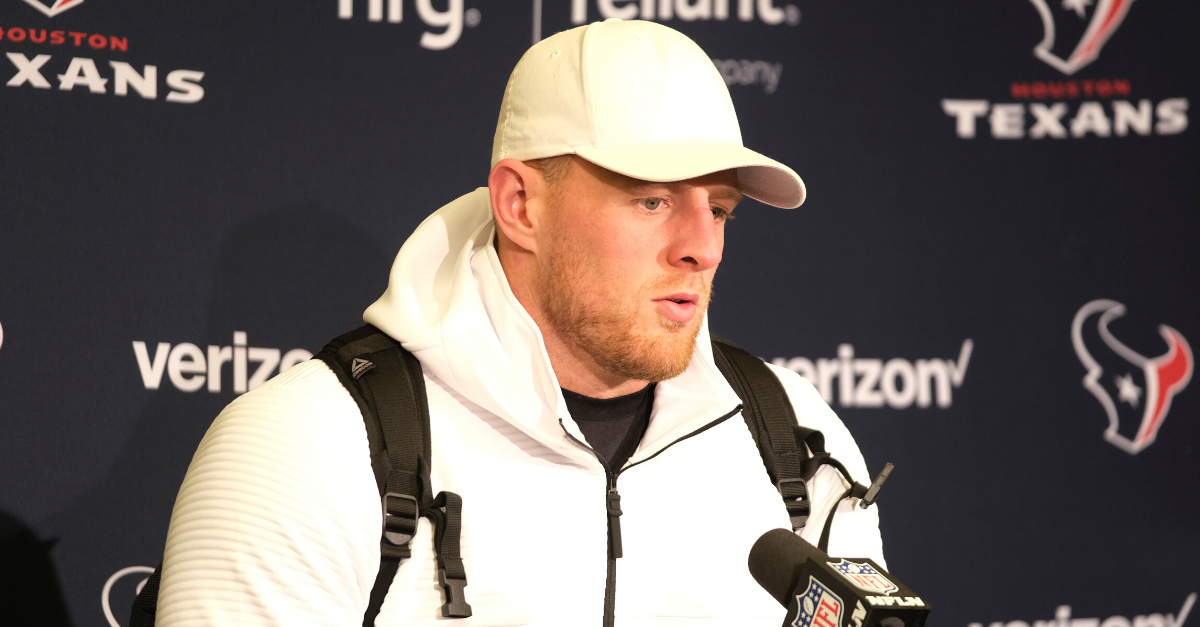 AP Photo/AJ Mast
No one disrupts the flow of a game like Houston Texans defensive end J.J. Watt. As the greatest defensive player of the last decade, the three-time NFL Defensive Player of the Year and five-time First-Team All-Pro is an absolute monster. Watt missed nearly two full seasons, yet his 96.0 sacks are just six fewer than Von Miller, his 264 quarterback hits are 50 more than any other player, and his 54 passes defended are the most of any defensive lineman since entering the league in 2011.
That's why a torn pectoral muscle, which ended Watt's age-30 season after just eight games, is even more devastating than normal.
Another season-ending injury "absolutely gutted" Watt, especially after exiting during the second quarter of Sunday's game against the Oakland Raiders. The Texans won and are 5-3 through the first half of the year. With the AFC South being pro football's only division in which every team is at least 4-4 and in the playoff hunt, losing Watt for the rest of the season is massive.
J.J. Watt Injury
Watt missed 13 games in 2016 after back surgery corrected a herniated disc. The following year, Watt suffered a tibial plateau fracture in his left leg, which required surgery and again ended his season.
Aside from the fact he's probably the most charitable athlete in America, it's truly unfathomable what this man's done on the football field. If you only consider the six of nine seasons in which Watt wasn't injured and played all 16 games, here are his per year averages:
Total tackles: 72
Sacks: 15.0
Tackles for loss: 25
Forced fumbles: 3.6
QB hits: 30.6
Since sacks began tracking in 1982, only former Dallas Cowboys star DeMarcus Ware reached those numbers in a single season.
Watt? He did that three times…
"It's tough. That's a big part of this team. He knows this locker room, this organization, this town, this city, Houston Nation is definitely going to support him thru his recovery. We always love him. He's gonna be right there with us supporting and helping us out."

? Texans QB Deshaun Watson
Watt is one of the most well-liked athletes you'll ever find. From Houston and abroad, athletes, sports organizations, and thousands of fans saluted the five-time Pro Bowl defender and sent well-wishes as he enters another long road to recovery.
NFL Network's Ian Rapoport reported that Watt's recovery should take about four months, making him ready to go well ahead of spring football and training camp leading up to the 2020 season.
Best wishes to the greatest defensive player I've ever watched. I can't wait for the revenge tour when the Texans star returns and continues to churn out Hall-of-Fame numbers at a rate no one has ever, and maybe will ever, produce in the National Football League.
His jersey will be hanging in the rafter in Houston forever. Better get yours now so you can say you witnessed history.