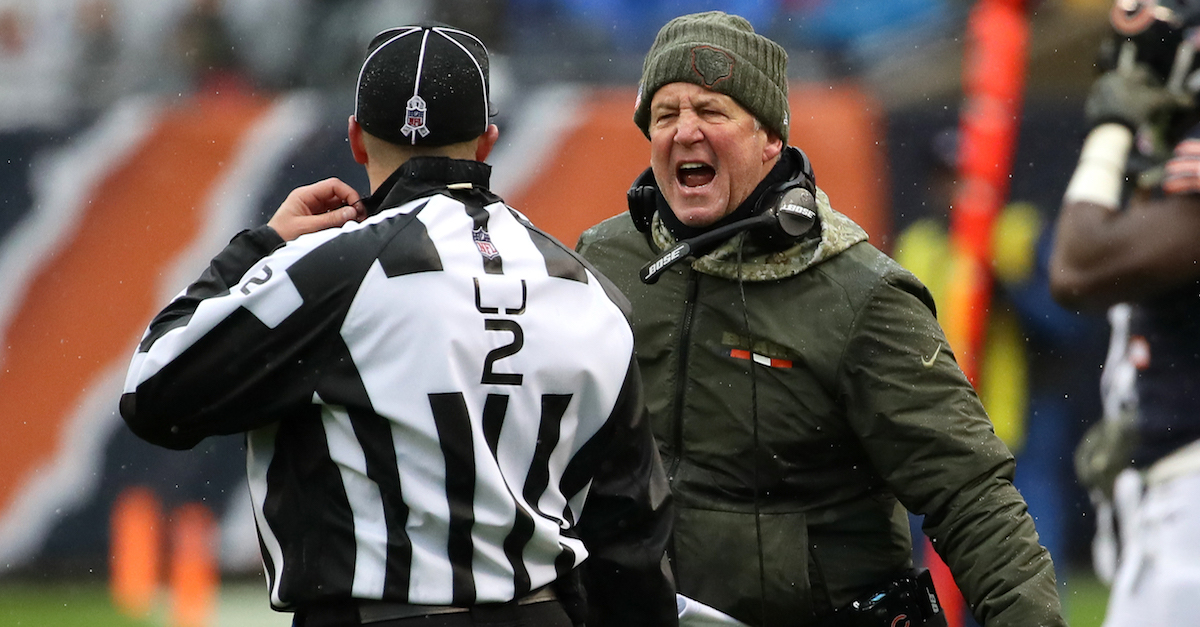 Jonathan Daniel/Getty Images
CHICAGO, IL - NOVEMBER 12: Head coach John Fox of the Chicago Bears exchanges words with line judge Bart Longson #2 in the second quarter against the Green Bay Packers at Soldier Field on November 12, 2017 in Chicago, Illinois. (Photo by Jonathan Daniel/Getty Images)
The Chicago Bears are on track for yet another basement finish in the NFL's NFC North, and that could cost John Fox his job.
One year removed from an AFC Championship, Fox found his way out of town with the Denver Broncos and landed with the Bears. He put together a 6-10 season, followed by a 3-win 2016 and 2017 isn't looking much better.
NFL Network's Ian Rapoport shared insight into the situation, noting "several coaches on the staff believe it will not end well this season for Fox and that this organization — as far as the coaching staff goes — will have to start over, even though they think they do have their franchise quarterback of the future."
Fox is 131-121 over his 16 seasons coaching. He's flirted with championships, winning the NFC title in 2003. Both Super Bowl appearances ended in losses, to the New England Patriots and Seattle Seahawks, respectively.
In his first season as a pro, quarterback Mitchell Trubisky (the No. 2 overall pick) has thrown for 1,237 yards, five touchdowns and four interceptions. He's just 2-6 as a starter.
The Bears moved up to snag Trubisky and apparently there were other teams in on Trubisky. Plenty of drama followed, as it was reported that not even Fox, the head coach of the team, knew the Bears were taking Trubisky. That led to reports that the Bears GM had just earn his way out of his job.
That hasn't happened yet, but it could be on the way for Fox.