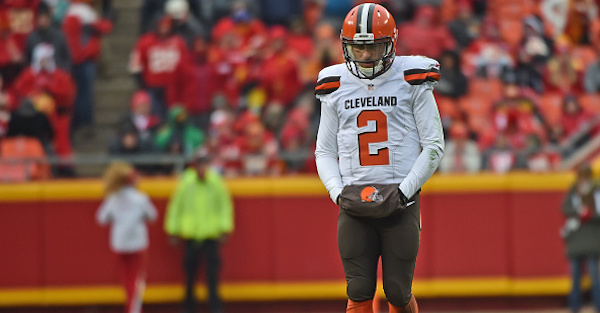 Peter G. Aiken/Getty Images
KANSAS CITY, MO - DECEMBER 27: Quarterback Johnny Manziel #2 of the Cleveland Browns walks off the field, after a third down play against the Kansas City Chiefs during the first half on December 27, 2015 at Arrowhead Stadium in Kansas City, Missouri. (Photo by Peter G. Aiken/Getty Images)
The announcement of the XFL's revival has people talking, but perhaps no one is more excited than Johnny Manziel.
The unemployed quarterback expressed his interest in joining the league via social media following Vince McMahon's official announcement of its relaunch in 2020 on Thursday.
https://www.instagram.com/p/BeYsci7Fvyn/?taken-by=jmanziel2
Manziel, a first-round draft pick in 2014, hasn't played professional football since being cut by the Cleveland Browns in March 2016. During two seasons, he threw for 1,675 yards, seven touchdowns and seven interceptions, while leading the Browns to a 2-6 record as a starter.
Since his release, Manziel has been indicted for assault charges, fired by his agent, and suspended by the NFL under its drug policy.
That could spoil his potential plans as McMahon noted that players with a criminal past would be prohibited from playing in the XFL during his live press conference.
?You want someone who does not have any criminality associated with them whatsoever," McMahon said.
The former Heisman Trophy winner has made several attempts to repair his tainted image and vowed to make a comeback to the gridiron, having negotiated with the Canadian Football League's Hamilton Tiger-Cats earlier this month.
However, it appears that talks with the team have hit a snag, according to general manager Eric Tillman.
?A lot of stuff happens in the negotiation process,? Tillman told NFL Radio?s Rick Neuheisel, Alex Marvez and Mark Dominik. ?We have a lot of respect for Erik. Our meetings with Johnny have been good. We?ll be patient. I know the deadline is there but will be fluid. There?s a lot of time between now and the beginning of camp [in May]. ? There aren?t many benefits of being 60, which I am now, but one is that you learn the value of patience. [Burkhardt] is doing his job and trying to represent his client. Johnny certainly is a guy that was an elite player and has a high profile. I?m not going to negotiate obviously on the air but we understand that [deadline] is just part of the process.?
Prior to his NFL career, Manziel enjoyed a decorated run at Texas A&M, which included becoming the first redshirt freshman to win the Heisman Trophy in 2012.