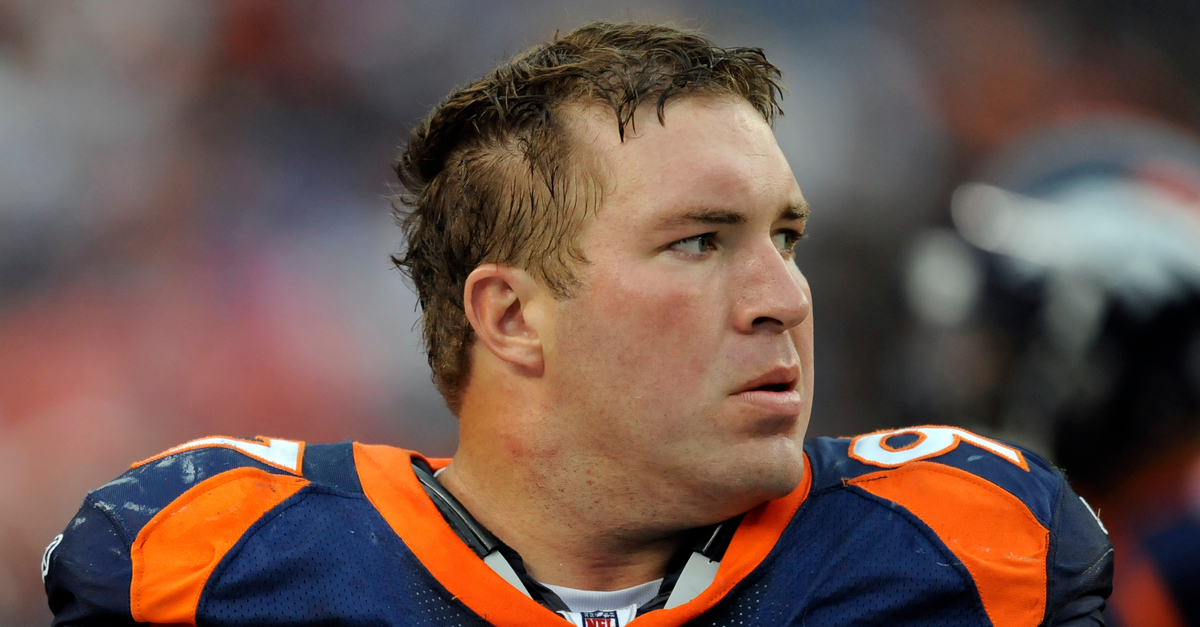 AP Photo/Jack Dempsey
Former NFL defensive lineman Justin Bannan is not a household name. He enjoyed a nice run in the league after a strong college football career at the University of Colorado, but he was never named to a Pro Bowl. He?s back in news headlines, however, and the reason why is rather shocking.
What seemed like a normal afternoon in Boulder turned into a very scary situation. Bannan, who was 40 at the time, showed up to Black Lab Sports ? a place he is listed as a co-founder ? and shot a 36-year-old woman who works in the building in her arm.
According to Boulder Police, via the Boulder Daily Camera, Bannan was arrested on suspicion of attempted first-degree murder, first-degree assault extreme indifference, first-degree assault with intent to cause serious bodily injury, and first-degree burglary.
The shooting itself is frightening, but the details about it are downright disturbing.
Not only is the shooting considered random, according to Boulder Police spokeswoman Laurie Ogden, but the reason Bannan gave for the incident will make you cringe.
At the scene, Bannan was ?carrying a bag containing two loaded handguns, along with an extra magazine. They also found a rolled-up $20 bill coated with a white substance that tested positive for cocaine.?
Bannan then said he ?didn?t mean to shoot her? at all. He claims he was hiding in a therapy room at 3550 Frontier Ave. because the Russian Mafia was after him and tracking his cellphone, according to the Daily Camera.
Wait? What? The former NFL lineman accidentally shot a woman he didn?t really know in the arm with a handgun because he was hiding from the Russian Mafia and now faces an attempted murder charge?
Luckily, the woman was transported to Boulder Community Health?s Foothills Hospital with non-life threatening injuries.
As for Bannan, a former fifth-round draft pick who played for the Buffalo Bills, Baltimore Ravens, Denver Broncos, St. Louis Rams, and Detroit Lions, he remained in custody and was scheduled for a bond hearing Thursday afternoon for his attempted murder and assault charges in the Boulder shooting.
Although he claims it was an accident, the reason for it, especially including the Russian Mafia, makes it one of the wildest stories you?ll ever read.
This article was originally published October 17, 2019.