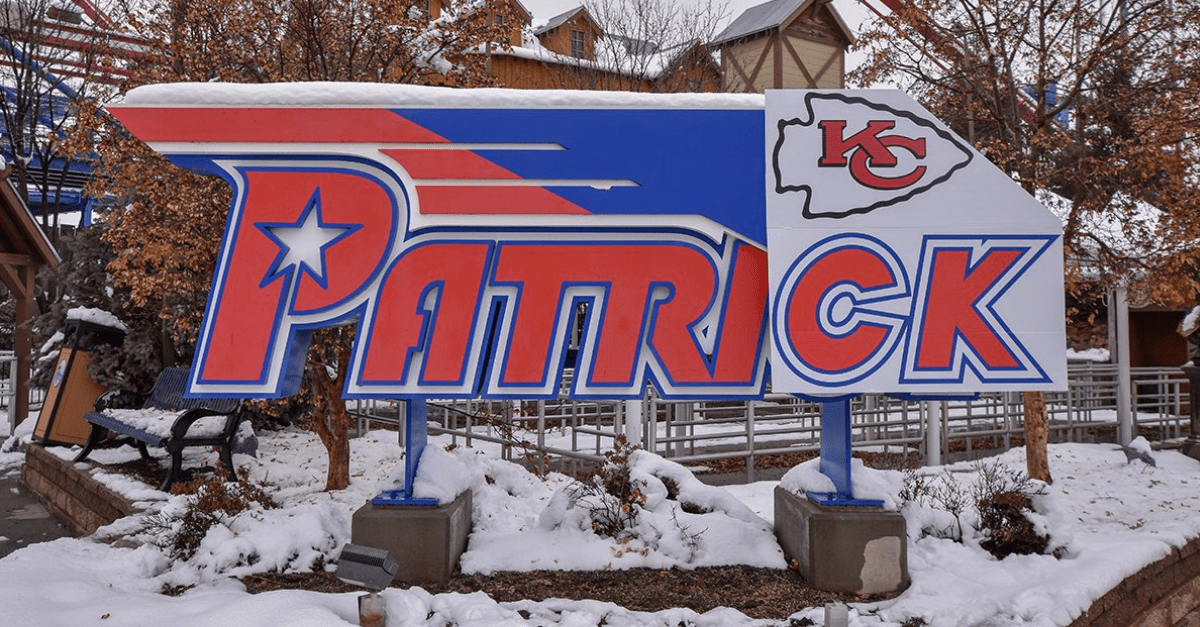 Twitter: @worldsoffun
To say it has been a very long time since the Kansas City Chiefs played in a Super Bowl would be quite the understatement. Every fan knows it and probably doesn't want to talk about. However, that's not stopping some local businesses from keeping the good vibes rolling heading into this weekend's AFC Championship Game.
Earlier this season, the Chiefs lost a thriller, 43-40, to the New England Patriots at Gillette Stadium. Now, it's time for payback at Arrowhead Stadium in not only one of the biggest games of the season, but also in franchise history. To many, kickoff can't come soon enough.
While Chiefs fans pass the time waiting for Sunday night's 5:40 p.m. CST game, there are some going above and beyond to make it clear the Patriots are not welcome in Kansas City.
That's why Worlds of Fun, the famous amusement park in Missouri, has changed the name of its roller coaster "The Patriot" to "The Patrick" before the big game.
RELATED: Get Ready! The Rarest, Non-Football Thing Will Close the AFC Championship
So take that, Bill Belichick, Tom Brady, Rob Gronkowski and the rest of the Patriots. Even the 12-year-old roller coaster wants nothing to do with you.
Opened in April 2006, the ride on the famous roller coaster lasts 2 minutes, 18 seconds, goes 150 feet in the air, and inverts you four times. It's a seriously wild ride.
The ride didn't just get a name change, though. The entire profile of the roller coaster is different. The Wikipedia page has even been updated to Patrick, which is named after MVP hopeful and star quarterback Patrick Mahomes.
Kansas City isn't the only place getting in on the fun. Brady Nursery in Wichita, Kansas has changed its name to Mahomes Nursery to support the Chiefs.
These Chiefs fans are fired up. They want the NFL's Lamar Hunt Trophy and a trip to Super Bowl LIII. And there is no doubt Arrowhead Stadium will be deafening come Sunday night.